Grad says superhero stunt was to show that not all aspiring lawyers are 'square'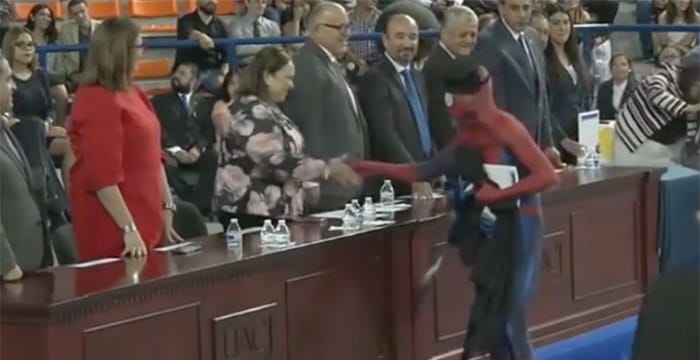 University graduation ceremonies are, more often than not, long, drawn-out tedious affairs. Numerous speeches, itchy gowns, and a seemingly never-ending roll call can put a dampener on the celebratory atmosphere.
Enter 22-year-old law graduate Hiram Yahir Salas Romero. The aspiring lawyer, who studied at The Autonomous University of Ciudad Juarez in northern Mexico, broke with dress code protocol when he decided to attend his ceremony dressed as Spider-Man.
According to reports, the ceremony had a strict dress code that required students to wear dark formal suits, white shirts and shoes. However, Romero concealed his superhero outfit under his suit and made a beeline for toilets to change before taking to the stage.
So what was the thinking behind the Spider-Man attire? Well, Romero later claimed it was an attempt to challenge the stereotype that law students are "too square".
His Spidey stunt didn't go down well with everyone. As he walked onto the stage, the master of ceremonies reminded everyone of the "solemnity" of the event — a move which received "several boos" from those in attendance.
Romero — who posed for selfies with other students as he made his way back to his seat — said:
"None of the authorities said anything. They just looked at me unhappily. I don't remember if the rector said anything, but I think I got a smile out of him."
Continuing, the grad said that he took inspiration from the Spider-Man character because he is a "human with problems but also with the desire to help people with his special powers and intellect."