Max Hill QC rolls up his sleeves and joins the front line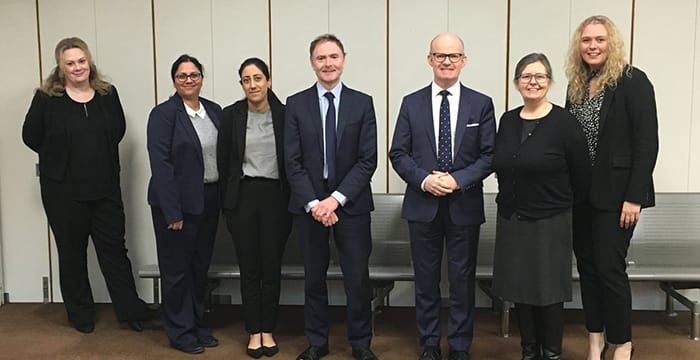 The Crown Prosecution Service's (CPS) new head honcho popped into a busy west London magistrates' court yesterday morning in a bid to understand the daily challenges his colleagues on the front line face.
Max Hill QC (third from the right) took to Twitter yesterday to reveal he'd spent the morning prosecuting cases on the 'not guilty anticipated plea' list in courtroom five of Uxbridge Magistrates' Court. The criminal law specialist and former head of Red Lion Chambers took over from Alison Saunders earlier this month.
I prosecuted the morning NGAP list in Court 5 at Uxbridge Magistrates today. Here is our dedicated and cheerful team before court. Thank you for welcoming me, and thank you for your extremely hard work. This novice was very impressed. pic.twitter.com/ps27JS0DVA

— Max Hill (@MaxHillQC) November 20, 2018
The back-to-basics approach comes just weeks after heavyweight legal blogger, The Secret Barrister, penned an open letter encouraging Hill to make under-the-radar visits to courts to see them as they really are.
Published in The Times (£) newspaper, the barrister, whose true identity so far remains a mystery, suggested the new DPP could make "regular and surreptitious visits to magistrates' and crown courts" to provide insight into "the daily pressures of volume prosecuting". He (or she) continued:
"The impression one could gain from your predecessor [Alison Saunders] was that her experience was chiefly of the more rarefied complex casework unit, special crime and counter-terrorism division and the appeals and review unit, where time and resources allow for a far smoother investigative and prosecutorial experience."
Without revealing much of what he learnt from the experience, Hill explained in a follow-up tweet how his morning had gone: two of the anticipated not guilty pleas ended up pleading guilty, two cases received full directions leading to fixed trial dates and one defendant (who may or may not have got wind of Hill's cameo) failed to turn up at court.
It would appear that the former Criminal Bar Association (CBA) chairman was a little rusty. Describing himself as a "novice", the new director of public prosecutions (DPP) thanked the deputy district judge, court clerk and usher for being "so patient".
And finally my thanks to the DDJ, court clerk and usher who were all so patient with me.

— Max Hill (@MaxHillQC) November 20, 2018
Hill's embattled predecessor, Saunders, confirmed earlier this summer that she will be joining magic circle outfit Linklaters. The Aberdeen-born lawyer — who received calls to resign in June 2015 following her decision not to charge Labour peer Lord Janner with alleged child sex offences (a decision later overturned) — joins the firm as a partner in its dispute resolution practice.