UK Supreme Court judge Lord Hodge admits 'naivety' at attending Federalist Society dinner
He refers to his 'innocence' in accepting invite from right-wing group that's helping President Trump pick top judges, including Brett Kavanaugh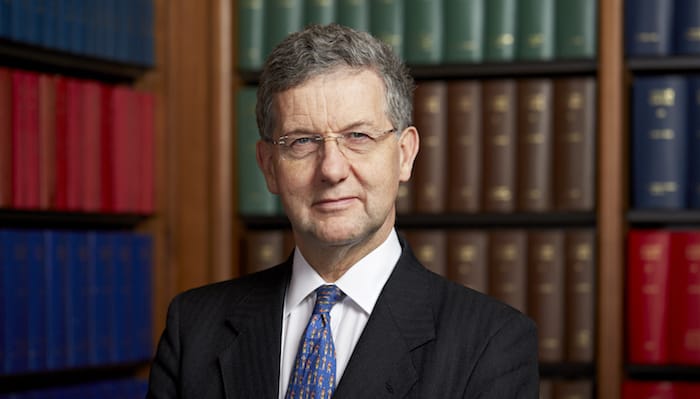 UK Supreme Court judge Lord Hodge has spoken of his "naivety" at attending a gala dinner held by the Federalist Society, the right-wing pressure group credited with helping President Trump select his US Supreme Court judges.
The 65-year-old says he accepted an invite to the bash in "innocence" without seeming to have realised the nature of the organisation. When he twigged, he "insisted on paying the non-insubstantial cost of my ticket to preserve my political neutrality".
Hodge's admission is contained in a newly released speech about populism and judicial independence that he delivered last month in Scotland. Here is the relevant section in full:
"When I was in Washington DC in November 2016, to deliver a lecture shortly after the presidential election, I had accepted, in my innocence, an invitation to a gala dinner by the Federalist Society which turned out to be a well-established Republican Lawyers' pressure group. My hosts were very pleasant but, because of the political nature of their organisation, I insisted on paying the non-insubstantial cost of my ticket to preserve my political neutrality. My naivety is not the point of this tale. What fascinated me was that many establishment republican lawyers who were no fans of the elected President had voted for him only in order to have a Republican nominated for the Supreme Court. The partisan nature of the process of the appointment was apparent from the unfortunate Senate confirmation hearing which followed and the heated demonstrations in Washington DC which accompanied it."
Legal Cheek has been alerted to a blog post by a US lawyer associated with the Federalist Society saying how she got Hodge to attend. Marisa Maleck writes about her recent trip to the UK, in which she recounts observing the work of the Supreme Court in London, before stating:
"That last week was also special to me because I have continued to be able to have conversations with some of the U.K. Supreme Court justices and other contacts even after the program. For example, Lord Hodges [sic] accepted my invitation to attend the Federalist Society's annual dinner; he was able to learn more about our legal system and hobnob with our best and brightest legal minds."
Continuing, Maleck also mentions exchanging emails with Hodge's UK Supreme Court colleague, Lord Wilson, about Brexit and Trump. She writes:
"I also have been in contact with Lord Wilson, who has written me a handful of emails about Brexit and the election of President Trump."
The UK Supreme Court declined to comment.