Raise £180,000 for charity in the process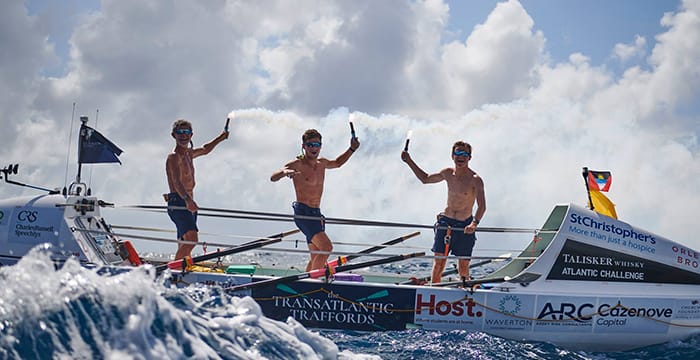 A partner at City law firm Charles Russell Speechlys, along with his two sons, has completed an epic 3,000-mile unsupported row across the Atlantic Ocean, smashing the world record in the process.
Joined by Hugo, 22, and Joe, 18, private client specialist James Trafford arrived in Antigua on Tuesday having rowed from La Gomera in the Canary Islands. The Transatlantic Traffords, as they're known, completed the challenge in 41 days — eight days quicker than the previous record.
According to Trafford's firm profile, he advises individuals, families and organisations with complex trust and tax issues. The 59-year-old joined the firm in 2014 through the merger between Charles Russell and Speechly Bircham.
Commenting on the family's epic voyage, Trafford said: "It's just amazing to be finished. When we knew that we had just 1,000 miles left to row and that the world record was in sight, that was a really special moment, and we had a bit of a celebration."
Collectively, the team raised a staggering £180,000 for St Christopher's Hospice, which offers care and support to families across South East London.
So how did Trafford find being confined to a rowing boat with his two sons for 41-days straight? He continued:
"We got on, genuinely, really well together on the row. There were so many highs and lows, but when we were told that good weather was coming and then the forecast turned-out to be wrong and we were heading back into bad weather, psychologically, that was really hard. We're feeling a bit wobbly being back on land, but it's really great to see everyone, especially our family, and we're proud of the money we've managed to raise for the hospice."
Commenting on the six-figure sum raised by the Traffords, joint chief executive at St Christopher's, Sean O'Leary, added: "We cannot thank James, Hugo and Joe enough for their enormous effort, which has raised such a tremendous amount of money for the hospice. St Christopher's helps people live their lives to the full, even at the end of life, and the Trafford family contribution will help mean we can share our experience further through our education programmes."
The Traffords ocean exploits were part of the Talisker Whisky Atlantic Challenge 2018. You can add to the money raised here.