Duchess reportedly offered millions for charity cameo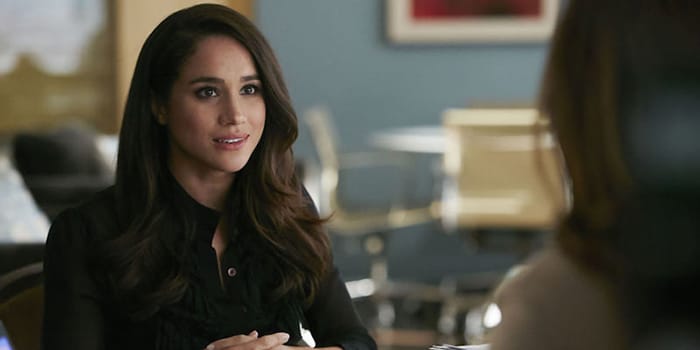 The Duchess of Sussex could reprise her role in hit US legal drama Suits according to media reports.
US tele chiefs reportedly want Meghan Markle, 37, who shot to fame as the sassy Rachel Zane (pictured top) in the popular television series, to return for a single episode next season.
The scene would be no longer than two minutes and would be shot in the UK to accommodate the Duchess' busy schedule, according to executives at entertainment giant NBC Universal. "We could be done in half a day or less," an NBC source told the Daily Star.
Markle starred in the TV programme as New York paralegal-turned-lawyer Rachel Zane from 2010 but left the show after seven series. Her last episode aired in the UK in April last year, just a month before her Windsor Castle wedding to Prince Harry, the Duke of Sussex. In the episode, viewers see Zane marry onscreen love interest Mike Ross (Patrick Adams).
If the Duchess decides to go ahead with the cameo, it is reported that she could receive a multi-million donation to a charity of her choice. The source added:
"No final figure has yet been arrived at but negotiations are likely to be opened in the very near future. I've heard sums ranging from two to six million being kicked around, and that sounds a lot — but it would be one of the biggest marketing coups in TV history."
Markle's pregnancy (the Duchess is currently pregnant with her first child) could potentially factor into the storyline as well. The source continued: "We could create a storyline where Rachel and Mike have created new lives for themselves and are starting a family, with Rachel showing an obvious baby bump."
"I believe we could get away with only one or two lines from Rachel, perhaps saying how she would never have believed she would have such a wonderful life. This particular route would beautifully mirror real life."

"It would give one or several charities a big boost, portray Meghan as a thoroughly modern royal — and give us one of the biggest ratings blockbusters of our existence."
A number of Markle's co-stars attended her nuptials last May. Gabriel Macht, who plays Harvey Specter, Rick Hoffman (Louis Litt), Sarah Rafferty (Donna Paulsen) and Patrick Adams, were all in attendance.