'Poor Peter' is accused of a crime he didn't commit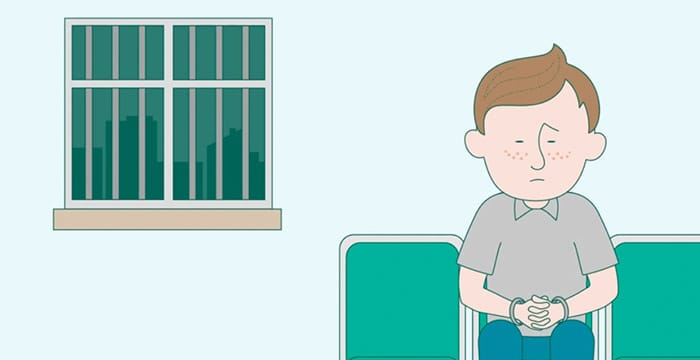 Years of government cuts and underfunding has left our criminal justice system at "absolute breaking point", the Law Society has warned.
Speaking at the launch of a new campaign to help highlight the ongoing crisis, Law Society vice president Simon Davis said the justice system, one of the UK's most precious assets, is in great danger at a time when the country needs it most. He said:
"Justice and the rule of law are key exports for the UK — but their integrity depends on the whole system working effectively. Years of neglect have heaped colossal pressure on the whole system and those who work hard in it."
Stressing that the right to a fair trial is at the heart of any democratic society, Davis continued:
"In our country, people are innocent until proven guilty after a fair trial — yet those accused are forced through a frequently unfair and nightmarish journey through the criminal justice system regardless of whether they are guilty or not. This is something we should all care about because crime can affect anyone at some point in their lives."
Davis comments come as the solicitors' representative body released a short, animated film about 'Poor Peter', a nurse accused of a crime (affray) he didn't commit and his "nightmare journey" through the courts.
Published on YouTube, the video (embedded above) highlights a number of issues including the growing shortage of criminal duty solicitors, overly stringent means tests for legal aid, court listing problems and disclosure failings.
The video follows research which suggested criminal defence solicitors may become extinct in parts of England and Wales within five years. At the time, the Law Society warned that that government cuts to legal aid coupled with an increasingly ageing profession means the criminal justice system is facing a "cliff edge scenario".