'Who is Tomas McGarvey?'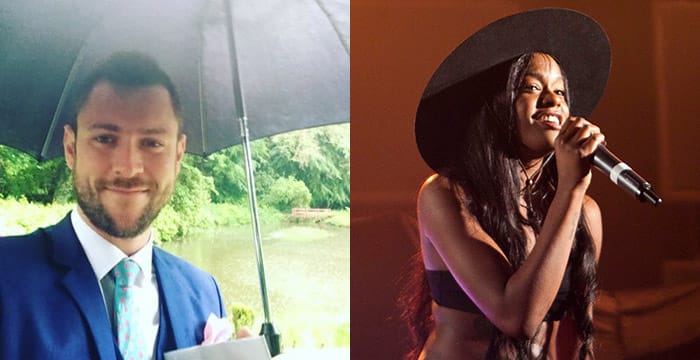 A US-born rapper has hit back at claims made by a junior barrister that she could be prosecuted if she continues to make derogatory remarks about Irish people.
For those of you who missed it, the bizarre social media beef kicked off when Azealia Banks took to Twitter late last week to brand Irish people "f***ing ugly" after she walked off a Dublin-bound Aer Lingus flight from Gatwick following an alleged incident with an air stewardess.
Twenty-four hours later, Banks described Irish people as "inbred", "leprechauns" and asked if they "had a famine to go die" in a string of further social media posts.
Enter Tomas McGarvey, a criminal barrister at London's Church Court Chambers. Taking to Twitter, Northern Ireland-born McGarvey suggested over the weekend the singer could be prosecuted under the 2003 Communications Act for her comments.
Hi #azeliabanks in light of your recent comments on #instagram about Irish women & Irish people generally, perhaps I can introduce you to the #CommunicationsAct2003 (s127) before you land in England. If you keep up the insults, you may end up with first hand experience. pic.twitter.com/Hta7c0EJ1v

— Tomas McGarvey (@RugbyBarrister) January 24, 2019
The junior barrister's polite warning was quickly picked up on by the mainstream media, with many newspapers republishing McGarvey's viral tweet.
Now, 27-year-old Banks, who is perhaps best known for her 2011 hit, 212, has hit back at McGarvey's tweet and the wider press coverage her comments received.
In a post on Instagram (embedded below) Banks, the rapper said: "If I'm gettin arrested then we will have to go through my DM's and arrest each and every person who said racist things to me, which would mean you'd basically need to arrest the entire country of Ireland."
Asking "who is Tomas McGarvey?", she continued: "The fact that these people think this should scare me into submission to let people say racist things to me so long as I dont say them back is hilarious. Arrest me and THEN do what? ?? .. Tomas is trying to make me a national hero I see."
Reflecting on what was presumably a busy weekend on social media, McGarvey told Legal Cheek: "Ok, so I tweeted the tweet, one tweet, because I felt her comments about Irish people (not simply that Irish women were ugly — plainly incorrect) but the more offensive comments regarding the Irish famine and Irish people being inbred etc. I felt that whilst there had been a slight response in the Irish press, it was simple outrage rather than constructive in design. It was more likely to help her sell her records rather than make her think about her actions. I don't believe many people realise that there is a body of law (in England & Wales) dealing with grossly offensive language and messages posted online. I felt Ms Banks ought to know about this before she carried on doing what she seems to do so well (and I'm not referring to her music)."
Commenting on the abuse aimed at both himself and Banks following the online interaction, McGarvey continued:
"In fairness to her, after she made her comments she received a lot of horrible comments in response; equally reprehensible and deserving of prosecution. As it happens, I too, for possibly the first time, received quite a lot of online abuse with racial undertones but thankfully us barristers have thick skin! The real issue here is the fact that Ms Banks no doubt has many thousands of young fans in England and Wales (perhaps not so many in Ireland now) who will think it is entirely OK to send grossly offensive messages online. It simply isn't and people could and often should face prosecution for such behaviour."