Slap on the wrist for Mrs Justice Parker after she 'momentarily' dozed off during a hearing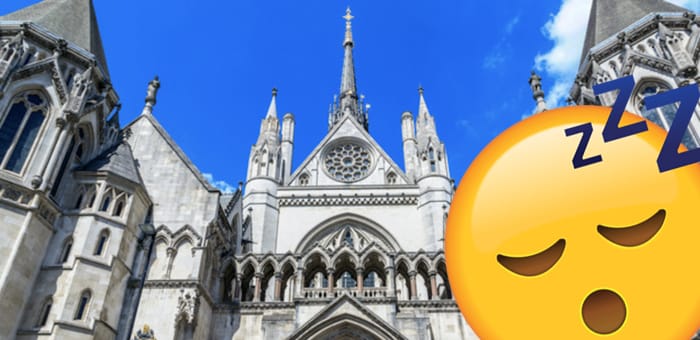 A High Court judge has been issued with formal advice on her conduct after falling asleep during a hearing.
Mrs Justice Parker, a family division judge, dozed off "momentarily" in the course of an unknown case last year.
A spokesperson from the Judicial Conduct Investigations Office said: "Mrs Justice Parker has been issued with formal advice following a complaint by parties in a case that she had fallen asleep during a hearing. While concluding that this amounted to conduct which had the potential to undermine public confidence the judiciary, the Lord Chancellor and the Lord Chief Justice took into consideration that the judge fell asleep only momentarily and has expressed remorse for doing so."
Parker, 68, became a High Court judge in 2008, making her the second most experienced in the family division. An Oxford graduate, she practised family law at specialist chambers 1KBW before becoming a judge, and according to Family Law Week was a respected lecturer in child law.
The lapse does not appear to be as serious as the case of Philip Cattan, who fell asleep during cross-examination in a 2014 rape trial. The JCIO said that Cattan had been guilty of "serious misconduct" and issued him with a reprimand.
But the courts have said that judges falling asleep during criminal cases does not necessarily make the verdict unsafe. In 2001, the judge presiding over the trial of a gang charged with an attempted jewel heist at the Millennium Dome zonked out "for part of the speeches and some of the evidence", the UK Criminal Law Blog reports. The Court of Appeal pointed out that "no judge ought, in any circumstances, to fall asleep during any stage of a criminal trial". But just because "a judge falls asleep… it does not necessarily follow that the trial is unfair, or that any ensuing conviction is unsafe. It is the effect, not the fact, of such inattention which is crucial".
According to a 2007 scientific paper published in the journal Sleep, "judicial sleepiness is not uncommon". The authors, both medical doctors, noted that judges nodding off "is viewed negatively by the media, community, and judicial system" and recommended "active monitoring of the judiciary for sleepiness and sleep disorders".
Legal Cheek has approached the JCIO for comment.