Recently retired Supreme Court justice slams hard Brexit 'fanatics'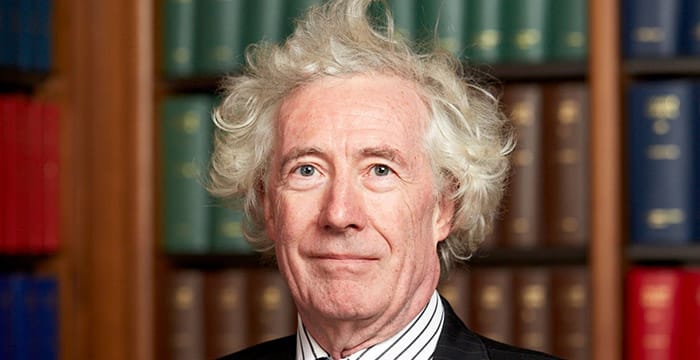 Former Supreme Court judge Lord Sumption has taken advantage of his recent retirement to sound off about politics, backing Theresa May over the "grim fanatics" in her party and describing Boris Johnson as "a bit of a clown".
Writing the right-wing Spectator magazine, Sumption reflects that May "did her loyal best to limit the damage" caused by Brexit. The former Oxford history don, who has written four books on the Hundred Years' War, reckons that "history will be kinder to her than we have been".
Musing on political strategy, Sumption says that May's mistake was to "repudiate those who would have been her natural allies. Instead, she made her pitch to the grim fanatics behind her, with whom no agreement on damage limitation was ever possible".
Sumption accuses the Conservative hardliners who want a hard and/or "no-deal" Brexit of "destroying their own party". The Tories polled just 9% in last week's European elections.
Summing up the soon-to-be-former PM's qualities, Sumption remarks:
"May's courage in the face of adversity commands respect. She was let down by her insularity, which deprived her of wise advice, and by her own utter lack of political imagination, tactical agility or basic communication skills."
Like many retirees, Sumption is doing a spot of travelling, although with millions in the bank from his time as one of the country's highest-earning barristers he's likely doing it in more style than most. The former commercial and public law silk recounts a recent trip to the Vienna State Opera, where he was peppered with questions about May's possible replacement, Boris Johnson.
Asked whether Johnson is "some kind of fascist", Sumption replies: "Not at all. A romantic, a bit of a clown, but perfectly harmless when out of office".
Sumption, who retired from the Supreme Court in December 2018, was outspoken even on the bench. In 2015, he caused a stir by predicting "appalling consequences for justice" if more women are rushed into the judiciary. Liberal lawyers have also been stirred up by Sumption's recent Reith Lectures, in which he argues that the courts are taking over what should be political questions through human rights law.