The revelation came during the Supreme Court judge's farewell ceremony this morning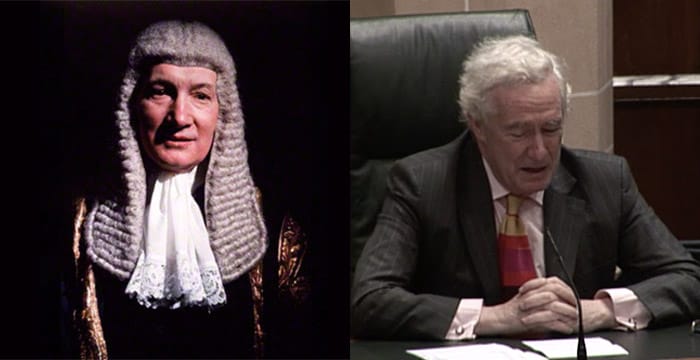 Never one to shy away from speaking his own mind, Lord Denning once advised a young Lord Sumption to avoid pursuing a career at the bar and stick to history instead.
News of the candid career pointer came as the legal profession's great and good gathered in the Supreme Court this morning to pay tribute to Sumption, who retires later this month.
In an amusing speech, One Essex Court's Lord Grabiner QC revealed how law student fave Denning once tried to persuade Sumption to ditch his barrister dream and stick to teaching history at Oxford. The commercial heavyweight told a packed out courtroom:
"You [Sumption] then decided to go to the bar, and in taking that decision you very wisely rejected the firm advice from no lesser person than Lord Denning, who told you it would be a 'big mistake' for you to go to the bar and that you should 'stick to history'."
Fortunately, Sumption ignored Denning's advice and went on to carve out an incredibly successful career at the bar, and later the bench.
Described by some in legal circles as the 'Brains of Britain', Sumption completed pupillage at 20 Essex Street (then 3 Essex Street) and Essex Court Chambers (then 4 Essex Court) — both rejected his tenancy applications. Undeterred, the jazzy tie loving judge eventually secured tenancy at Brick Court Chambers, where he remained until his appointment to the Supreme Court in early 2012.
His time at the top court wasn't without controversy. Amid growing calls to address the gender imbalance on UK benches, the Oxford grad found himself at the centre of a Twitter storm in 2015 after he suggested there could be "appalling consequences for justice" if more women were rushed into the judiciary.
Sumption, who was wearing a rather fetching gold and red tie for this morning's farewell, will now "return to life as an academic historian", according to a post on the Supreme Court's official Instagram account. He will be replaced by Lord Justice Sales.
You can watch the valedictory ceremony in full on the Supreme Court's website.