Exclusive interview: AI and online courts will flourish and replace 'old ways of working'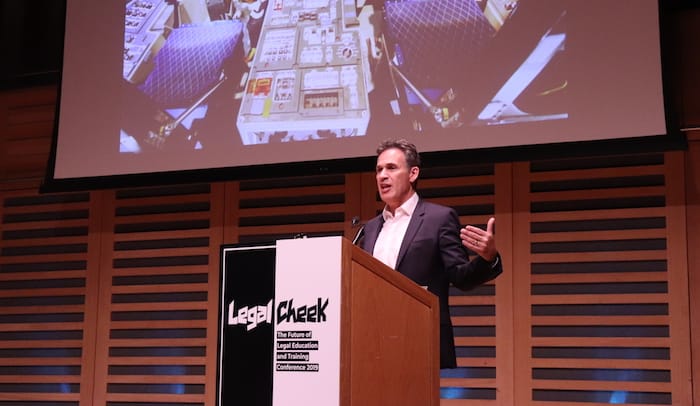 The 2020s will be the key years for the legal profession, according to Professor Richard Susskind, who spoke exclusively to Legal Cheek ahead of his keynote speech at yesterday's Future of Legal Education and Training Conference 2019.
"It's [2020s] the decade when many of the radical tech-led programmes being designed now will really come to life: namely artificial intelligence and online courts. These will replace our old ways of working," Susskind said.
The top futurologist, who is currently advising the Lord Chief Justice on the UK's online court-future, argues that there is a choice for lawyers now. He told us:
"If you are a young lawyer or you are running a law firm, you should ask yourself, should I compete with these AI/online systems or should I be one of those who is building these systems? Which will you do?"
Susskind is convincing in his belief that the next generation of lawyers will have a different job to do: "Lawyers will less and less simply advise clients, they will build systems that will, in turn, advise clients."
If this is the future, then this impacts on what legal education and training will look like, according to Susskind:
"If you are going to simply compete with AI, then you may feel that the current system of training is fit for purpose. But if you want to be involved in that latter project I outlined, in building and design, then may be you would argue that your training needs have changed, that legal education needs to adapt to be fit for future purposes."
There is a concern, however, that many young lawyers do not have proper insight into this: "I don't think they really appreciate how significant a shift there will be."
. @richardsusskind doing a quick interview with @pollybots in the green room ahead of his keynote speech at the #legalcheek Future of Legal Education and Training Conference 2019 pic.twitter.com/O4kJcU4TNg

— Legal Cheek (@legalcheek) May 22, 2019
Susskind does agree that there has been a "far wider acceptance of change within the profession" since he has been working in this area, and that we have got to a stage where the conversation is not about "if" but about "when". But there are still issues which lawyers struggle to overcome. He continued:
"Lawyers worry about AI because they think that the machine will simply replace him or her: that if someone were to break the job down into specific tasks, they'll believe that the machine will 'take' a percentage of that. We call this the 'AI fallacy'. It is not either as straightforward or as bleak as that: AI does not replicate what a lawyer does, it has a problem that needs solving and finds a machine-like way to solve it."
In researching for his next book, Online Courts and the Future of Justice, being published in November, Susskind explained how he has been looking at the challenge of law and tech in global terms: he said there are great things happening in many countries such as Canada, China and Singapore. Luckily for the UK, it appears, there is also "good work" being done here, for instance, with the judiciary taking a lead on online courts.