Pok Wong sued uni for false advertising and disputed 'high-quality' teaching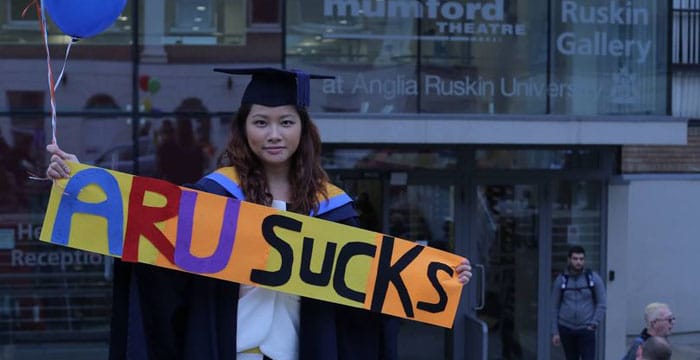 An Anglia Ruskin University business grad who went on to study law in a bid to fight what she describes were the "injustices" she experienced during her undergraduate degree has received a £61,000 out-of-court settlement.
As reported by Legal Cheek, Pok Wong hit national headlines last year after launching legal action against her former uni. Despite graduating with a first in international business, Wong claimed Anglia Ruskin "exaggerated the prospects of a career" and "fraudulently misrepresented" its business course when she enrolled in 2011.
Moreover, Wong, who also goes by Fiona, disputed Anglia Ruskin's claim to offer "high-quality" teaching and alleged that contact time was cut midway through her "Mickey Mouse" degree.
At the time, we revealed that she studied both the Graduate Diploma in Law (GDL) and the Legal Practice Course (LPC) at BPP University in preparation for the case. She also studied a paralegal course online in between.
It has emerged that Wong, who now works as a paralegal in Hong Kong, recently secured an out-of-court settlement worth £61,000. Commenting on her legal win, Wong told The Telegraph (£):
"The payout means this is a victory for me, despite the university strenuously fighting my case and denying any responsibility. In light of this settlement I think universities should be careful about what they say in prospectuses. I think they often make promises which they know will never materialise or are simply not true."
Last year, Central London County Court ruled in Anglia Ruskin's favour and ordered Wong to pay £13,700 of the uni's legal costs. Despite this, the uni's insurers then reportedly reached out to Wong and offered to settle her claim for £15,000 and a further £46,000 to cover her legal costs. She had been seeking £60,000 in damages plus her legal fees.
A spokesman for Anglia Ruskin said:
"Ms Wong's longstanding litigation… has been settled at the instruction of our insurers to draw a line under these matters and to prevent a further escalation of their legal costs. The claims were wholly without merit and resulted in cost orders made against Ms Wong by the Central London County Court on two occasions."