April Britton would park outside her law school and stick revision notes to her car windows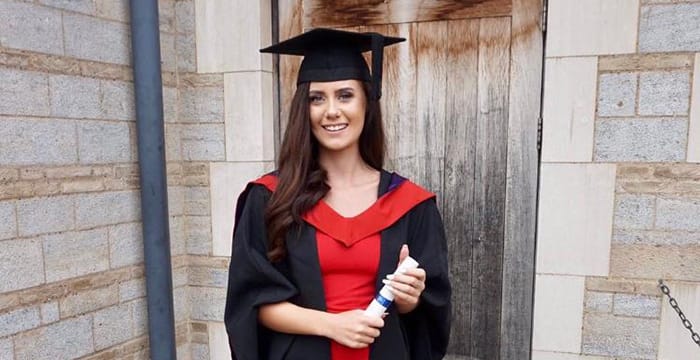 A young woman who found herself homeless while taking the Legal Practice Course (LPC) has secured a training contract at a Brighton-based firm.
Speaking to Legal Cheek, April Britton, 22, revealed she moved out of the family home following a disagreement with her parents. The tension saw Britton stay in a string of Airbnbs, Premier Inns and Travelodges. Costs quickly racked up, however, forcing the LPCer at BPP University Law School's Bristol campus to sleep in her mid-sized Volkswagen Golf. She told us:
"There were a lot of challenges. Emotionally it was quite difficult to deal with, I would go into law school unable to focus because I wasn't sleeping properly."
Britton, who completed her LLB at Canterbury Christ Church University and achieved ABB at A-Level, added that she wasn't eating properly either. Her weight plummeted to six and a half stone.
Then came the challenge of studying. "It was late nights in the library most of the time and when I wasn't in the library, I was in my car," she said. The law student used her limited space wisely and stuck revision notes to her windows and stored library books and folders in the back of her car. In the morning Britton would resort to brushing her teeth in McDonalds or Caffè Nero before classes.
During the three months Britton spent sleeping in her car, sometimes even parked outside her law school, she thought about giving the law up for an average job. But Britton's hopes of landing a training contract kept her motivated. She said:
"There were two things that drove me to get past this hurdle. Religion played a huge part and I always wanted to be a lawyer since I was a little girl. So I couldn't give up because some struggle had come my way."
When she eventually told her tutor at BPP about her challenging circumstances, the university connected her to homeless shelters and suggested she take time off from her studies. "I think I needed someone on the outside looking in saying, 'Hang on April, you need to chill out because you're not going to do well this way'," she said.
Set to resume her final LPC exams in January, Britton currently rents a flat with her partner and works as a paralegal at Britton & Time Solicitors in Brighton, where she will begin a training contract in October. The trainee-to-be, who bears no relation to the firm's director, Paul Britton, said: "I've come out the other side feeling proud of myself that I could take care of myself during that hard situation."