Campaigner Marcus Ball attempts to revive charges of misconduct in public office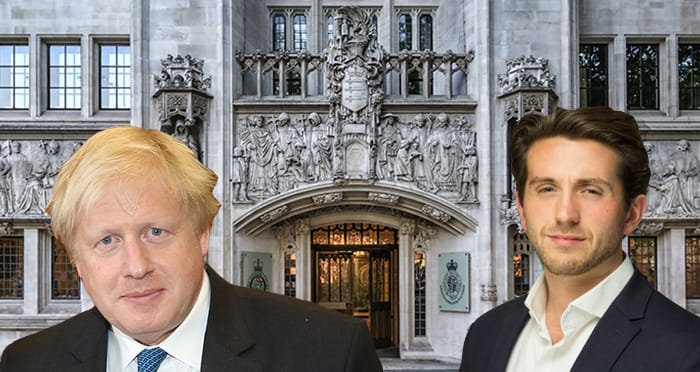 The failed bid to prosecute Boris Johnson for allegedly lying to the public during the EU referendum campaign could be revived by a last ditch Supreme Court appeal.
Marcus Ball of Brexit Justice Ltd has applied for permission to appeal directly to the country's top court after two High Court judges threw the case out in a scathing ruling.
The highly unusual private criminal prosecution, made possible by thousands of donors contributing £570,000 in crowdfunding over three years, centred on statements made by the now Prime Minister when spearheading the Vote Leave campaign in 2016.
Vote Leave's most eye-catching claim, repeated by Johnson, was that "we send the EU £350 million a week" in membership fees. This, some argue, was incorrect because it ignored the UK "rebate", a discount on membership deducted at source.
Twenty-nine-year-old Ball made headlines when a district judge agreed to issue a summons against Johnson for misconduct in public office. But Johnson immediately challenged that decision in the High Court, which threw the prosecution out in June.
In its written judgment, released on 3 July, the court found that the crime of misconduct in public office was about "neglect of duties or abuse of state power. No authority was shown to us suggesting that the offence can be or has been equated to bringing an office into disrepute or misusing a platform outside the scope of the office".
Announcing the appeal bid, Ball said that "we believe that we have a duty to the public to ensure that the proper limits of the offence are defined". He added that the High Court's decision was "contrary to other commonwealth countries and leading academic commentators".
The High Court can grant permission for a leapfrog appeal if the case involves a point of law of general public importance and either "the proceedings entail a decision relating to a matter of national importance" or is "so significant" that the judge thinks the Supreme Court should have a look at it.
Ball had told Legal Cheek last month that an appeal was "highly likely". In the course of an exclusive interview, the Canterbury Christ Church University graduate also said that the final failure of the case would see him "ruined" financially.
Despite this announcement, those hoping to see Johnson in the dock are likely to be disappointed. If the High Court grants permission to appeal directly to the Supreme Court, the Supreme Court must still decide whether or not to hear the case. If it did, and decided in Ball's favour, the case would still only be in the preliminary stages in the criminal courts and could be struck out by the Crown Court before trial.