Is it a 'constitutional crisis' yet?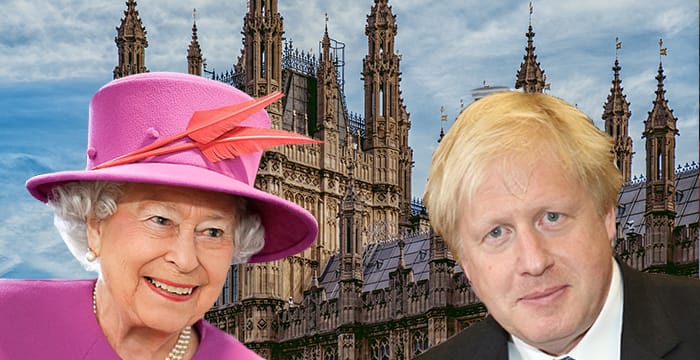 Lawyers have taken to Twitter to denounce what's being described as a "constitutional crisis" as Boris Johnson announced his intention to suspend parliament for longer than expected in the run-up to Brexit.
In a letter to Conservative MPs, Johnson argued that the current session of parliament had been the longest in 400 years. He wants to "prorogue" and start a new session, but with the break in between lasting for longer than usual.
The move is widely seen as a device to stop parliament interfering with the UK's exit from the EU if there is no deal struck on an orderly withdrawal. MPs would be off from 9 September to 14 October — giving less time than expected to prevent a no deal Brexit on 31 October.
QC-turned-MP Joanna Cherry called it a "constitutional outrage", while fellow silk Dominic Grieve MP opted for "constitutionally wrong and frankly outrageous". Solicitor and Brexit commentator David Allen Green pronounced that "it is beginning to look like a constitutional crisis".
It is beginning to look like a constitutional crisis

— David Allen Green (@davidallengreen) August 28, 2019
Public law guru Carl Gardner went one better, saying that the crisis is already upon us.
This is outrageous. Johnson is now departing from normal constitutional behaviour, to force his policy on the country. We're finally in the constitutional crisis people have talked about. | BBC News – Government to ask Queen to suspend Parliament https://t.co/bQ4fDc0qXC

— Carl Gardner (@carlgardner) August 28, 2019
George Peretz QC had some tactical advice for the opposition, saying that Johnson could be voted out of office and a temporary successor voted in to ward off no deal.
What the anti crash out coalition should do now. (Which is not, unfortunately, a prediction.)

— George Peretz QC??????????????BL?? (@GeorgePeretzQC) August 28, 2019
Parliament is normally in recess from mid-September to early October anyway, to accommodate the annual conferences of the main political parties. Johnson wants to extend this break by a week or two.
But as Bristol professor Gavin Phillipson pointed out, the suspension is still "unprecedented in terms of length and purpose".
Except it's not. As the @commonslibrary paper demonstrates, in the last 40 years Parlt has never been prorogued for more than 3 weeks; in most cases for only a week or less. This is not, as @JohnRentoul says a 'short prorogation': it's unprecedented in terms of length and purpose https://t.co/Wcpc6GU1ER

— Gavin Phillipson (@Prof_Phillipson) August 28, 2019
And human rights barrister Adam Wagner said that it was "rubbish" to pretend that this was in any way business as usual.
And as for "this is bog standard", it's what new governments do etc. – everyone knows that is transparent rubbish. The target of this move is *purely* attempts to prevent no deal. The courts and MPs will see through this in an instant.

— Adam Wagner (@AdamWagner1) August 28, 2019
Johnson's plan would give MPs opposed to a no deal Brexit on Halloween just a few days in September and the last fortnight in October to try to pass legislation blocking it.
It is not yet clear whether the Queen has granted the prorogation request. This is normally a formality, although some argue that the Queen could take issue with an extra-long suspension by a government that hasn't demonstrated that it actually has the support of MPs.
Boffins at the House of Commons library say that "prorogation being a prerogative power, there is no obvious legal mechanism by which parliament could prevent its exercise otherwise than by passing legislation to constrain it".
But a group of MPs and Lords are trying to get a court order to keep parliament sitting in the crucial run-up to Brexit. Jolyon Maugham QC, who is organising the litigation, said today that the group had filed an emergency motion trying to suspend Johnson's prorogation plan. The case is due to be heard in the Scottish Court of Session on 6 September.
Update: 15:37pm
The Queen has approved an order to prorogue parliament no earlier than 9 September and no later than 12 September until 14 October.