BBC legal apprenticeships manager Maria Kell and solicitor apprentice Georgie Yates will be joined by ULaw's Ceri Evans at 30 January event at Media City, Manchester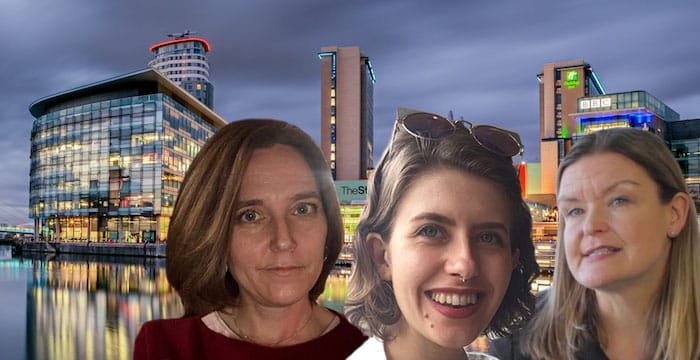 The manager of the BBC's legal apprenticeship programme, one of the broadcaster's solicitor apprentices and the head of apprenticeships at The University of Law (ULaw) are the latest speakers to be announced for LegalEdCon North.
Programme chief Maria Kell and level seven apprentice Georgie Yates will appear at the day-long 30 January event at The Lowry, Media City, Manchester. They will be joined by ULaw's Ceri Evans.
The trio will discuss the effect that the new Solicitors Qualifying Exam (SQE) is set to have on legal apprenticeships. With Yates set to be one of the first ever future lawyers to sit the new SQE exam when it's unveiled in 2021, and Kell and Evans both solicitor apprenticeship pioneers in their respective organisations, there will be some interesting takes.
Kell, a former Pinsent Masons solicitor who oversees a team of 80 lawyers at the BBC, is particularly interested in using the apprenticeship levy creatively to broaden the scope and availability of legal training. She praises the Solicitors Regulation Authority's head education and training, Julie Brannan, for "modernising and shaping the future of the legal profession". Brannan will also be speaking at LegalEdCon North, alongside SQE co-creator Crispin Passmore.
Yates — the Young Women's Trust Apprentice of the Year and the youngest member of BBC Director General Tony Hall's inaugural Next Generation Committee — has been at the BBC for three years, completing a level three paralegal apprenticeship before beginning a level seven solicitor apprenticeship. She is currently based the BBC's litigation team, having previously worked in the Children in Need's legal team, several BBC commercial teams, and has completed a secondment at DWF. She said:
"It's the coming together of two things I'm so passionate about: the colossal positive impact legal apprenticeships can have for young people and for employers; coupled with looking at the current strength (and future potential) of industry in the North."
Ceri Evans leads ULaw's solicitor apprenticeships programme, under which Yates is studying for a LLB part-time before commencing ULaw's new SQE course in 2022. A former solicitor with BLM, DLA Piper and Eversheds, she brings considerable experience of practice with her to the challenge of integrating legal apprenticeships with the SQE. She said:
"Apprenticeships provide firms with access to a wider and more diverse talent pool, which is delivering high quality Solicitor Apprentices".
The headline sponsors for the Conference are Manchester Law School, BARBRI, The College of Legal Practice, The University of Law and BPP University Law School. Nottingham Law School and LawCare are silver sponsors.
The Early Bird ticket offer for LegalEdCon North closes at midnight next Thursday (31 October). Get your tickets here.