Duo to articulate vision of new framework in practice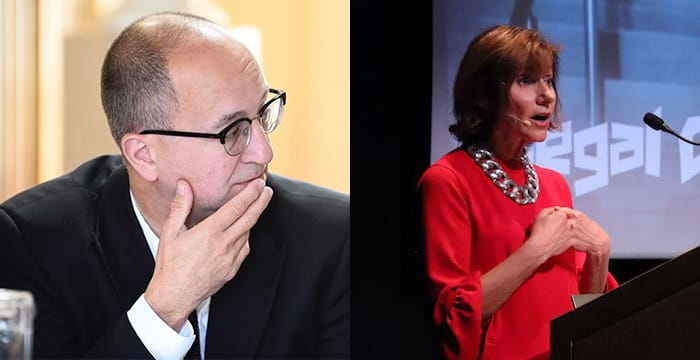 The creators of the new Solicitors Qualifying Exam (SQE) will lead the speaker roster at Legal Cheek's LegalEdCon North in Manchester.
Crispin Passmore, consultant and former executive director for policy at the Solicitors Regulation Authority (SRA), and Julie Brannan, the SRA's head of education and training, masterminded the exam that will replace the Legal Practice Course (LPC) from 2021.
On 30 January 2020 the duo will articulate their vision of the new 'super-exam' framework in practice at The Lowry, Media City, Manchester. Drawing upon Manchester's innovation-steeped history, Passmore and Brannan will consider the SQE in the context of the industrial revolution taking place in legal services.
They will be joined by leading figures from northern law schools and innovative law firms in the North, who will discuss how they plan to use the SQE to improve legal education and training. Further speaker names will be announced during the autumn.
Passmore said:
"The debate about SQE is over and the real issue now is how educators rethink legal education and training so that it meets the need of an increasingly plural legal market. The nature of solicitor practice and the business they practice from is changing and the educators that offer quality, access and value to produce solicitors that employers want will be the winner — this conference might be our first parade of what the winner might look like."
Brannan said:
"As a proud Mancunian myself, I recognise Manchester as a hub of innovation. The SQE will create opportunities for firms to recruit from a more diverse talent pool, through apprenticeships and paralegal routes as well as traditional training contracts. It will help firms tailor training to the individual's aspirations and support business objectives. This is not just good news for firms, but also those who want to be the solicitors of the future."
The headline sponsors for the Conference are Manchester Law School, BARBRI, The College of Legal Practice, The University of Law and BPP University Law School. Nottingham Law School and LawCare are silver sponsors.
Early Bird tickets for LegalEdCon North can be purchased here.