Paul Powlesland documented the incident on Twitter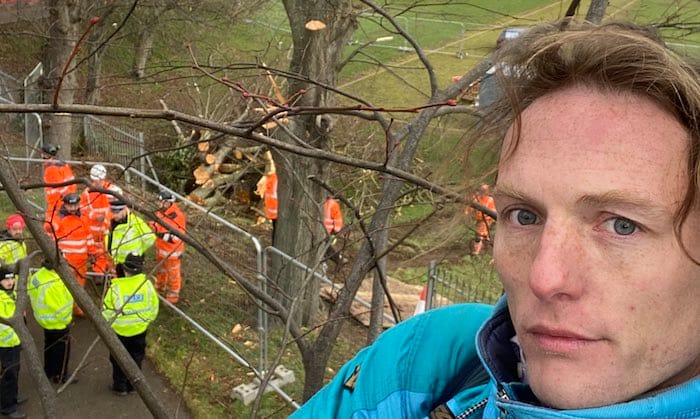 In an effort to prevent it from being cut down, a barrister yesterday scaled an old lime tree in Wellingborough and was later detained.
Garden Court Chambers barrister Paul Powlesland had been instructed by protesters on a pro bono basis after a new development required the removal of 'Wellingborough Walks', an avenue of more than 50 ancient lime trees.
The trees were being removed to create space for a dual-carriageway linked to the Stanton Cross development.
Campaigners had gathered at the site where 20 of the trees had already been felled. According to them, the avenue of trees can be traced back to the 1600s and are subject to a Tree Preservation Order (TPO) which should prevent their removal.
Powlesland began a Twitter thread from the branches of one of the trees, telling the story of how he came to be there. He tweeted that "local people were arrested for trying to stop the felling & the local tree campaigners asked the council why they wouldn't enforce the TPO & put a stop notice on the felling".
The barrister said he travelled to Wellingborough, North Northamptonshire, to try and explain his advice to the police on the ground. However, he said police were "threatening to arrest the protesters for aggravated trespass".
He climbed one of the trees and remained there until the felling was put on hold for the evening and the head of the local council offered a meeting to discuss the matter the following day.
So, I find myself 30ft in the air up a tree in Wellingborough- surrounded by police, security & tree surgeons- trying to prevent an illegal tree felling. How did I end up here? Here's an outrageous story of nature destruction & collusion between authorities & private developer 🧵 pic.twitter.com/UJl2mEuPmv

— Paul Powlesland (@paulpowlesland) February 28, 2023
He was arrested upon his descent but bailed on what he says is the condition that he does not climb any tree in Northamptonshire. Early this morning another protestor climbed the very same tree to attempt to prevent further felling.
In its most recent statement, North Northamptonshire Council said:
"The Council remain satisfied that Stanton Cross Developments LLP have the right to carry out the works under the statutory undertakers exemption provided by national legislation."
Stanton Cross Developments told the BBC:
"All work has been carried out in consultation with an independent team of ecologists and arboriculturists, who have undertaken extensive ecological work; and on-site ecological supervision is ongoing to ensure full compliance with the relevant wildlife legislation.

We do understand the level of local concern and have continued to liaise closely with engineers and the ecology team to work through the plans and minimise the impacts of the work taking place."