NRF ping pong balls? Or perhaps an Irwin Mitchell unicorn?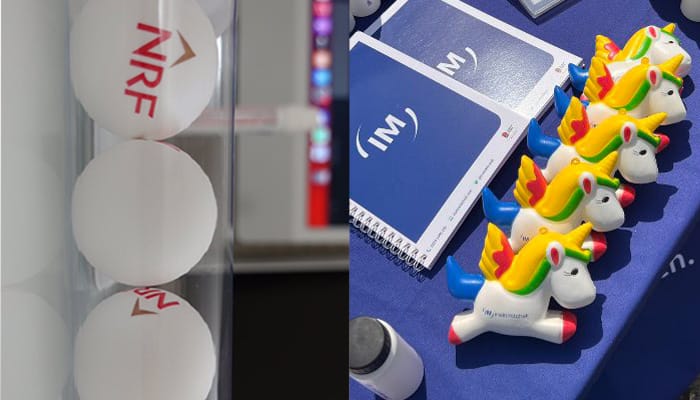 Law firms are well known for handing out branded merch, but a hilarious Twitter thread has thrown up some more unusual items.
The now-viral thread was started by US law student 'Abogadita Von Teese', who kicked things off with an image of Gibson Dunn-branded frisbees.
I wanna make a thread of hilarious big law firm merch…first up is this gibson Dunn frisbee pic.twitter.com/9cc70SKOvi

— abogadita von teese (@cointreaurian) March 3, 2023
Other items included some mini colouring pencils and colouring book courtesy of White & Case.
I found the white and case coloring book that came with the colored pencils!!! pic.twitter.com/oVJ3z83cA0

— abogadita von teese (@cointreaurian) March 4, 2023
How about some Sidley coffee art?
Next up are these artfully arranged Sidley Austin espresso grounds pic.twitter.com/0JDPPkQjsJ

— abogadita von teese (@cointreaurian) March 4, 2023
Event barristers get in on the weird merch. Take this plectrum for Kings Chambers, for example.
Here in the UK (we call them plectrums – I think you call them picks). pic.twitter.com/dUcyCPC8kX

— Gordon Exall (@CivilLitTweet) March 4, 2023
Ping pong balls? Norton Rose Fulbright has got you covered.
NRF branded ping pong balls pic.twitter.com/FujixdtZIs

— Jay Do (@Jay_Do_) March 4, 2023
Sidley again. This time a magic 8-ball!
Sidley Magic 8-Ball pic.twitter.com/Yu2B5yHmDg

— Donovan Borvan (@donovanborvan) March 4, 2023
A collection of stress busting unicorns from Irwin Mitchell.
— Lucy Bloom (@LucyBloomIM) March 4, 2023
A lovely Mayer Brown branded faux diamond paperweight.
Mayer Brown paperweight. (y tho) pic.twitter.com/Ge2DgOxJdc

— Emma Raviv (@eraviv) March 4, 2023
Cooley has got your covered. Your eyes that is.
Came in one day to a basket of these in the kitchenette pic.twitter.com/FABmVhT6uH

— Alex Robledo (@alexrobledox) March 4, 2023
If you have received some unusual law firm merch, why not let us know at tips@legalcheek.com