Get innovative and win a skydive, Gowling tells staff
Other prizes as part of firm competition include Paris minibreak supercar experience and hot air balloon ride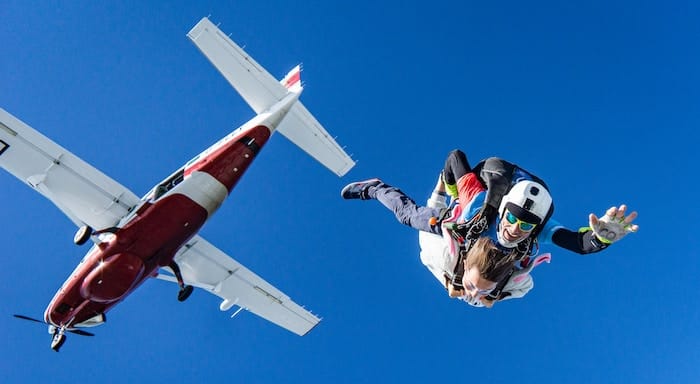 Gowling WLG has announced an internal competition challenging lawyers and staff to come up with innovative ideas that will benefit the firm.
The competition, dubbed 'The CoLab '23 Challenge', has so far attracted more than 200 proposals from self-formed teams within the firm.
Eight ideas will be presented at Dragons Den-style event in May which forms the second stage of the competition. The four ideas that survive the judges will be developed by the firm's business improvement team and external trainers before being pitched at a Summer Gala event.
Individual prizes will be up for grabs including a Paris minibreak, tandem skydiving and sunrise hot air balloon rides. The winning team will also be able to select a team prize which could be anything from a seven-course meal at a Gordon Ramsey restaurant to supercar and flying experiences, murder mystery retreats and glamping.
David Fennell, CEO at Gowling WLG, commented:
"We know that just saying 'be innovative' isn't enough. So, over the coming months, we will be using our new collaboration space and CoLab '23 Challenge to engage our employees, partners and clients in our innovation ambitions and encourage everyone to play their part."

"Delivering innovative solutions for our clients and in how we run our own business is central to the firm's strategic vision. As the legal market evolves and client expectations ramp up, we know that firms that can adapt, embrace change and generate fresh thinking and ideas will outpace the competition while delivering strong growth. Whether through streamlining our own in-house processes for efficiency or finding novel new ways to help our clients, a focused innovation strategy will allow us to push to new heights."
In December Legal Cheek reported another innovation-based initiative from the firm when it created a new technology seat for its UK training contract programme. Trainees choosing the seat will split their time between the firm's innovation team and a start-up specialising in artificial intelligence (AI).
Gowling isn't the only firm to encourage blue-sky thinking within its ranks. Lawyers at CMS and Reed Smith can put time spent being innovative towards their annual billing targets while a small group of associates in Mishcon de Reya's London office had their targets cut by 20% to encourage similar creative thinking.