US firm says presentation slide, which surfaced online, does 'not reflect the views of the firm or its partners'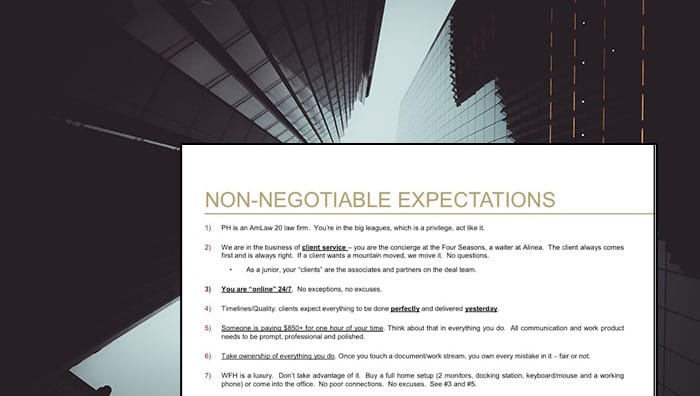 A Paul Hastings associate has gone viral for sharing a list of "non-negotiable expectations" of junior colleagues, which include "you are 'online' 24/7" and "you're in the big leagues" so "act like it".
The senior associate is understood to have been delivering a presentation to junior colleagues on what they can expect in their dealings with clients. One of the slides (pictured below), however, has captured the attention of an audience perhaps wider than intended, surfacing on forum Reddit as well as popular law meme accounts.
In a statement Paul Hastings said the list was "prepared by an associate and the views expressed do not reflect the views of the firm or its partners".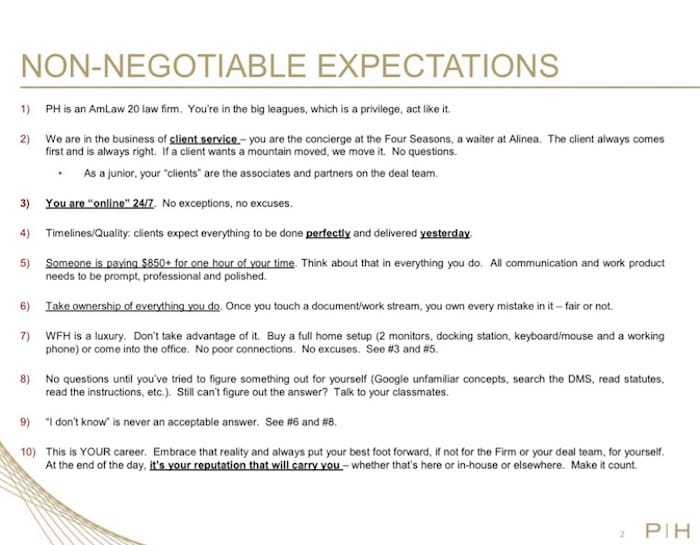 The slide has got lawyers talking, however, and prompted questions around law firm culture and the importance of tone in professional settings. Whilst few lawyers would argue with statements such as "the client always comes first", "work product needs to be prompt, professional and polished" and "take ownership of everything you do", there are messages on the slide that some may argue may have been better left unsaid. "You are 'online' 24/7. No exceptions, no excuses", is one such example, along with, "you're in the big leagues, which is a privilege, act like it" and "WFH is a privilege".
But whilst some may question the associate's "non-negotiables", they are likely not too dissimilar to those observed at other big paying law firms. Our own exclusive research shows that several junior lawyers are totting up 12-hour work days on average, with some finishing well past 11pm, so expectations such as being online around the clock seem to permeate commercial legal practice and can't be said to be exclusive to a single firm.
One junior lawyer told Legal Cheek that the slide's tone is indicative of "the no-nonsense, straight-talking culture we've come to expect within US law firms, particularly in transactional practice", where this associate seems to work. It's unclear which of the firm's offices the associate who produced the slide is based, but references including "AMLaw 20 law firm", which is an elite ranking of American law firms, and an $850 an hour billing rate, suggest they could work in one of the firm's 12 US offices.
The lawyer we spoke to said that some of the expectations shared in the slide are not "unreasonable" and they're expected to have "a full home setup" and to "figure something out for yourself", for example. Plus, these associates are paid exceptionally well, so expectations on their time are inevitable. A newly qualified (NQ) solicitor in Paul Hastings' London office earns over £140,000 a year plus bonuses, our Most List shows.
In 2021, Paul Hastings told its lawyers and staff, including those in London, that "by default", they should work from the office.