Music video follows a businessman as he navigates incoming deadlines and his boss's wrath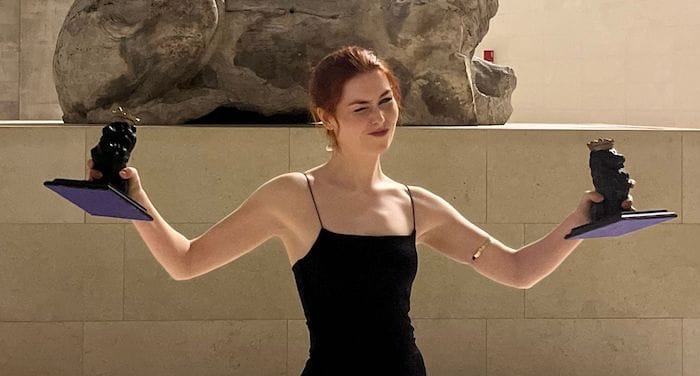 An RPC singer has won big at a festival it was announced last week.
Maya Whatton, a digital marketing specialist who releases music under the moniker Maya Yenn, scooped two awards at the British Independent Film Festival 2023 for her song, Better Luck Next Time.
She won a rising star award and another for best music video. The video follows a businessman (played by a suit and briefcase-clad Maya) as "he navigates incoming deadlines, his boss's wrath and struggles to maintain a relationship with his girlfriend", the description says.
The lyrics track the businessman trying to meet a deadline despite the plane he's onboard going down. "My boss is gonna kill me," sings Maya. Luckily, he manages to make the deadline "before the cabin split". Maya continues:
"Know I'm qualified,
Half my leg behind,
Still the boss is so uptight.

Report's due by five,
Now the airplane dives,
Oh well, I'll survive,
Cross my heart and hope to die."
Speaking on her double-win, Maya said: "I have no label, no big team, no funding and I write and direct all the videos and music myself so to receive this kind of recognition is mind blowing! Just goes to show you don't need a massive budget, cutting-edge equipment or even a lot of free time to create."
The song premiered in November 2022 and at the time of writing has almost 24,000 views.
We last wrote about Maya in 2021 upon the release of her debut single, tiptoe, which she described as "an ode to Millennial anxiety".