The Aura Network helps lawyers share experiences and 'lift up' those entering the profession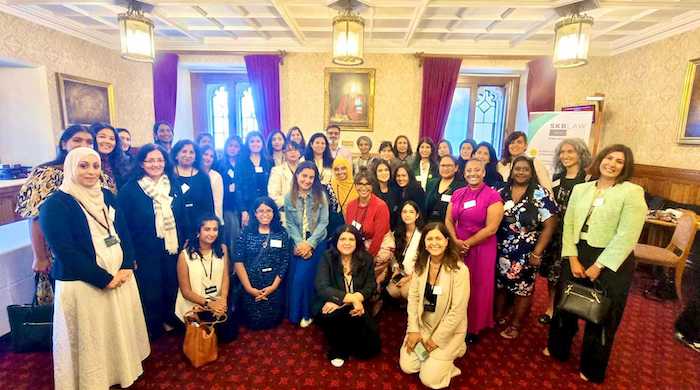 A network focused on empowering South Asian women in the legal profession has launched.
The Aura Network hosted its first event at the House of Lords last week. The event was attended by several key legal figures including the current Law Society president and the first Asian and Muslim woman to hold the position, Lubna Shuja.
Shuja joined former Crown Prosecution Service solicitor Baroness Sayeeda Warsi, alongside Baroness Sandip Verma and Baroness Shaista Gohir, for a panel discussion titled, 'South Asian women game-changers in the law'. They considered the unique challenges facing South Asian women in law and the steps to support current and future legal professionals.
The founder of Bradford-based family law practice SKB Law, Sarah Khan-Bashir MBE, started the network after recognising the lack of representation for South Asian female legal professionals. In particular, she noticed that articles about successful lawyers always seemed to portray mainly white women. "It worried me in terms of relatability and the message that to be successful you've got to look a certain way," she said in conversation with Legal Cheek.
After seeing an article about successful family lawyers which used an accompanying image with no diversity, she was compelled to share this observation in a LinkedIn post. "The response was just overwhelming", she recalls, "all these other incredible women who are in major law firms, at partner level, and some judges. And they were all very generous in terms of sharing their experiences and giving a lift up to those entering the profession."
"We deal with young women every day who are trying to get into the legal profession, and one of the hurdles they have is the lack of relatability further along in the legal profession: whether that's partners, judges, or even senior lawyers who feel comfortable in expressing their different backgrounds and cultures."
"We also wanted to celebrate Lubna Shuja who's done us proud", she adds, "but we wanted her legacy to be carried on and we thought having something like the network could achieve that."
"One of the things I said at the event is that we want an increasingly diverse and global legal market, and as South Asian women, we are a significant source of talent and we should be recognised for that," Khan-Bashir told us. "If we want to boost representation and create a more diverse and inclusive legal profession, then we need to invest in more development opportunities. This network is one of those."
Looking even further into the future, Khan-Bashir has big plans for the network including a partnership with The University of Law. "It's quite exciting, we're hoping to provide a year plan of events, workshops and training," she says.
For young women entering the profession, Khan-Bashir is keen for them to benefit from the work put in by those before them, saying: "We've carved a path already, we don't want to have to re-carve it."
"We're hoping to help people at all levels and being a solicitor or a barrister are not the only two professions in law," she continues. "People that support the profession in and around the law are doing just as amazing careers and it'd be nice to showcase that too."
Women interested in joining the network can do so on LinkedIn.