Soaring temperatures didn't prevent the legal community coming together for a good cause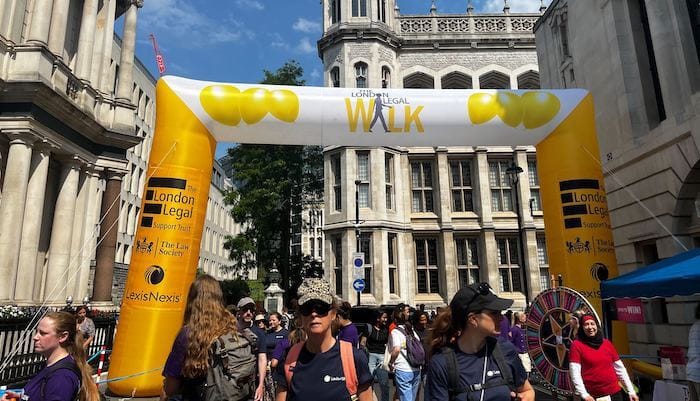 An army of 16,000 legal professionals filled streets of London yesterday afternoon to raise money for the capital's free legal advice charities. In the sweltering sunshine, participants marched along two 10km circuits to try to reach a £1 million fundraising target.
Teams from LawCare and the Bar Council were amongst the walkers.
Team Lawcare at todays #Birminghamlegalwalk – we really appreciate your support. #VolunteersWeek pic.twitter.com/lu47FEvb2D

— LawCare (@LawCareLtd) June 5, 2023
And we're off! Team Bar Council are on the London #LegalWalk to raise funds to ensure access to justice for all through @londonlegal. Hope to see many of you en route. If you can't take part, please donate to our fundraiser: https://t.co/WrdHVWZKGp pic.twitter.com/PVCpssQYCY

— The Bar Council (@thebarcouncil) June 13, 2023
The Solicitors' Charity were in attendance with their 'Wheel of Fortune'.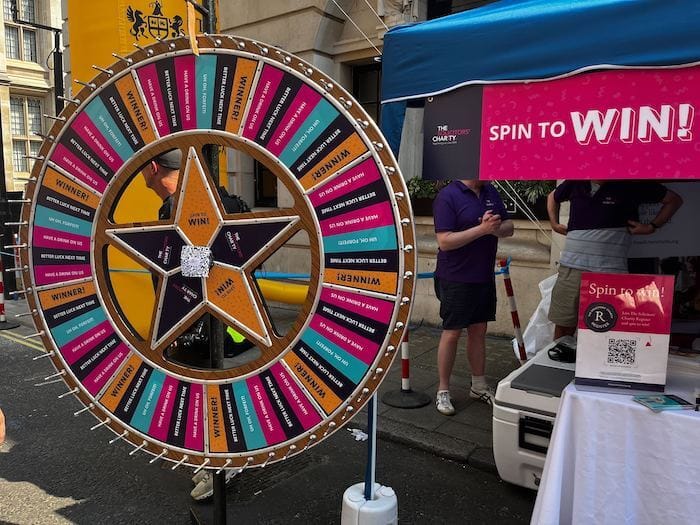 Chambers and firms alike showed up to suport the walk and enjoy the sunshine. Here's 1 Kings Bench Walk, Grant Thornton, Hodge Jones & Allen and Simmons & Simmons.
Team 1KBW about to set off! @londonlegal pic.twitter.com/AX9Dysmpvg

— 1KBW Chambers (@1kbwChambers) June 13, 2023
A huge thank you to those representing @GrantThorntonUK at the 2023 #LondonLegalWalk in support of the @londonlegal pic.twitter.com/Fy7NpEECET

— Angela Marie Bilbow (@AngelaBilbow) June 14, 2023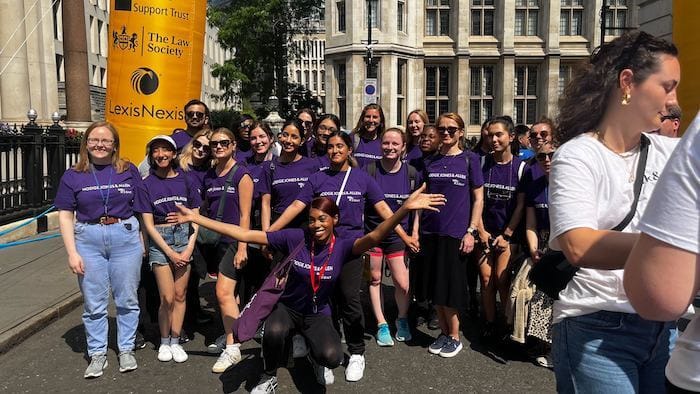 Plus, a strong showing from White & Case in their trademark blue merch.
Our London office colleagues have their walking boots on! Along with teams from across the legal sector, we look forward to joining the London Legal Walk this evening to support @londonlegal as it raises funds for the free legal advice sector. Best of luck to all! #legalwalk pic.twitter.com/4lueHZBWLQ

— White & Case LLP (@WhiteCase) June 13, 2023
And a good turnout from Dentons in purple.
Finally, the walk concluded with a street party where thirsty walkers enjoyed food stalls and entertainment and a well earned drink.