You can still donate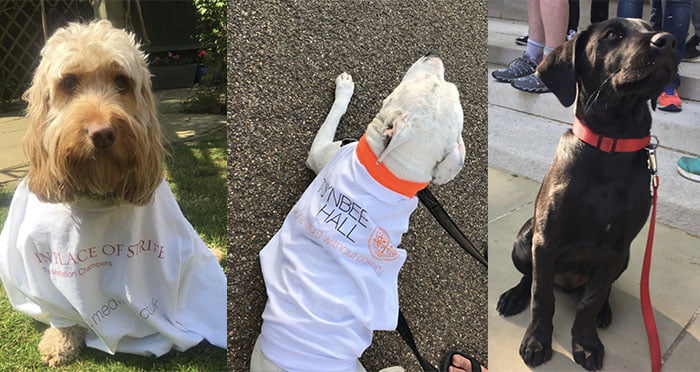 Feet sore from yesterday's London Legal Walk? Relax, grab a cup of tea and feast your eyes on some of the best pics from the charity event.
It's become compulsory to take a few snaps along the 10km route, which lawyers descend on each year to raise money for free legal advice centres across London and the South East. These include a photo with the king of lawyer selfies, Judge Rinder:
The #LondonLegalWalk is in full swing and @JudgeRinderTV is here! Good luck everyone walking for #accesstojustice pic.twitter.com/ErMRSHOdBO

— The Law Society (@TheLawSociety) May 21, 2018
Rinder wasn't the only legal celeb donning trainers yesterday evening. A number of Supreme Court justices, including the president, Lady Hale, took part in the charity get-together too:
Fancy dress and props never go amiss either. A pink wig? Check.
The two chairs of @LawCareLtd and the @SBACharity gearing up for #LondonLegalWalk pic.twitter.com/XCq0G0Q4IW

— LawCare (@LawCareLtd) May 21, 2018
Hula hoops? Check.
Team @hardwickelaw starting the #londonlegalwalk in style pic.twitter.com/y0xXNaoeEs

— Aneurin Moloney (@NyeMoloney) May 21, 2018
A cardboard bus adorned with lawyers' headshots in the windows? Check.
#LondonLegalWalk @Mishcon_de_Reya orange walking bus in Carey Street pic.twitter.com/TlAtjT0jWs

— Barbara Rich (@BarbaraRich_law) May 21, 2018
Another great feature of the walk is the sheer number of dogs that take part every year. Here's just a few from yesterday:
#LondonLegalWalk @chancery_bar team dog ready to set off with the walkers pic.twitter.com/RlXB7ev31Z

— Barbara Rich (@BarbaraRich_law) May 21, 2018
The @hardwickelaw walk team are so committed to the @londonlegal that Cassie the team mascot shows off her hula moves before setting off with @kirby_pj #londonlegalwalk pic.twitter.com/qR5KeJELz9

— Amanda Illing (@AmandaIlling) May 21, 2018
Bertie is suited and booted and ready to join the @MediateUK team for the @londonlegal walk today! Please sponsor him (and us!) for a very worthy cause here https://t.co/EktSg9E6dV #LondonLegalWalk pic.twitter.com/gwrOTQtPD4

— In Place of Strife (@MediateUK) May 21, 2018
Having a small pause on the #LondonLegalWalk with @ToynbeeHall 's most popular team member #accesstojustice pic.twitter.com/2CHabjAdyB

— Emma Davies (@emmajdavies1) May 21, 2018
There were so many four-legged friends, in fact, that this year's walk even featured a "Dog Bar".
I'll bring my hound next year – #LegalWalk pic.twitter.com/bPyFK6BX4J

— Elizabeth Rimmer (@elizrimmer) May 21, 2018
Legal Cheek took part in the walk with mental health and wellbeing charity LawCare.
Post #londonlegalwalk @legalcheek branch of @LawCareLtd team selfie pic.twitter.com/oRErUouutw

— Alex Aldridge (@AlexAldridgeUK) May 21, 2018
There's still time to donate to our team: you can sponsor us here.