Footage of incident involving associates from Slaughters and MoFo shared widely online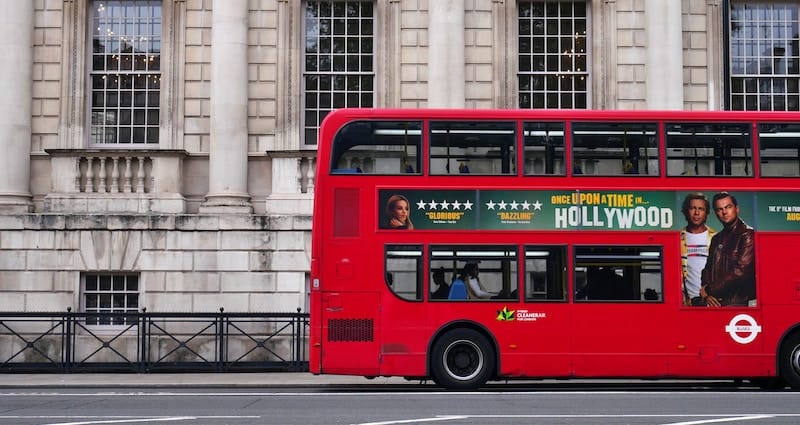 A pair of City lawyers have received support from the wider legal community after footage of them being subjected to an 'antisemitic attack' went viral online.
The married couple, who are associates in the London offices of Slaughter and May and Morrison Foerster, describe in separate LinkedIn posts how they were accosted by an unnamed female woman on the 214 bus near Kentish Town in north west London.
The footage, which was first posted on X (see below), shows the passenger acting in an aggressive manner before asking, "Are you a Jew?". She then appears to take a swipe at the phone that is recording her before directing her anger at another passenger. She can then be seen ranting and threatening a passenger who tries to intervene.
'ARE YOU A JEW?'
This video was recorded yesterday by a friend of mine in London.
Welcome to the new reality for British Jews. pic.twitter.com/nUCYnH6Z0C

— Ed Leon Klinger (@edleonklinger) November 12, 2023
Legal Cheek isn't naming the associates at the request of their respective firms.
The Slaughter and May lawyer's LinkedIn post states:
"On Saturday night, on my bus ride home, my husband and I found ourselves at the center of a distressing anti-Semitic attack. A woman, two rows ahead, overheard our discussion about McDonald's chips and started loudly proclaiming that 'only Jews eat McDonald's.' Appalled by this, I began filming."
"It is not safe to be a Jew in London right now. We are experiencing everything that we were warned about as children. This weekend in London, Jewish homes have been graffitied, people had to be escorted by police whilst leaving Synagogue and posters have been waved that would have been proudly held up in 1930s Germany. Each bus or train journey becomes increasingly intimidating, making us question if this is a place we can continue to call home. As the granddaughter of two Holocaust survivors, I am appalled (but sadly, not completely surprised) that this is something I have to face in my lifetime."
She continues:
"To my non-Jewish friends and colleagues – please understand that this is the reality for Jewish people right now. Please do not look away. Please do not stay silent. Please reach out to your Jewish friends, talk to them, listen to them. And if and when you witness incidents like this – please, please, speak up. Because despite there being lots of other people on the bus, only one other person confronted her. And I was scared. This is a route I take daily, and while I had my husband with me this time, I can't help but wonder who would stand up for me if I were alone?"
"I didn't want to post this. I recently deleted my social media because I found it too distressing — a sea of posts that try to reduce a complex, devastating conflict down to good vs evil, and try and make people 'pick sides'."
"This reductive thinking has real life consequences – it demonises an entire people. Because the woman on the bus didn't ask me if I support Palestinian civilians – I do – or if I take issue with Netanyahu's government – I do – or if I condemn the settlements on the West Bank – I do – or if I desperately want this tragic war to end – I do.
"The woman on the bus didn't ask any of that. All she asked was: 'Are you a Jew?'"
In a separate LinkedIn post, the Slaughter and May lawyer's husband, an associate at MoFo, echoed his wife's account of the incident. He said it had left him "paralysed in shock but my wife had the nerve to start filming". He added that the police responded swiftly and are investigating the incident.
The posts have collectively attracted hundreds of comments in support from fellow lawyers and the wider legal community.
Responding to the incident, Slaughter's managing partner Deborah Finkler said: "We are appalled and saddened that one of our colleagues was the victim of an antisemitic attack this weekend. This incident is deeply troubling, and something that no-one should have to go through, on account of religion, race or any other characteristic. We condemn antisemitism and any other form of hatred and we are focused on supporting our colleague and others affected at this time."
Meanwhile, a firm spokesperson for MoFo added: "We are extremely saddened and distressed that one of our London colleagues and his wife were the victims of an antisemitic attack over the weekend. Our thoughts are with him, his wife, and family at this difficult time. We are deeply concerned by the disturbing rise in antisemitism globally and in many of our own communities, and recognize the pain and concern of the Jewish community and our Jewish colleagues here at MoFo. As our colleague poignantly expressed, 'no one should ever feel unsafe due to their ethnicity, religion, or identity.' We condemn antisemitism, Islamophobia, bigotry, xenophobia, and hatred in all its forms and stand in solidarity with everyone affected by hate or xenophobia around the world."
In a statement, the London Metropolitan Police said: "We are aware of a video circulating showing an incident that we believed to have taken place on a bus in Kentish Town, Camden. We have reached out to the person who shared the video to obtain further information. Further enquiries are ongoing. There have been no arrests at this time. Police have been clear that there is no place in London for hate. Anyone who has information that could assist police should call 101 ref CAD 6095/12 Nov."