Members of Norton Rose Fulbright's innovation team share their insights on the hot commercial awareness topic of 2018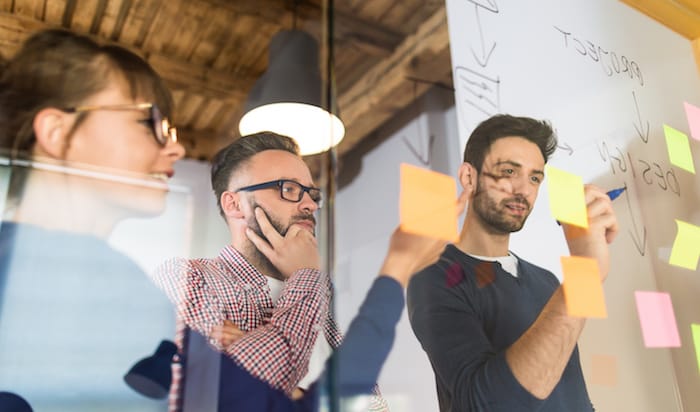 Law firms have invested in the latest legal tech products and launched innovation hubs around the country. The next step will be the considerable challenge of embedding these new elements of legal practice into their wider operations. With thousands of employees and dozens of offices globally, this needs careful thought. This is where legal design comes in.
At Legal Cheek's student event last month, 'Re-imagining global law firms through legal design' with Norton Rose Fulbright, lawyers from the firm's innovation and commercial team shared their insights on the hot commercial awareness topic of the year. Here are 11 things you need to know.
1. The origins of legal design are in California
Specifically, with a legal academic called Margaret Hagan from Stanford Law School. She helped coin the term after building a game app called Law Dojo to make studying law more interactive and engaging. Her work led to the establishment of the Stanford Legal Design Lab, of which she is the director.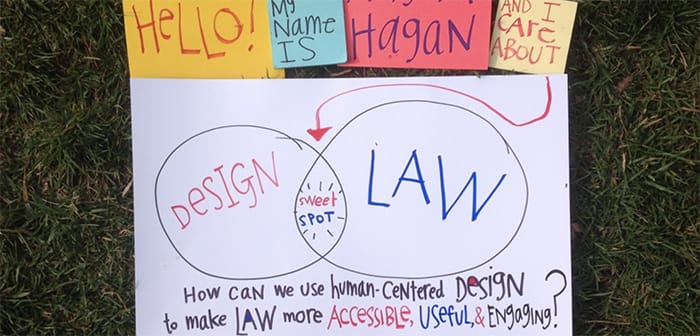 2. Legal design is about integrating new skills
At our event, Jeremy Coleman, innovation manager at Norton Rose Fulbright showed the audience a diagram of what is known as the 'law firm pyramid'.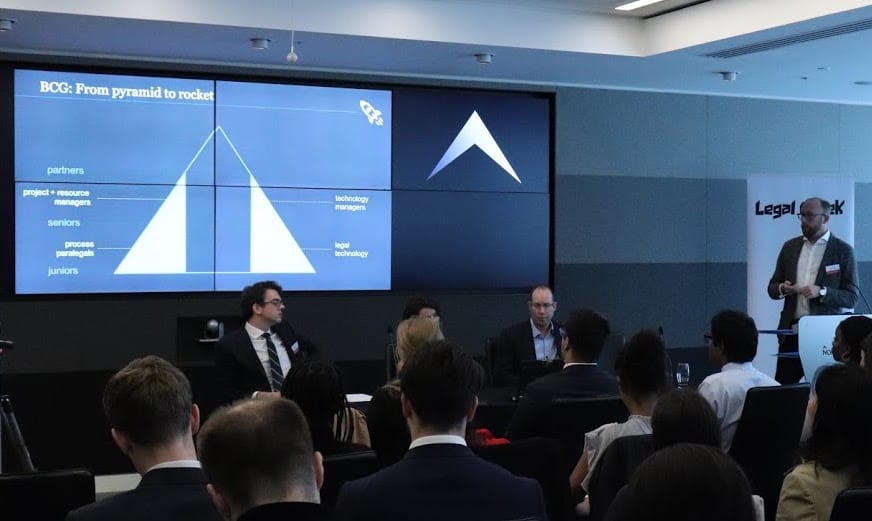 At the top of the pyramid are a handful of partners that are supported by increasing numbers of increasingly junior fee-earners. Coleman expects this model will fundamentally change over time as different skill sets are added to solve increasingly complex client problems. David Carter, Norton Rose Fulbright's commercial director, thinks that the partnership model will always exist, but there will be an increase in people who do not follow the traditional trainee path, who may have a specific skillset, such as coding.
3. Design thinking starts with the end user in mind
Legal design starts with how the end-user interacts with the law and works backward. "We try to look at why a problem exists so we can help our clients to solve the underlying issues. These are often adjacent or even unrelated to the legal problem," says Coleman. Sometimes the end-users are the in-house lawyers who work for their clients, but that often is not the full story: "What about the other people in that organisation that a lawyer has to interact with?"
Coleman gave example of an employment contact from a construction company that is presented as a cartoon and takes lawyers through their obligations. "That was the most efficient way to achieve the client's goals," he told the audience.
4. Design maps help to manage the complexity
One of the main challenges for law firms with new technology and innovation hubs is how they embed the products into their organisation, without disrupting established ways of working that achieve good results.
To create and build-in these processes, which combine automation with plenty of human interaction, requires careful thought — and hugely complex legal design maps. These are expected to be a central feature of law firm strategising going forward.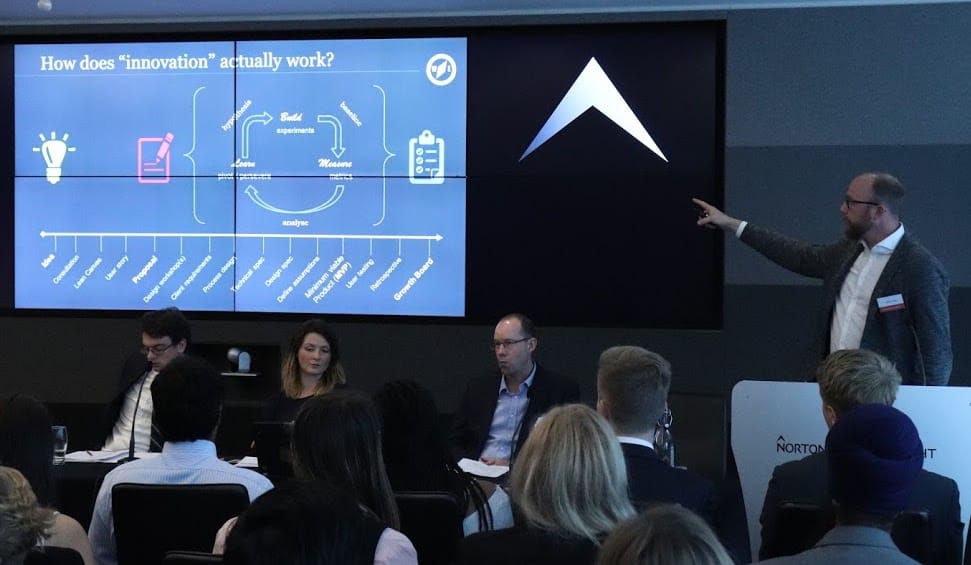 5. It's about linking specialist knowledge, not doing everything yourself
"I don't think we'll see many lawyers coding," says Carter, "because serious coding is a very sophisticated skill." Instead, Carter continued, law firms need to find ways to build teams that bring together skills — including, of course, top notch legal skills. "We live in the age of the specialist, and processes need to be designed in organisations to link together these deep but separate pools of knowledge," he added.
6. Legal designer is an emerging new career path for solicitors
Also on the panel was Sara Collins, one of Norton Rose Fulbright's newest legal designers having previously worked in litigation at the firm. "I made the change ultimately because I enjoy being a generalist, and legal design allows you to work right across the business," she said. Warwick graduate Collins spent five years as a litigator, working on civil litigation cases for the firm, before switching roles.
From her time in litigation, she told the students that she learnt that "solutions in the large cases at a global law firm work often weren't legal but rather were about how to use process to better achieve objectives". She has taken this experience into her new role. Both Carter and Coleman also have fee-earning backgrounds, having risen through the ranks after joining Norton Rose Fulbright as trainees.
7. Collaboration in law is becoming a thing
Not only are law firms collaborating with legal tech start-ups to build and introduce new products, but they are working with each other through initiatives like the Barclays Eagle legal tech lab in Notting Hill. Norton Rose Fulbright is a member alongside a host of other leading firms. "Certainly law firms are sharing more information within the innovation space," observed Coleman.
8. As the structure of law firms changes so does the culture
"Before I became a lawyer I was briefly in the army, and when I arrived into a law firm I recognised some of that same hierarchical culture," said Carter. He contrasted the vibe with Norton Rose Fulbright's Hub in Newcastle, which is "younger and more informal". That culture is slowly "spreading to the rest of the firm".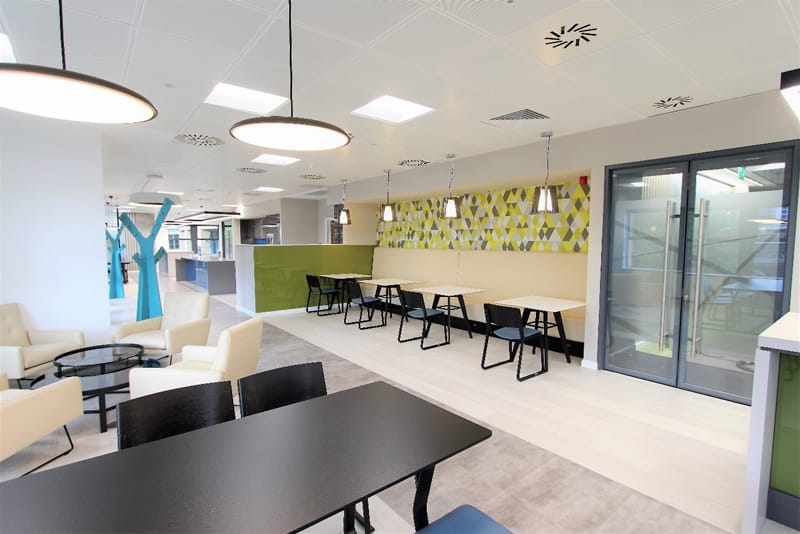 9. To reimagine a law firm you need a diverse range of people
On the panel alongside Carter, Coleman and Collins was the firm's business solutions manager, Ben Stirling, who has a background in IT. "I'd love it if we had more STEM (science, technology, engineering and maths) graduates becoming lawyers: we need people who care about the process and how to improve it," he said.
Coleman was less concerned about specific educational backgrounds and interested instead in curious people who "are comfortable not knowing what is next on the horizon".
"Diversity of background is very important because it means you have teams who come up with different angles on a problem," concluded Carter.
10. Digital natives who are unburdened by the past are needed
Partners have vast reserves of knowledge but adopting new things and new technologies is not always easy. Trainees, on the other hand, are not tied to old ways of operating and are willing to try new things. This combined with a natural ease for technology, allows trainees to become invaluable and a catalyst for change within law firms. As Coleman told the audience, "You are the future of the legal profession".
11. Expect change but don't overestimate the pace of it
The speakers agreed that the most successful lawtech to date has been the tools that bring about incremental improvements, allowing basic tasks to be completed more efficiently. Examples include due diligence questionnaires that allow clients to input key data into easily sortable platforms that lawyers can pull reports from.
"AI has, to a certain extent, been overhyped, and the term is commonly misused," said Stirling. In fact, a more accurate term for the cutting edge of technological developments in law firms is "machine learning", he added. But even this remains at a very early stage.
As someone wise once said, "We overestimate change in the short term but underestimate it in the long term."
About Legal Cheek Careers posts.