Senior lawyers and lecturers from science, technology, engineering and maths backgrounds discuss why graduates in these fields are in high demand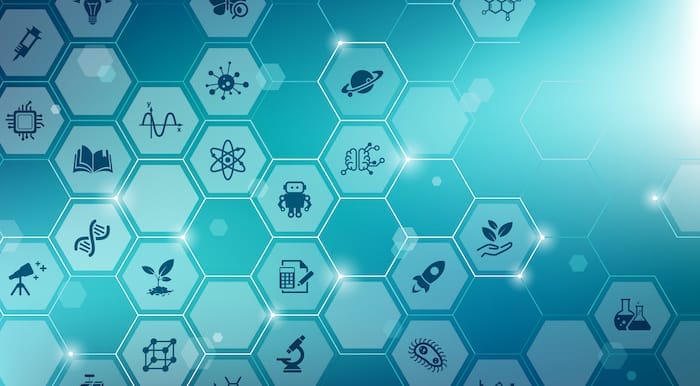 At STEM Future Lawyers' latest virtual event, 'Why STEM students make great lawyers 2020', senior lawyers and lecturers from Allen & Overy, BPP University Law School, Clifford Chance, CMS, Gowling WLG, Herbert Smith Freehills, and Mayer Brown came together to discuss STEM students' unique skillsets and why they make popular graduate hires at law firms.
---
The speakers
• Catherine Crampton, BPP University Law School lecturer (maths graduate)
• Clement Moylan, trainee solicitor at Allen & Overy (physics & natural sciences graduate)
• Laura Douglas, senior associate in financial regulation, banking & finance at Clifford Chance (physics & philosophy graduate)
• Sarah Innes, partner in intellectual property at CMS (biology graduate)
• Felicity Wade-Palmer, associate in intellectual property at Gowling WLG (biochemistry graduate)
• Emily Bottle, senior associate in intellectual property at Herbert Smith Freehills (natural sciences graduate)
• Emma Sturt, senior associate in banking & finance at Mayer Brown (civil engineering graduate)
---
1. Logical mindset
At its core, the law is inherently logical. Understanding a claimant's chances of success involves analysing patterns of legal precedent, whilst every day transactional tasks, such as drafting agreements, also take a typically methodical structure. For STEM students, well-trained in methodology and formula, often this is second nature. Catherine Crampton, a maths graduate who practised law before becoming a lecturer at BPP University Law School, explained to the virtual audience of over 150 STEM students how "logic is at the heart of what the law is, so if you already have a degree in this, you are one step ahead". STEM graduates are therefore attuned to a certain way of thinking which is wholly suited to the problem/solution-style nature of legal work.
2. Concise communicator
Within this, STEM students also have a heightened ability to communicate in a clear and concise fashion. Senior associate at Clifford Chance, Laura Douglas, who undertook a combined honours degree in physics and philosophy, explained just how important her STEM-learnt skills were when starting at the firm. Ultimately, "clients want bullet point answers, not treaties and often this is something arts students have a hard time realising", she explained. Felicity Wade-Palmer, a biochemistry graduate and now associate in Gowling WLG's intellectual property practice, echoed this point. "STEM students tend to avoid getting too caught up in the prose and are therefore better at getting straight to the point," she noted.
The difference between humanities and STEM students here is also something Crampton has witnessed directly during her time lecturing at BPP Law School, especially within the Legal Practice Course (LPC) dissertation. Given that this dissertation is supposed to be written through the lens of a legal practitioner, Crampton often finds that STEM students have an easier time adjusting to this structure as they are used to working backwards from a conclusion to find supporting evidence.
3. Problem solver
STEM students are also uniquely suited to legal practice because they are used to not knowing the answer from the get-go. As Sarah Innes, a biology graduate and now partner in intellectual property at CMS explained, "the best scientists have an ability to experiment and question, and so do the best lawyers". Indeed, for Wade-Palmer this was the reason she did her law conversion in the first place, as her "urge to problem-solve" was not being met in the sales jobs she undertook upon leaving university. Throughout their studies, STEM students are taught to be inquisitive and open-minded in approaching new problems, which is an invaluable part of the lawyer-client relationship.
4. A head-start on legal tech
As Emily Bottle, a senior associate in IP at Herbert Smith Freehills remarked, "artificial intelligence (AI) is a hot topic right now, making STEM graduates' knowledge of such an asset to law firms".
This is certainly true of Clement Moylan; a physics and natural sciences graduate now training at Allen & Overy. Moylan, who has thrown his tech knowledge into the firm's technology and innovation hub 'Fuse', is currently working on an automation app for the firm. He explained how "so much time is spent on deal management, so if you are able to automate much of this, it is really good value proposition for the client".
Douglas also emphasised the importance which AI is playing in her practice area, as financial institutions adopt more technology, and the firm evolves to meet the needs of its fintech clients. The legal tech boom is also carrying over into legal education. As Crampton explained, BPP's adaptive learning platform is now able to test students through a personalised service, able to retain information on individual scores and re-test students on weaker topics at a later date.
5. Understanding of specialist industries
Lastly, STEM students' specialist expertise makes them the ideal go-to lawyers for clients at the forefront of these fields. Having lawyers who understand clients' work and have a wider commercial understanding of the industry adds immense commercial value. For example, Clements recalled a time when his physics background and being able to "recite the basics on how to build a nuclear reactor" helped him to build rapport with that particular client. Emma Sturt, a senior associate at Mayer Brown, also found this to be the case with her engineering background. Speaking to her biggest learning curve in transitioning from a STEM background, she explained "civil engineering was very different to law, but you learn these things quickly and fill in the gaps".
A final word of advice…
In his final piece of advice to students deciding what to take at undergraduate level, Clements offered this response:
"Given that the day-to-day job of a lawyer is not hugely academic, you should pursue what you love at degree level. The important thing is that you don't need legal experience to secure a training contract, you just need to be able to appreciate the skills a trainee needs and articulate how you have developed them."
When asked if, with the benefit of hindsight, they would have still done their STEM degree, the response from the entire panel was an unqualified "yes".
---
STEM Future Lawyers has teamed up with BPP University Law School for a third year to announce a £5,000 law conversion scholarship for science, technology, engineering and maths (STEM) students.
The scholarship — which may also be shared between two students, who would receive £2,500 each — is open to STEM students or graduates interested in a career in the law. Applications close on 20 December 2020.
About Legal Cheek Careers posts.