Henderson Chambers' Beatrice Graham reflects on her career journey and offers advice to aspiring barristers ahead of Legal Cheek's 'How to secure pupillage' virtual event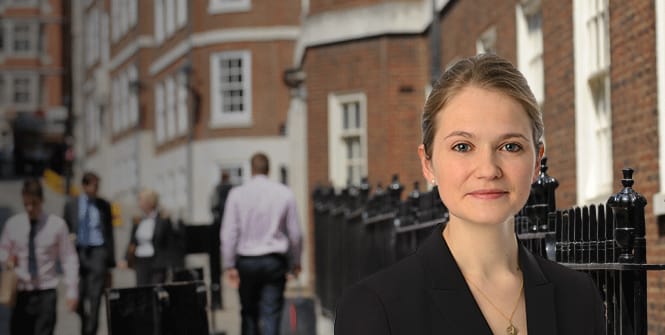 Beatrice Graham, now a barrister at Henderson Chambers, began her journey in law as an English language & literature undergraduate at the University of Oxford.
Graham was originally on the path to become a solicitor having secured a training contract at a magic circle law firm during her second year at Oxford. However, it was during the Graduate Diploma in Law (GDL) that she decided to pursue a career at the bar instead, drawn to the independence and academic rigour that life as a barrister would offer.
Graham completed six mini pupillages at a range of civil chambers gaining experience of public, commercial and chancery work. She then secured pupillage at commercial chancery set XXIV Old Buildings.
Before starting her pupillage, Graham worked as a paralegal at Bird & Bird and Mishcon de Reya, specialising in contentious matters at both firms. This served as valuable experience, giving Graham exposure to work relevant to the bar and a head start at building relationships with solicitors. "The firms knew that I was soon to start pupillage so they funnelled relevant work my way: I was involved in case research, writing case summaries, drafting instructions to counsel and, at Bird & Bird, supporting the team during a ten-week commercial court trial", Graham explains.
She used her time as a paralegal to "polish any rough edges so I was raring to go when I started my pupillage", she tells me when we speak. She adds: "It was also really useful to see how a firm worked and understand the pressures on litigation solicitors. That helps you do everything you can, once at the bar, to make your instructing solicitors' lives easier."
Now a tenant at Henderson Chambers, day-to-day life varies greatly and a typical week involves Graham spreading her time across several matters. "Normally I would spend two to three days in the week working on a larger, ongoing case. For me, that's often been a commercial group action where I work in a counsel team, rather than alone. The other days would usually be taken up with one or two hearings — perhaps possession work or a small contractual dispute — with the balance being taken up by drafting or advice on matters where I'm instructed at an earlier stage. COVID hasn't changed that routine hugely but court happens remotely."
Indeed, one of the biggest changes to Graham's work since the coronavirus hit is the move to online hearings. "I'm very impressed with how the profession has adapted and how everyone, from court ushers to judges, has done their best to make sure things run smoothly," she says. "Online advocacy can be a bit more tiring: there aren't the visual cues that you'd have in-person so it can be more difficult with witnesses and litigants in person."
For aspiring barristers looking to secure pupillage Graham highlights the importance of gaining broad work experience. "Find out if you're interested in criminal, civil, or family work, and then demonstrate you're serious about entering that part of the profession," she says. Mini pupillages are a useful way of doing this, and many have moved online: "Remember — a mini pupillage is as much about you seeing the chambers as it is about the chambers seeing you. Often students forget that chambers which do similar work, vary hugely in character, size and the types of cases coming in," Graham advises.
Developing your skillset is equally important. With heavy restrictions and social distancing currently in place, the pandemic has made developing advocacy and mooting skills more of a challenge but "think creatively", Graham emphasises. "If your usual route to advocacy has been cut off because of COVID think laterally about what 'advocacy' can be. Find ways to develop your skills in a non-legal setting — you don't have to be in a courtroom". She suggests that doing charity work where you represent another person's interests or working for your student union and advocating on behalf of students can all be used to show that you have an ability to persuade.
Those seeking pupillage should take comfort to hear that it's very common to do a few rounds of applications. Graham tells me that she secured pupillage during her second round of applications when she took a more focused approach. "I changed tack", she explains, "I focused on the type of work I wanted to do and tailored my applications carefully to the chambers I was applying to. It meant I applied to fewer sets but had longer to spend on each application". Graham advises those in the process of applying for pupillage to adopt a similar approach.
Over the course of her two years of applications she secured around five first round interviews. "So don't worry if you don't have endless interviews lined up — you only need one final round interview to be successful," she says. And it takes preparation to get there: "If you have a CV interview the best thing you can do is practise — whether that's with family, friends or in a more formal setting (your university, law school or Inn of Court may all offer mock interviews), make sense of the narrative your CV tells and practise getting across what you want to convey," she adds.
Graham further encourages applicants not to be put off by interviews taking place over video calls during the pandemic. "Remember everyone's in exactly the same boat so you're not disadvantaged compared to the other candidates. Take those steps that make you feel like you're doing your pupillage interview — whether it's going for a walk beforehand to feel like you're arriving for your interview or putting on a suit, even if you have to log in from your kitchen table."
Securing pupillage is a competitive process and so it's inevitable to face rejection along the way but "be kind to yourself", Graham encourages. "There's no use chastising yourself. Instead, reflect on the parts of the interview that may not have gone to plan and ask for feedback. Feedback is your best weapon for going into your next round of applications and interviews because it allows you to make necessary changes. Also take time to reflect as you start a new round of applications on how far your CV has come since the previous round — that experience may well make a crucial difference."
Beatrice Graham will be speaking alongside other barristers at 'How to secure pupillage — with Hardwicke, Henderson Chambers and Radcliffe Chambers', a virtual student event taking place next week, on Tuesday 26 January. You can apply to attend the event, which is free, now.