Solicitors from Gowling WLG, Pinsent Masons and DWF tell us what their jobs are really like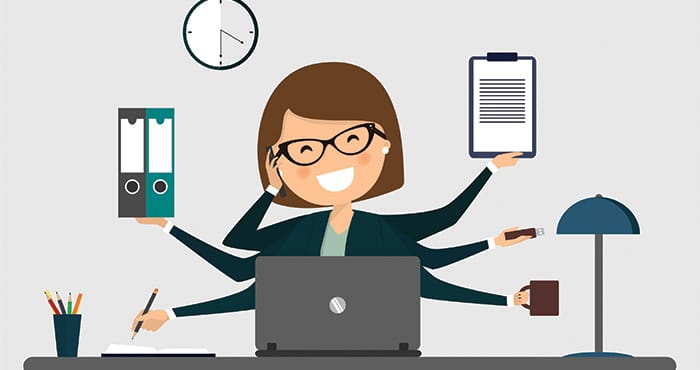 At 'Secrets to Success Birmingham' last week three lawyers from Gowling WLG, Pinsent Masons and DWF took questions from over 50 students in a discussion chaired by Legal Cheek journalist Adam Mawardi and hosted at The University of Law.
Each of the trio worked in different practice areas — with Gowling WLG partner Jasvir Jootla specialising in corporate law, restructuring and insolvency; Pinsent Masons' Ian Morgan practising in his firm's property dispute resolution team; and DWF's Narrinder Taggar focusing on civil litigation relating to personal injury and insurance.
Here are the highlights of what they shared about the reality of life as a lawyer at a large corporate law firm.
"There is no such thing as a typical day — which is one of the things I love about being a litigator," said Ian Morgan, an associate in the property dispute resolution team at Pinsent Masons. "You never know in the morning what is going to have happened by the evening. For example, a client may call saying 'I need an injunction!' and on those days your to-do list that you began the morning with may well end up left undone."
DWF's Narrinder Taggar, a senior associate specialising in civil litigation, agreed, noting that lawyers need to be able to reconcile the conflicting demands of "constant emails that need responding to" with the urgent twists and turns of a case that can require them to "drop everything".
Gowling WLG corporate partner Jasvir Jootla, whose focus is on transactional rather than contentious work, provided a different perspective. Her day often starts with "a telecon with clients or a videocon with the team in London". As a partner there are then face-to-face meetings on topics like "planning the pipeline of future work" and marketing and business development. Then there is the business of Jootla handling her own restructuring and insolvency practice. How does she manage all the work? "You learn to prioritise and distinguish between what is actually urgent and what is presented as urgent but can wait."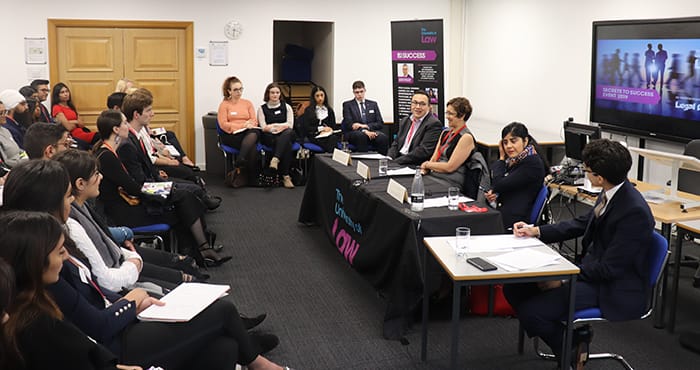 All three of the lawyers work hard, but in different ways. Jootla finds that she often needs time and space away from the 9-5 hustle to think complex things through. "Some matters are complicated and I just need to lock myself away in a room for an hour to get to the bottom of them. I tend to do that after 6pm when the office is quieter," she said.
Taggar became a solicitor via the Chartered Institute of Legal Executives (CILEx) after a series of jobs including egg packer and customer services manager. She spoke about the drive and passion that is required to enter law as a career changer. She has carried those qualities with her to a practice that sees her time split between DWF's Birmingham office and its London office in the Walkie-Talkie building.
Morgan, meanwhile, told the audience how under Pinsent Masons' flexible working programme he has chosen to work four days a week. "Fortunately the discourse around mental health and wellbeing is changing and now it is possible to take more control of your work/life balance if you have a supportive firm," he said.
Another feature of the lawyers' working lives is building up commercial awareness around the particular industries they serve. Whether it is commercial property clients, insurers or financial institutions, being among these institutions gives the lawyers an understanding of the bigger picture around how business and law interacts. "It's about really understanding the challenges faced by clients," commented Morgan, while Jootla said that having a strong feel for "the drivers" behind a particular industry is key. But at the same time, she added, lawyers' value stems in a large part from their "critical thinking and analysis skills."
Since Morgan, Taggar and Jootla started their careers they have noticed an increase in their firms' engagement with new technology — most recently artificial intelligence (AI), which Gowling WLG, Pinsent Masons and DWF are all among the leading firms on. This is making their lives easier, with Taggar sharing details of her firm testing increasingly sophisticated software to reduce the time spent reviewing medical records. "This used to take a long time but is now in a large part done for you," she said.
At Pinsent Masons there are nearly 40 full-time legal technologists working around the clock to make the firm more innovative and efficient, including in Morgan's practice area of commercial property where there is a specific trainee seat in property law innovation.
Meanwhile Jootla has been observing how banks and other financial institution clients are experimenting with AI and "wanting their law firms to partner with them on tech and go on the same learning journey". In the future, she suggested that "perhaps a different type of lawyer may be needed".
The discussion closed with each lawyer asked to give a piece of advice to their law student self?
"If at first you don't succeed, try and try again," urged Morgan.
"Your network is your net worth," said Taggar.
"Just relax," smiled Jootla. "Law is a long journey and a very worthwhile one."