Lawyers share their routes into the profession — and what they learned along the way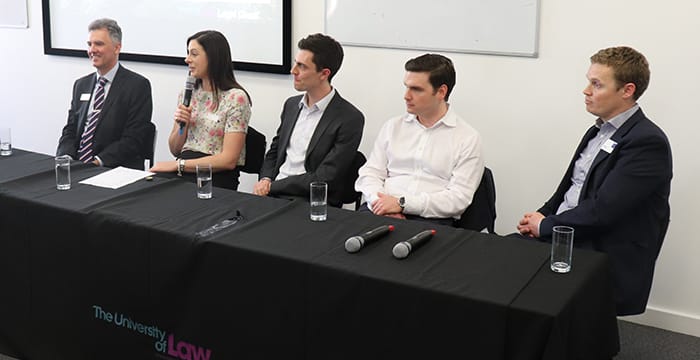 What do Brian Moore, a former England rugby player, Dave Rowntree, drummer for rock band Blur, and ex-President of the Supreme Court, Lord Neuberger, all have in common? They all changed careers to become lawyers. At last week's commercial awareness event at The University of Law (ULaw) in Moorgate, these three icons were highlighted as examples that, although challenging, transferring into law from another industry is achievable. Offering their insights was a panel of lawyers who successfully made the leap into legal practice themselves. Here are six things you need to know.
1. Switching takes stamina
In addition to the financial costs and risks associated with legal training, changing career involves a huge investment of time. According to James Stuart, a second seat trainee at Shearman & Sterling, the process from start to finish can take up to five years: around 12 months researching firms and applying for training contracts; two years for the Graduate Diploma in Law (GDL) and Legal Practice Course (LPC); and a further two years completing a training contract.
Maintaining stamina during this time requires sacrifices — especially in your social life, Stuart said. The careful planning and preparation involved takes time, a luxury not afforded to full-time workers. "You don't have weeks and weeks; you've got evenings, if you get out of work early, and you've got weekends. So, you need to really think about how to prioritise your time in respect of your application," Stuart stressed.
2. Self-motivation is vital
Swapping the routine of a busy nine-to-five for law textbooks and online applications is a transition that can take some getting used to, revealed Peter Barker, a trainee solicitor at Irwin Mitchell. Previously a music supervisor in the television and film industry, Barker recalled his self-funded experience on the GDL. "It can be quite strange, sitting at home by yourself while all your friends and family are out working every single day and you're just sat in your room studying for contract law," he recalled.
Switching careers without a training contract or pupillage lined up can be daunting and changers should expect to face knockbacks and rejections. But rather than doubt yourself, Barker stressed the importance of staying motivated and sticking by your decision. "You've really got to throw yourself into it and fully commit, 100% — I don't think it will work otherwise," he warned.
3. What can you bring to the party?
The key question any career changer should ask themselves is: 'What is it I can bring to the party?' Whether it be skills, experience or contacts — take advantage of what you already have, advised John Watkins, ULaw's head of employability, who moved into higher education after 15 years in accountancy.
However, transferable skills can be "double-edged sword", Stuart warned. Although other industry experience will give you plenty to talk about during interviews, make sure examples are relevant and meaningful to those firms you're applying to. Stuart — who previously worked as a trading operator at oil and gas giant BP — explained:
"On a daily basis, I used to nominate on specification oil quantities to a counterparty. That means nothing to a law firm. But actually, if you say, on a daily basis I ensure we correspond with the counterparty to ensure contractual terms are fulfilled, immediately you're talking their language."
4. Grades are important — but they aren't everything
For law firms and chambers sifting through vast quantities of applications, strong academic grades can serve as a quick tool to filter candidates. However, career changers with a poor academic record shouldn't be too disheartened, according to the panel. If you have on-the-job experience dealing with clients and a track record of delivering results, these transferrable skills may be more attractive to some law firms, Watkins explained. After all, as a lawyer, "you're not going in on a daily basis to sit exams".
Jack Harris, a barrister at 2 Temple Gardens who moved across from management consultancy, commented that of the roughly 300 applications the London-based set received last year for its two pupillage spots, around a third held first class degrees. With this in mind, those without strong grades need to be wary of the uphill battle ahead. The barrister advised to be prepared to present "absolutely stellar" work experience if your grades are not up to scratch but to not be disheartened. "If you have a poor academic records, the numbers are against you, but it's possible," Harris said.
5. There are no shortcuts to success
Despite having a head start in the working world, career changers shouldn't expect any shortcuts into the legal profession — switchers have as much to prove as anyone else. Although it may be frustrating to restart your career from a junior level, Stuart recommends adjusting your attitude. "You have to adjust your view of the work you're given as a trainee. You are, and rightly so, bottom of the ladder," he explained.
6. Go the extra mile
Keen to join a firm? Try connecting on LinkedIn first. This was the tactic of banking and finance associate at Mayer Brown, Emma Sturt, who spent six years as a civil engineer before switching to law. Having not secured the expected grades in her undergraduate degree, Sturt found it difficult to secure interviews with law firms. So, to grab the attention of graduate recruitment at her dream firm, Sturt recalled reaching out over networking platform LinkedIn to let them know she had submitted an application. "Do anything to try and nudge someone to not put your application straight in the bin, she stressed. "You've got to believe in yourself, you've got to believe you can do it."