Clifford Chance's Arnav Joshi discusses his busy day-to-day in the firm's Tech//Digital team and how those seeking to enter the profession should embrace the changes ahead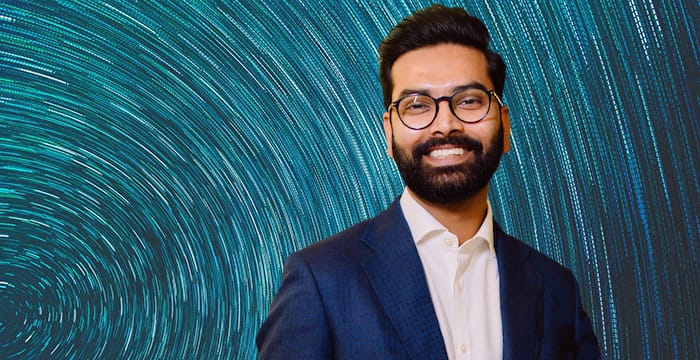 Arnav Joshi, a senior lawyer in the firm's Tech//Digital team, says the Magic Circle firm has afforded him the opportunity to "grow twice as quickly as a lawyer compared to elsewhere".
 Reflecting on his work, Joshi first clarifies what Tech//Digital entails. "While most other firms continue to use the Technology, Media and Telecommunications (TMT) terminology, at Clifford Chance, we rebranded this practice under the more new-age tech and digital umbrella", he explains. This means they look at the practice of technology law at "a higher level of abstraction".
He works on a wide variety of matters including data privacy, cybersecurity, emerging technology laws, content moderation, AI, quantum computing, data transfers and children's online safety. On an advisory level, Joshi explains, "it's about telling clients what they need to think through before getting new products and services to the market and how to deal with consumers and regulatory expectations".
As well as his day-to-day work as a lawyer, Joshi leads Clifford Chance's Digital Ethics Working Group. "It's not my first AI rodeo", he says. "My interest goes back considerably to personal influences growing up, with a technologist and a human rights lawyer as parents. I got into thinking quite deeply and carefully about the issues that come with emerging technology very early on".
"Historically, when we thought of concepts like bias, fairness, accuracy and transparency, these were largely philosophical arguments, but they're now quickly finding their way into the law around the world", Joshi says. "These concepts are not just seen as 'good to have', but are evolving into non-negotiables, for consumers and regulators alike. In line with these shifts, the Digital Ethics Working Group collaborates with trade bodies, research organisations, governments and regulators, helping to inform their view on what the future looks like in this space", Joshi explains.
Ahead of Legal Cheek's in-person and virtual event in partnership with Clifford Chance this week, I asked Joshi about the challenges and opportunities that come with a practice area that occupies a space so new and uncertain. "Being an early adopter is critical", he stresses. He predicts that ChatGPT and other forms of generative AI are going to continue to develop and strengthen their foothold within the legal profession. "Like when we switched from using physical libraries to legal research databases, what we are seeing across industries is a similar, but probably more high-impact, change", Joshi says.
While he notes that there hasn't been "a tectonic shift" in client demand for using generative AI in day-to-day work just yet, he sees such change being a certainty on the three-year horizon, with clients likely wanting law firms to become leaner, faster and smarter going forward.
"Client focus is efficiency and pragmatism. Lawyers need to keep in mind that everyone is asking more difficult and more strategic questions, and solutions like generative AI can help us keep up, and push the envelope in terms of what the practice of law can look like. It will take some trial and error, which is why these systems are being tested rigorously before any firms adopt them at scale", he notes.
So, what does this mean for students looking to enter the legal industry? Rethink your approach to what the practice of law means, he advises. "Be excited about the fact that your value-add during your first few years is no longer likely to come from poring over due diligence documents." Rather, Joshi foresees that future trainees, with a strong theoretical foundation, will get to think about real strategic issues that matter to clients and be able to apply themselves as legal specialists early on.
Joshi recognises that the adoption of AI and any new technology is not without its risks, so advising clients on how best to balance risk and innovation is the name of the game. "Regulation is always playing catch-up in this space", he notes. Keeping up-to-date with technological progress so that its risks to society, clients and regulators can be pre-empted quicker is where the future generation of lawyers will come into their own, Joshi predicts.
As he completed an MSc in data and society from LSE, which he found an "incredibly fulfilling experience", I asked Joshi whether he thought a master's degree in this space was essential for future lawyers aspiring to enter the tech world. "When I did my masters in 2017-18, there weren't a lot of opportunities for lawyers to get involved in the tech space as directly. While a master's remains highly valuable, there are now other ways for lawyers to up-skill, at any stage of their career — Clifford Chance, for instance, supports lawyers to do courses in machine learning, AI and emerging tech, so there's a lot more support to learn on the job", he notes. An additional avenue for growth can be client secondments to some of the leading technology companies in the world, adds Joshi.
For those on the hunt for vac schemes and training contracts, Joshi advises dismantling preconceptions about entering into set practice areas like litigation, antitrust or finance. "It's very important that you stay connected to the huge leaps technology is going to be making, regardless of what you're interested in qualifying into – emerging technologies will impact all businesses, and all practice areas", he says.
To understand AI, it's crucial to look beyond the hype, and explore what the core underpinnings of the technology are — understand what the system is telling you. "Start adopting these systems as early as you can, in a safe and balanced way – don't take everything they tell you at face value just yet!", he advises.
Arnav Joshi will be speaking at 'Generative AI, business and the law — with Clifford Chance', a virtual and in-person student event taking place this Thursday (7 September). This event is now fully booked but why not check out our upcoming events.
About Legal Cheek Careers posts.