China's booming tech industry through the eyes of a Clifford Chance lawyer
Ahead of Thursday's event, 'Technology and emerging markets — with Clifford Chance', Brian Harley discusses his route into law and what it's like working at a magic circle firm in this ever-evolving practice area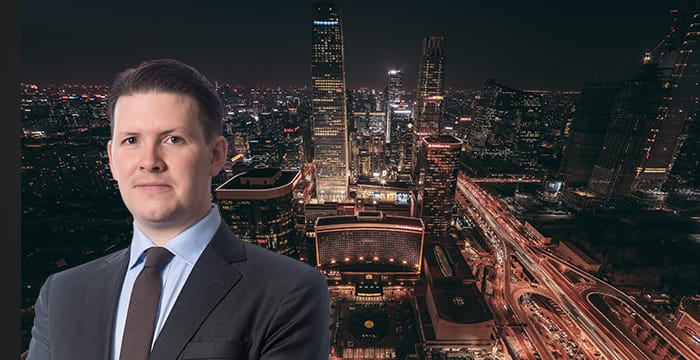 "Beijing is an incredibly exciting place to both live and work," says Clifford Chance lawyer Brian Harley. Now eight months into a year-long internal secondment from the magic circle firm's Hong Kong office to their Beijing office, Irish-born Harley tells Legal Cheek Careers: "This isn't actually my first time living in China. I taught English in Beijing before I started my training contract. It's always been a personal goal of mine to return."
Harley, who specialises in M&A, with a particular focus on technology and emerging markets, was schooled in Paris and studied law at the London School of Economics and Columbia Law School. "While I didn't enjoy the classic legal subjects such as contract and tort that much at the time, I did develop a passion for human rights law and went on to work in refugee law, advising asylum seekers in Ireland." This is worlds apart from the work he does now, concedes Harley, who will be speaking at Thursday's careers event, 'Technology and emerging markets — with Clifford Chance', via video link from Beijing.
So what prompted his passion for technology? A self-confessed, life-long "geek", Harley reveals he was "first bitten by the tech-law bug" during his training contract with Irish law firm Mason Hayes & Curran in Dublin. "The firm has a strong tech practice and I realised I could make a career out of combining my passion for technology with my legal work", says Harley, who enjoys "tinkering with computers" and coding in his spare time. "I found it more intellectually challenging compared to other areas of the law and haven't really looked back since." The tech bug also appears to run in the family. In the seventies, Harley's father was involved in setting up some of the earliest computer systems used by the Irish public service for scientific work.
A typical working day comes in two varieties: "deal mode and business development", according to Harley, who joined Clifford Chance in 2012 as a senior associate in its London office. "The period before a deal is due to sign or complete can be an incredibly hectic time. Whether the particular piece of work is M&A-related, IP or technology, it's all systems go, working closely with the client, our partners and junior lawyers. You've got to keep all those plates spinning!"
As for the business development side of the role, Harley tells us:
"There is a high level of competition among law firms within the Chinese market, particularly within the technology sector. While we must continue to serve our existing clients, it's imperative we attract new work too. This requires, among other things, identifying what the 'the next big thing' will be and which companies will lead it — artificial intelligence is clearly emerging as the next great wave of innovation, with Chinese techs at least neck-and-neck with their US rivals."
A recent deal which Harley found of particular interest was working for a large US multinational partnering with a Chinese tech "giant" through a joint venture focused on the Chinese market. "I've been working on this for over a year now and it's still ongoing. While I can't go into specifics due to client confidentiality, the deal focuses on building a collaborative app sitting on one of these huge, uniquely Chinese tech platforms, and poses some really interesting questions surrounding IP and data."
Keen to capitalise on China's economy, fuelled in part by its rapidly growing technology sector, Clifford Chance opened its Beijing office in 1985, the first European law firm to do so. The firm's Hong Kong office — where Harley is currently seconded from — opened in 1980, while its Shanghai office has been operational since 1993. On life as a lawyer in the Beijing office, Harley, who can speak several languages, including Mandarin, says:
"Thanks in part to its smaller size — compared to our London headquarters — there's a great team spirit where everyone knows everyone. However, when things get busy, that also means there are fewer opportunities to delegate — although thankfully that collaborative approach extends beyond just the local office, so you will get support from your colleagues in Shanghai, Hong Kong and beyond."
Looking ahead, Harley predicts his area of specialism will continue to go from strength-to-strength. "The most valuable businesses in the world are technology-focused, whether they are explicitly 'technology companies' or not", explains Harley, who qualified in 2008 and went on to complete his LLM at Columbia University in New York a year later. "Lawyers of the future looking to work within the technology sector, especially in the most innovative emerging markets, will need to not only know how to apply the law, but how their clients' businesses operate and how they use data — which increasingly means understanding how technology drives a business's value."
For those looking to make it as a lawyer, Harley advises "trying to find a way, if possible, to combine your passions and interests with the law" — something he accepts "isn't always easy to do". Trainees need to "maximise opportunities" to discover what areas of the law they are most suited to during their training contracts or risk committing to something they may not want to stick with on the longer term, warns Harley. He continues:
"When you nail your colours to the mast upon qualification, make sure you know it is the right choice for you, as it can become difficult to change specialisms later down the line. That being said, once you have found your area of practice, there are plenty of opportunities to grow in your role and take it in new directions — in my case, Clifford Chance has always been very supportive in developing my focus on technology."
Brian Harley will be speaking alongside other Clifford Chance lawyers at 'Technology and emerging markets', on Thursday 5 September at the firm's Canary Wharf headquarters in London. This event is now fully booked, however you can still apply for the waiting list.
About Legal Cheek Careers posts.