A panel of magic circle lawyers explain what's happening on the ground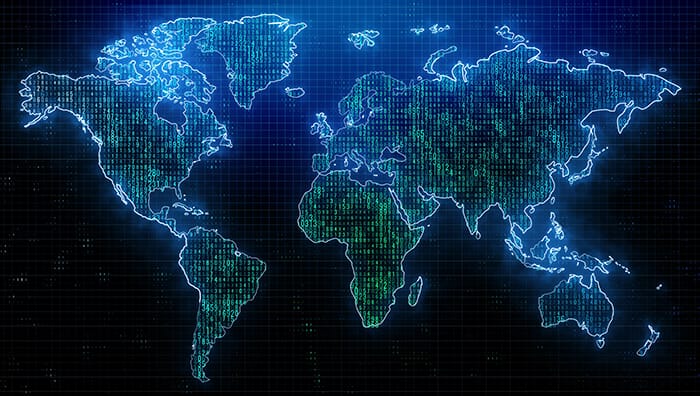 Technology today is everywhere, impacting business in every sector, globally. Last Thursday an audience of almost 300 students arrived at Clifford Chance's London headquarters to explore how tech is transforming emerging markets, namely Asia, Africa and Latin America, and learn about the work of the global firm's lawyers within this ever-evolving practice area.
Perhaps the most dramatic digitisation story of the last decade is the emergence of China as a global tech power. "Ten years ago China's strengths were still seen as being mostly at the bottom of the value chain, specialising in lower-value manufacturing. High-tech products might be assembled in China, but the lion's share of profits would be made by tech companies abroad that designed them, especially those based in the US. Fast-forward to 2019, and it's evident China is now a major tech power in its own right," said Brian Harley, a lawyer at Clifford Chance specialising in M&A, with a focus on tech and emerging markets, at Legal Cheek's first student event of the autumn.
The world's second largest economy has swiftly become home to a number of globally-recognised tech players: smartphone megabrand Huawei, computer manufacturers Lenovo and electronics company Xiaomi, to name but a few. Domestically, Chinese tech titans Alibaba and Tencent have accumulated huge customer bases through their platforms that combine multiple functions (mobile payments, e-commerce, messaging, gaming etc.) on a scale unmatched by any Western rival.
Furthermore, cashless payment systems have become increasingly prevalent across China, where Harley, who tuned into the event via video link, is currently based while on secondment from the magic circle firm's Hong Kong office. "Mobile payments have become the dominant means of transacting for daily expenses — we rarely bother with cash and when I travel abroad it's a bit frustrating when you can't just wave your phone to pay for things!"
Africa is another market in which tech is booming. Clifford Chance partner and East Africa co-head Jennifer Mbaluto, who was also on the panel, explained to the audience that since the 2008 global financial crisis there has been a sharp uptake of investment in tech in the continent. Investors in the West realised to generate profitable returns they would need to diversify their portfolios. The average annual Gross Domestic Profit (GDP) growth rate in some of Africa's leading economies, such as Ethiopia, is around 8% said Mbaluto, and that's "music to any investor's ears — it's an exciting time for both investors and lawyers advising on their funds."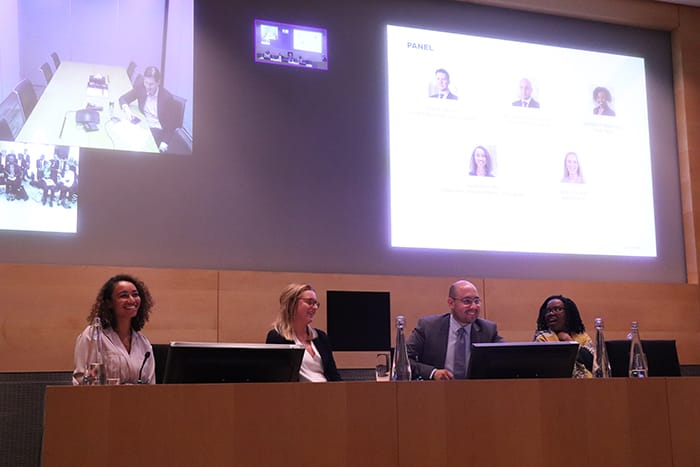 Mbaluto is currently leading a team of Clifford Chance lawyers advising the UK's development finance institution on its £180 million investment (its second-largest ever) in Africa's leading fibre-optic provider, Liquid Telecom. "There's a high demand for data in Africa but there's also a huge digital infrastructure deficit," said Mbaluto, who moved to London from Kenya where she practised as a lawyer seven years ago. "Liquid Telecom is building 70,000 kilometres of fibre-optic cable to not only meet this demand but also spur growth to tech activity. As a firm we're very excited at the prospect of the underserved being able to access high-speed internet."
Latin America, meanwhile, is experiencing similar levels of growth, in part due to the rise of the middle class in the region — "a new consumer group" — said Diego Ballon Ossio, a banking and finance senior associate at Clifford Chance, who gave the final presentation of the evening. "This stronger, not as poor, more developed portion of society is able to access technology: they have smartphones and are interacting with companies, creating a huge potential market," he explained. Narrowing his focus to Bolivia, where he first practised as a lawyer, Ossio said the increased awareness of tech is being used to access mobile payment systems even in the most rural areas.
There are a slew of potential problems, however, which threaten the world's emerging economies.
The positive development in Bolivia is contrasted by the polarisation of the political climate across the region which is shifting governmental focus from investment in technology to socio-political matters, leaving the industry as the sole driving force for tech expansion, observed Ossio.
Some countries in Africa have embraced mobile payment systems without ever going through the brick-and-mortar bank branch phase, for example. The consequence of this so-called 'technological leapfrogging' is that regulation, which protects consumers' rights, has had to "play catch up", explained Mbaluto.
The escalating US-China trade war is "worrying" for a lawyer when "your livelihood depends on trends in the broader economy", said Beijing-based Harley. "We see the trade war having a significant impact on M&A deal flow and, more generally, tech sector clients changing their supply chains to adapt to the new reality." Harley observed that, despite the tariffs and other restrictions imposed so far, there haven't been any "major casualties" as of yet, and the regional tech champions by and large remain profitable. However, he voiced concerns that if a resolution is not reached soon, the trade war was bound to start causing real damage, not just in China but across the Asian tech sector.
Towards the end of the evening, the speakers were joined by associate Jenni Polson, who recently qualified into the firm's technology, media and telecommunications (TMT) team, and graduate recruitment specialist Yasmina Kone. They were on hand to field questions on how Clifford Chance prepares its trainees for developments in legal tech.
Last year the firm launched a first of its kind law tech training contract specifically geared towards students with an aptitude for tech. IGNITE mirrors the structure of Clifford Chance's regular training contract offering but sees trainees given time away from fee-earning to gain specific legal tech exposure, explained Kone. There's a concerted effort to upskill all trainees on tech, one of which is a digital awareness course which gives all of the firm's trainees an overview on key technological concepts. The firm even introduced a hackathon last year as part of the trainees' inductions. "We're empowering trainees from when they first join us through to advising clients," said Kone.
"The firm has evolved its training to take advantage of the next wave of legal tech," added Polson, who has developed skills in designing and providing content for different apps and interactive reports during her training at Clifford Chance. Document review can be a fairly "mundane" trainee task but the use of legal tech and systems such as artificial intelligence-powered platform Kira "free up our time to focus on more interesting advisory aspects of our work".
About Legal Cheek Careers posts.