DWF's Paul Maddock reflects on his career and how the profession is becoming more inclusive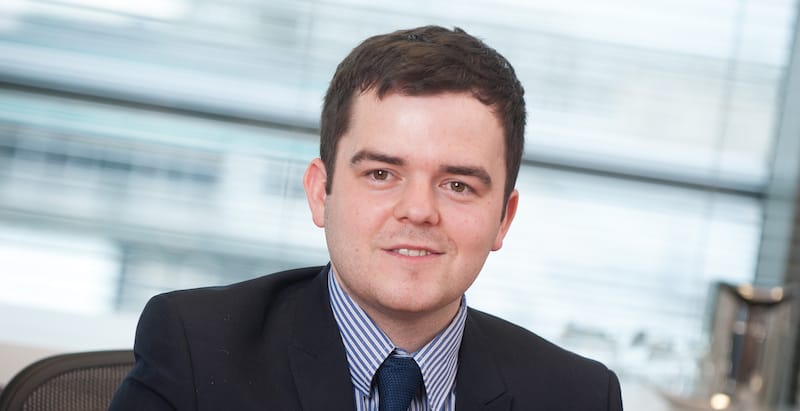 "It is the problem-solving aspect of litigation that attracted me to qualify as a disputes lawyer," says Paul Maddock, senior associate at DWF. "I thoroughly enjoy strategic discussions with my clients since I am a very resolution-oriented person, so resolving complex disputes for clients is a rewarding experience."
It was the beginning of the financial crisis when Maddock graduated with a law degree in 2008 from the University of Liverpool. "Those times were very difficult to get into the graduate job market," he recounts. "A number of my LPC classmates either lost their TCs or had them pushed back due to the economic conditions. Many law firms stopped recruiting at the time and some firms even ceased trading." Luckily, Maddock managed to secure a training contract with DWF, a firm where he has spent the past 14 years.
In the commercial disputes team, Maddock works with a variety of clients like banks, blue chip companies, FTSE 250 business and start-ups. His team represents these commercial entities in disputes ranging from breach of contract claims, professional negligence matters to shareholder and director claims.
When we chat, he tells me that supply chain disruption was a dominant theme keeping his practice busy during the pandemic. He explains this with an example of a case he worked on:
"During Covid-19, it was difficult to get many food items from manufacturers in Europe. Supply chains were disturbed and this resulted in the prices of these items skyrocketing," he says. "Our client needed one of these food items as a core ingredient in their product. Their shortage meant that our client was under immense pressure to supply their product to supermarket chains, with whom they had prior contracts in place."
"As their lawyers, we looked at the supply contracts with supermarkets to understand whether our client could be held liable for any breaches. We also considered the client's contracts with their own suppliers to see whether there were any breaches we could sue for. We further analysed things like issues of force majeure or indemnities clauses that could impact the late deliveries or non-deliveries when governments had ordered lock downs."
Is litigation really 'inflation proof'?
We next speak about the perception that disputes lawyers are 'always busy', and that clients sue in both good and bad times.
"Dispute resolution as an area does have a tendency to self-correct to some extent. Uncertainty of the market reaps disputes as people fall out because of difficult circumstances. That said, funding disputes in these times becomes tricky," says Maddock. "The targets of disputes become less clear. Since many players start becoming insolvent or impecunious, the benefits to come out of suing and enforcing judgment debt against them needs to be carefully considered".
"The commercial realities in good times work the opposite way. The prevalence of disputes is slightly less as markets are less uncertain and difficult but people fund disputes with greater ease. So, it is difficult to say litigation is "cyclic or seasonable" as there is a consistent pipelines of work due to these factors", explains Maddock. "Litigation is not just a legal endeavour but also a commercial one. When we are working with clients we ask ourselves a lot of important questions, like: 'Is this claim going to get the client a return on investment?'; 'Is suing this party worth it in terms of recovering fee and assets?'; Is the other side going to be able to pay any awards?'"
Lawyers must 'push the envelope' on diversity
Next, we chat about the importance of diversity in the legal profession. As a vice chair of The Law Society's LGBTQ+ committee, Maddock has been spearheading inclusion initiatives for many years now.
"At The Law Society, I work with the relevant stakeholders to improve the experience of our LGBTQ+ colleagues. We publish articles, policy pieces and also conduct pride events and much more. Recently, we produced our 'Pride in the law' report which was informed by real-life experiences of lawyers in the profession," he says. "The profession needs to reflect the communities that it deals with. Without having people pushing the envelope on these initiatives, we run the risk of missing out on some great talent."
Beyond working with The Law Society, Maddock also leads several diversity initiatives within his firm: "I set up the LGBTQ+ staff network at DWF over a decade ago. We have undertaken many policy reviews, such as opportunities for parental leaves and benefits like pension rights for our LGBTQ+ employees."
Perhaps unsurprisingly, there is still plenty more to do when it comes to D&I. "The profession is doing great work across the board but we could always improve," says Maddock. "One thing I find quite important is ensuring consistency of support and resources for lawyers working in all areas of the profession. We must ensure that those working in-house and in smaller practices are supported as in other parts of the profession. Similarly, support for solicitors working in the regions could also be improved. We must pause and reflect on what more can be done. It is good to acknowledge that we've done great work so far, even though there's a long way forward!"
Careers advice
Being a DWF lifer, Maddock says it's the culture and people at the firm that have made him stay. His advice for those seeking to nab one of DWF's 37 or so training contracts is to 'bring your genuine self' to the firm.
"My top tip is to be honest about who you are in the interviews. We are a real mix of diverse personalities, not homogenised in the slightest. You should not be scared to be your honest self in the interviews, and then considering whether you would fit within the wider firm," advises Maddock. "I also suggest having a good look at our website and finding out about our practice areas and clients. At the end of the day, it's about whether a firm matches your interests and whether you will enjoy the work that is on offer."
About Legal Cheek Careers posts.