What do corporate lawyers do?
We find out from lawyers and legal experts at Goodwin, SPB, DWF and BARBRI what a career in commercial law entails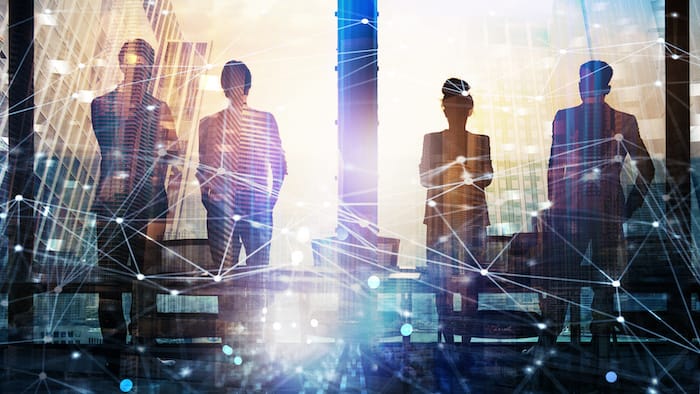 'What do corporate lawyers actually do?' is a common question asked by aspiring solicitors as they try to work out whether a career in law is for them.
With references to law in pop culture, TV shows and films, the reality of the career can often seem like a mystery to those on the outside. Last Tuesday over 400 students attended Legal Cheek and BARBRI's virtual student event in order to hear lawyers and legal experts shed light on the profession.
On the panel were: Paul Maddock, senior associate in the dispute resolution team at DWF; Ray Fang, senior associate in the real estate industry group at Goodwin Procter; Michelle Adams, partner in the real estate litigation team at Squire Patton Boggs; and Jody Tranter, senior director of learning at BARBRI.
What does a typical day as a corporate lawyer look like?
After being asked to describe a normal day working in commercial law, the panellists were all eager to stress the variety involved in the career to the students who attended the event. "I know it seems like a bit of a cliché to say but every day is really different as a corporate lawyer," said Michelle Adams, partner at Squire Patton Boggs. Since entering the partnership, Adams has found that her days involve both face-to-face meetings with national clients and studying the black letter law in real estate, among other responsibilities. DWF's Paul Maddock echoed Adams' sentiment about the variation in the career, stating that the "nature of commercial work is that it is reactive". Therefore, although Maddock starts and ends his working day by checking in with the trainees he is supervising, the rest of his day is determined by what arrives on his desk that morning.
Goodwin's Ray Fang explained that transactional lawyers "go through peaks and troughs", and therefore an intense workload is balanced with quieter periods, where associates can focus on non-billable initiatives. Along with transactional work, Fang is part of the firm's Committee for Racial and Ethnic Diversity leadership group which focuses on identifying and implementing opportunities to promote diversity within the firm. He is also regularly involved on client pitches, marketing and media activities, and recruitment matters. It is this other type of work which exists within law firms that Jody Tranter at BARBRI thinks students tend to forget about. "I think one of the biggest misconceptions about a career as a corporate lawyer is that it is entirely focussed on technical legal knowledge," she said. "Skills such as the ability to manage clients and the ability to understand clients' needs are just as important."
The different types of law firms
While the majority of law firms have adopted a partnership structure, a few have opted to go public by following the initial public offering (IPO) route. Since DWF became one of the largest listed law firms when it went public in 2019, Maddock was asked whether he noticed anything different about working at a stock-market listed firm. "I honestly didn't think there would be material changes, but I was wrong — the IPO being listed means there has been a lot of investment in legal tech at the firm," said Maddock. On top of this, Maddock noted how certain clients appreciate that the firm is listed since they are listed businesses themselves. This point of interest has helped foster a closer client relationship.
Having worked in both UK and US firms in London, Fang was able to comment on the difference between the two types of firms. "I don't want to generalise, but if you are looking to work in an area that isn't transactional or litigation, US law firms probably can't support that," he explained. "For example, it's unlikely that they will have a sports law practice or an employment practice." However, according to Fang, US firms like Goodwin value participation and having an entrepreneurial spirit, meaning if you have a good idea and want to get involved, you will get support whether you are a partner, associate or trainee.
Key attributes for a commercial lawyer
After explaining the differences between certain law firms, the panel were asked to consider whether there are any key attributes that all commercial lawyers should have. Adams believes excellent communication skills, both written and spoken, are essential since clients will be drawn to personable people. According to Maddock, another trait clients have regard for is enthusiasm since they want to work with people who are excited to be a part of their firm. In order to ensure this enthusiasm exists, Maddock suggested that students take the time to find the right law firm for them. "You should readdress the power at vacation scheme or training contract interviews by pretending that you are interviewing the partners at the firm," he advised.
Fang believes that while the law is important, aspiring corporate lawyers need to show they can think commercially. He recommended that students build on this skill over time — for example, students can listen to business podcasts, such as The Tim Ferriss Show, or read general business publications such as The Economist and The Financial Times. Fang said:
"Have a curious mind. Keep in touch with what is happening in the business world and the economy."
Tranter noted how BARBRI run commercial awareness courses for trainee solicitors which might be beneficial to aspiring lawyers. "Students should utilise their spare time by looking up the BARBRI commercial awareness course outlines and researching some of those topics", she said, "or even listen to topical radio programmes to stay in the loop!"
About Legal Cheek Careers posts.