Ahead of Legal Cheek's 'The rise of Dublin as a global legal centre', Pinsent Masons senior associate Marilyn Cooney reflects on her career to date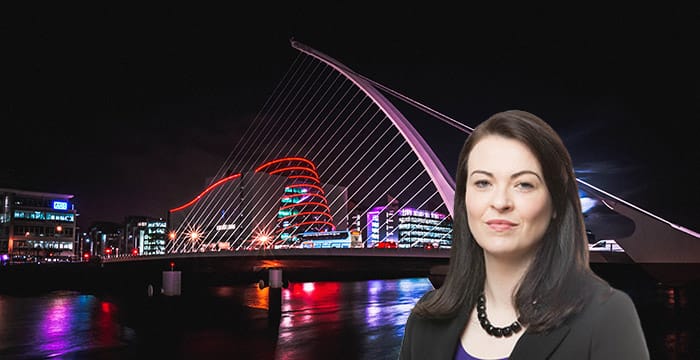 "It's difficult to gauge what you will be good at when you're 18 years-old," says Marilyn Cooney, a senior associate in Pinsent Masons' Irish arm. Marilyn, was initially unsure about her future career path, and toyed with the idea of studying business at university. But the offer of a place to study law at Trinity College Dublin was too good to turn down.
Leaving behind her home in County Kerry, Marilyn headed northwards and spent the next four years studying law in the Irish capital. She's glad things worked out this way: "My degree in law gave me a thorough grounding and understanding of how the world works. I really enjoyed the course!"
After her studies, Marilyn landed a training contract with top commercial law firm A&L Goodbody and completed seats in corporate, banking, litigation and private client. When it came to qualifying as a solicitor in January 2009, Marilyn recalls the struggle many faced to be kept on. Indeed, many weren't. This was just months after the collapse of Lehman Brothers and the ensuing global financial crisis. Fortunately, the areas that Marilyn was most interested in were the ones that were hiring at the time, and she was offered a place in the firm's finance regulation team.
But something was missing. Marilyn missed the cut and thrust of the project and wanted to move into a more commercial, client facing role. She made the switch to investment funds and never looked back. Having this combined skillset of funds and regulation has given her an edge in the Irish market and one that has become particularly relevant in the context of Brexit.
After five years at A&L Goodbody, Marilyn moved to Dechert where she worked for six years as a financial services lawyer in the US firm's Dublin office. The mother-of-two joined Pinsent Masons earlier this year. "I was a little apprehensive given that Pinsent Masons wasn't particularly well known in the investment funds space in Ireland. But after a lot of due diligence, I got a good sense of the work culture at Pinsent Masons, the investment the firm was making in Ireland and the global sectoral approach and that really sparked my decision to move," she says.
Now a senior associate in Pinsent Masons' investments group in Dublin, Marilyn has witnessed the changing fortunes of the capital as a legal centre. Right now, business is booming. Driven by a fast-growing economy and the aftermath of the Brexit referendum result, a number of law firms (Pinsents being the first of the UK lot) have set up shop here. But with growth comes challenges. "There is a shortage of talented lawyers in private practice to meet client demand in today's Irish legal market. The firms that aren't able to react quickly to change will ultimately struggle," explains Marilyn.
So what is Pinsent Masons doing to keep ahead of the curve?
Pinsent Masons is globally recognised as a market leader for tech and innovation and has won a number of awards in this remit. "We're leading the way in terms of innovative solutions," says Marilyn. Indeed, the firm has come up with a clever way of delivering smart solutions to its clients through Vario, a network of freelance lawyers who are matched according to client need and seconded to provide short-term legal assistance. Unlike other law firms that may purchase good technology solutions, Pinsent Masons is unique in that they have their own team of coders that can create and tailor bespoke solutions for clients. Pinsents are currently the only law firm in Ireland with this capability. "Clients are savvier nowadays and they want value for money and an increasing amount of the process is capable of automation," Marilyn explains.
While these smart delivery solutions can help save on lawyer time, the firm is keen to steadily grow its team too. "We're only nine months in and have already established a business case to take on two more associates on foot of the mandates we have won," says Marilyn, who has also been involved in developing a graduate recruitment programme in Dublin that will take on around four trainees from as early as next year. "Establishing a graduate recruitment programme is crucial to ensuring you have a steady stream of lawyers coming up through the ranks. I've seen other law firms that set up in Dublin establish their graduate recruitment programmes too late in the day and they have suffered as a result. We want to be able to service our clients in an efficient and prompt manner so ensuring we get the balance right in terms of capacity is really important to us," she adds.
It's a dynamic environment to be in. "The legal and political landscape is constantly evolving and this influences my work. What I am doing now is very different to what I was doing five months ago," explains Marilyn, whose bread and butter involves advising asset managers in relation to their licensing options post-Brexit.
If you're one of those trainees who has their mind set on specialising in more mainstream areas of law, such as corporate or litigation, Marilyn has this to say:
"There's a huge amount of growth in this practice area at the moment. If you like lateral thinking, problem solving and dealing with clients who are at the forefront of global events, you might find that this is for you. It's far easier to manage your workload working in funds — you're not tied to your desk at three in the morning waiting on a deal to close. It's also quite sociable since there's a huge industry network here in Ireland."
Marilyn will be speaking at Legal Cheek's first ever event for students and graduates in the Irish capital, 'The rise of Dublin as a global legal centre', tomorrow. In advance of this, we asked her to share her top tip for training contract seekers, to which she replied:
"Develop yourself as a brand at an early stage and keep investing in yourself. You'll receive plenty of training on legal drafting, business development and how to run an effective client meeting etc, but it's important that you do things, such as writing articles or attending industry events, that will enhance your own profile and set you apart. It's important also to look after your wellbeing and learn ways to develop resilience."
Marilyn Cooney will be speaking at Legal Cheek's 'The rise of Dublin as a global legal centre' event at The Law Society of Ireland in Dublin on 3 October, alongside lawyers from Dechert, Matheson and Barbri. Apply to attend the event, which is free, now.
About Legal Cheek Careers posts.