A panel of South West lawyers discuss the departure from the London-centric vision of yesterday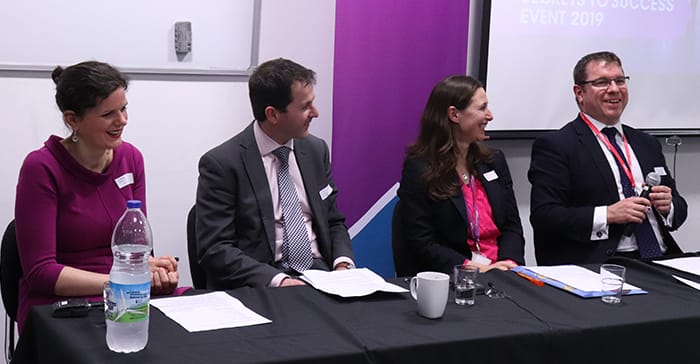 It wasn't that long ago that your standard law firm comprised desktop computers and landlines, perhaps with a dial-up internet connection tying lawyers to their desk during their working day. Scroll forward a few years and you'll see roaming lawyers with affordable, portable laptops and smartphones tapping into widely available Wi-Fi and rapid 5G. Law firms are redesigning their offices to be "agile-ready" as Stephen Dilley, a commercial litigation partner at Womble Bond Dickinson described it at last month's 'Secrets to Success' event with The University of Law (ULaw) in Bristol.
The result is transformative: lawyers are mobile and can take their work 'to go'. "Geography matters much less than it ever used to," Dilley told an audience of over 60 students. For example, partners can spend most of their day working in coffee shops between meetings, he adds. For James Sutherland, a real estate litigation partner at Burges Salmon, this is ideal when travelling to meet clients. "I probably get more work done on the train between Bristol and London than I do when I'm in the office for a comparable period of time." Transformative too because agile working is a boon to diversity, Claire Revell, a senior associate in RPC's insurance team, noted. By offering lawyers greater flexibility in how they work, legal practice becomes more accessible to those facing barriers to entry, such as people with disabilities or caring responsibilities.
There is a flipside to all this mobility, however, Sutherland noted: clients know you're always connected and so expect a quicker turnaround. "Clients have got very used to asking a question and expecting an answer certainly in a day, if not within a number of hours," Sutherland observed. Before with written correspondence, there was always a "delay period" when letters were sent. Now, with emails and instant messaging this accepted period has dramatically decreased. "How you deal with that, while still delivering the quality and thought that clients still expect you to put in, is a growing challenge and one which I don't think is going away," Sutherland added.
Such pressure is the consequence of changing expectations of clients who are "looking much closer" at what their lawyers are doing. There is an increasing pressure to be more cost-effective, said Revell. Even more so in light of growing competition from Big Four accountancy firms, whose legal divisions enjoy potentially huge global reach. In order for law firms to stay on top, they have to be bigger, offer broader services and possess deeper skill sets, Dilley said. Sutherland agreed: gone are the days of lawyers being "ivory tower" professionals. Instead, lawyers must become hands-on "business advisors" who can draw on a spectrum of specialised services in order to advise their clients, he added.
As the expectations of lawyers change, so do the expectations put on prospective candidates. In order to become a "well-rounded lawyer of the future", Zoe King, dean of ULaw's Bristol and Exeter campuses recommended always saying "yes" to opportunities that allow interaction with legal practice — whether it be through career events or mooting. Doing so will help develop transferrable skills that can bring "added value" beyond the "bare minimum" of gaining legal qualifications, she added.
The panel also identified a departure from the London-centric vision of yesterday, with law firms engaged in ongoing dialogue about what work can be done in their regional offices. Bristol is a "great legal hub" that is seeing ever-higher quality work on a par with that found in the Capital, Revell observed. The only type of work that can't be exported, according to Dilley, is "London-sticky" work that can be completed only by those in the City with a "narrow, but deep specialism".
The panel wholeheartedly endorsed Bristol as a really good example of the modern legal practice in action: flexible working spaces and a healthier attitude towards work/life balance compared to London offices. Dilley stated that magic circle firm lawyers are expected to put in a minimum of 1800 hours a year, but most aim for 2200-2300 hours. Although "very well remunerated", these lawyers, in Dilley's experience, were "completely burnt out".
Bristol also reflects the modern outlook of firms encouraging greater diversity by offering apprenticeships — alternative routes into the profession available at all three firms on the panel. While Sutherland, whose firm is three years into its first apprenticeship scheme, stressed this "complementary" route is unlikely to cause massive upheaval, it's an alternative pathway that bypasses the "debt and the cost" that "undoubtedly" comes with the traditional training contract model.