A panel of experts share tips from the top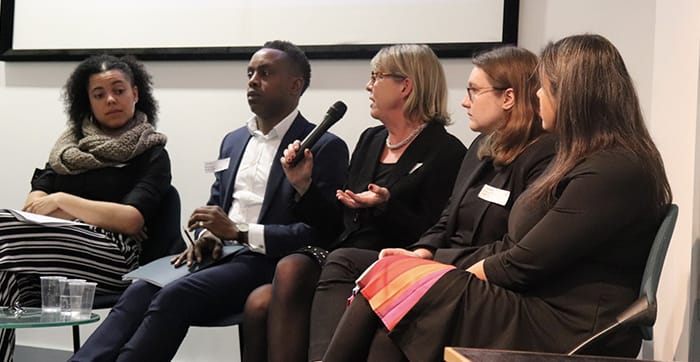 At last month's 'How to become a human rights lawyer' event at The University of Law's (ULaw) Bloomsbury campus, a panel of experts shared their stories from practice. Here are five things you need to know.
1. Demonstrate drive
An interest in protecting human rights is what draws many to the law, but only a select few manage to forge a career in this fascinating and important branch of the profession. Getting ahead in this coveted area of law requires not only intelligence and excellent legal skills, but drive, passion and a commitment to the principles of justice.
For Garry Green, a criminal defence barrister at Doughty Street Chambers and one of five speakers at the event, it was the community he grew up in and how his experiences and that of others drove his passion for justice and human rights. "Human rights has a small 'h' as well as a capital 'H' — it's important that you think about what's local to you," advised Green.
The community he grew up in suffered social blight from unfair school exclusions to unfair treatment in the justice system to disproportionate stop-and-search practices. Observing these "everyday" injustices spurred Green to develop a career specialising in human rights. "I can now represent and communicate the stories of those that have had similar experiences and that's what drives me," he explained.
Joanna Bennett, a solicitor in Hodge Jones & Allen's civil liberties team, noted a similar experience. "It's really important that public bodies are held to account, and where I grew up that didn't really happen. I've seen how abuse of state power can affect a community and that spurs me on."
2. Consider postgraduate study
Former barrister Anitra Hussain, who teaches civil litigation and judicial review at ULaw, advised budding human rights lawyers to consider the value of postgraduate study. She completed a masters in international human rights shortly after finishing her undergraduate degree, and explained some of the advantages of doing so. "It will broaden your understanding of the field, and as a practitioner, you can apply your knowledge across different areas," said Hussain, who presides over human rights and tort claims as a deputy district judge.
Some students may be deterred by cost but Hussain, who has over 30 years' experience in human rights law, stressed the course is not "inaccessible". She's been involved in developing ULaw's new masters in international human rights which launches in September. Flexibility is paramount in the year-long course; students can elect to study face-to-face and online.
"Think carefully about the focus of your dissertation," advised Cornerstone Barristers' Lisa Busch QC, who has built a significant practice in human rights law during her 18 years at the bar. "Think outside the box," she said. "Don't focus on historical issues, rather focus on topical issues such as climate change and the impact this is having on migration. A masters in human rights is very popular among students and requires originality of thought to make the most out of it."
3. Solicitor v barrister
Deciding whether to qualify as a solicitor or barrister can be difficult and it's no different for wannabe human rights lawyers. The bar was always an attractive career path for Busch who admitted "the words 'line manager' fill me with horror!" Barristers do advocacy, both written and oral; they are self-employed and receive instructions from solicitors to represent clients in court, she summarised.
By way of comparison, Stephanie Hill, a solicitor in Leigh Day's human rights department, explained the solicitor route was much better suited to her. "I love the routine of going in to the office, having a desk, working in teams with colleagues, meeting with clients and not having to do my own accounts!" It seems then that students should do some self-reflection before considering which route to take.
When it comes to writing applications, "don't underestimate the importance of making sure you are very familiar with the two different professions at play", warned Busch. It's also important to remember the divided line between the two professions is no longer "clear-cut" — solicitors can obtain their higher rights of audience to qualify as solicitor advocates, while barristers can receive instructions from a client directly.
4. Don't chase the 'sexy' firms and chambers
"There is a temptation to target high-profile firms and chambers that have excellent track records and reputations," said Doughty Street's Green, who practises at the same set as international human rights lawyer and Hollywood style icon Amal Clooney. But it's important to remember that "small can sometimes be beautiful too — what may seem shiny and attractive on the outside may have a completely different culture indoors that may not suit your character or lifestyle," said Green, who pointed to City law's notorious sleeping pods as an example.
How can students acquire such insight? "Firms and chambers are willing to offer work placements and mini-pupillages. This is your chance to get an insight into their culture," he explained.
5. Bring something extra
"The thing that distinguishes one applicant from the next is evidencing their commitment through work experience", said Green. "Despite excellent grades your application may not result in success if it is not supported by valuable work and/or life experience." This doesn't have to be in the 'sexy', headline-grabbing areas of human rights law. Green was concerned about the exclusion rates of black youth and so decided to teach voluntarily at a supplementary school local to him. "Think about what riles you then go out there and make a difference," he stressed.
ULaw's Hussain encouraged students to consider acting as lay representatives — "it's one way of getting experience and setting yourself apart." Lay reps take on small cases in the county court for claims up to £10,000.
A fundamental skill for any practising lawyer is good communication skills. But when you're dealing with the universal nature of human rights and advising clients whose first language may not be English — things can get tricky. That's something Hill has had to contend with. A native English speaker herself, she described the difficulty of having to rely on an interpreter. "It already feels quite intrusive when you're asking the client about traumatic, personal things in English — having a third person involved adds that extra level of difficulty."
Before she trained at Leigh Day, Hill worked full-time while studying the Legal Practice Course (LPC) part-time. This left little time to undertake many extra-curricular activities, but she did develop important soft skills such as time-management as a result. Before Busch joined the bar, she juggled three jobs: paralegal and freelance work alongside a research assistant role at the Law Commission, which involved a daily commute from Oxford down to London. However, the combined experience helped prepare her for the stresses and strains of pupillage (which she found "a bit of doddle compared to that!") "Be determined," she advised. "If you work hard you will succeed."
Hodge Jones & Allen's Bennett is a case in point. Bennett was determined to succeed in actions against the police so she "knocked down doors" at every firm specialising in this area and sent countless letters. "I knew nothing was going to stand in my way," said Bennett, who eventually secured a paralegal position at a small firm where she then qualified and 11 months later, led her to the role she's in today.