Ahead of Thursday's event, 'Climate change and the law', senior associate Wynne Lawrence explains how Clyde & Co is helping its clients prepare for a greener future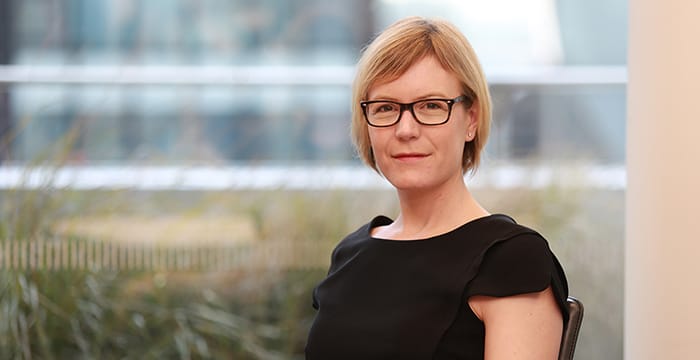 "Corporate clients are increasingly aware of the risks climate change poses to the way their businesses operate, as well as the opportunities for whole new areas of business to open up, as we move towards a more climate-resilient and low-carbon economy," says Wynne Lawrence, a senior associate in Clyde & Co's London office. "A growing body of international regulations and national laws, fuelled, in part, by changing attitudes toward climate science and policy, is presenting new opportunities for lawyers in assisting clients navigate the rapidly changing risk landscape."
In response to this shift in focus, Clyde & Co launched a cross-practice area climate change resilience initiative to help advise clients on the new challenges they face. The group, headed up by Clyde & Co partner Nigel Brook, spans sectors including insurance & reinsurance, shipping, aviation, tech, energy & natural resources and global trade.
"I got involved in 2016 following a speech by the Governor of the Bank of England, Mark Carney, to the insurance market Lloyd's of London", insurance & reinsurance specialist Lawrence explains. "Carney highlighted, among other things, the severe threats posed by climate change to the financial sector. So, with this in mind, we started working to build our knowledge around the potential issues, particularity with regards to the insurance sector. Clyde & Co's climate risk and resilience group has grown and expanded internationally and across practice areas."
The group's focus over the past two years or so has been to provide guidance on climate-related risk management and regulatory issues, including through the firm's online 'Resilience' hub, which hosts firm reports, articles, explainers and even a podcast featuring Lawrence and Brook.
Lawrence, who will be speaking at Thursday's panel event, 'Climate change and the law — with Clyde & Co', continues:
"Through our climate risk consultancy, we assist clients in identifying risks posed by climate change to their businesses, supply chains, assets and infrastructure. This includes risks and opportunities associated with the shift towards a low carbon economy, as well as liability risks, the prospect of legal claims by those suffering losses due to climate change."
The heightened awareness, which stems, in part, from a societal shift to combat the growing threat of climate change, will likely result in other big legal players launching similar initiatives, predicts Lawrence. "It's inevitable that others will follow. Climate change, unfortunately, isn't a problem which is going to go away — so there will continue to be a need for legal guidance," she says.
There's also been an upturn in climate-related litigation, notes Canadian-born Lawrence, who studied International Relations at the University of Toronto before relocating to London to complete a masters at the London School of Economics.
A recent Clyde & Co report, 'Climate change: Liability risks, a rising tide of litigation', describes how over 1,200 climate change cases have been filed in more than 30 jurisdictions to date. The first wave of legal action, Lawrence explains, is targeted predominantly at governments and municipalities over their alleged failure to comply with their international environmental commitments.
One such example of this can be found in Pakistan, where a Karachi farmer challenged the government's alleged failure to control air pollution. The High Court later ruled that the government must disclose details of what it was doing to address the problem in the country, which in turn led to Pakistan's environmental protection agency installing air quality monitors and warning factories to add air cleaning filters to smoke-emitting chimneys.
This upturn in action is also partly in response to the way the courts, particularly in the US, are now looking at environmental issues as a legal problem as opposed to a political one, according to Lawrence. "This coupled with a greater understanding of climate risk through advancements in science has seen more and more cases come before the courts," she explains.
Climate work aside, Lawrence was first attracted to Clyde & Co due to its strong international presence. Since joining as a trainee in 2012, she's had the opportunity to spend time in the firm's offices in Johannesburg, Cape Town as part of Clyde & Co's Global Associate Programme — an international secondment initiative for its associates, and Toronto, as well as a six-month stint in Hong Kong as a trainee.
Away from the cut and thrust of corporate law, Lawrence likes to indulge in a spot of martial arts. "I did Kung Fu at school and Judo during my time at college. I am in the process of training towards my black belt in Aikido — it's a great way to unwind at the end of the day," she tells Legal Cheek Careers.
So what advice does Lawrence have for readers looking to follow in her footsteps and work for an international law firm? She tells us:
"Think carefully about the firms you're applying to. Taking a focused, tailored approach to your training contract applications will be far more effective than a scattergun one. Ask yourself, 'why do I want to work for this firm?' and be sure you know the answer. It will be easy to spot — even at the application stage — if you're not genuinely interested in or serious about the firm."
Wynne Lawrence will be speaking alongside other Clyde & Co lawyers at Thursday's 'Climate change and the law' event. The event is fully booked, however you can still apply to the waiting list.
About Legal Cheek Careers posts.