Justina Omotayo, diversity and inclusion manager, and Lorna Nsoatabe, associate in the competition team, give insights into their experiences and the opportunities for Black lawyers at Slaughter and May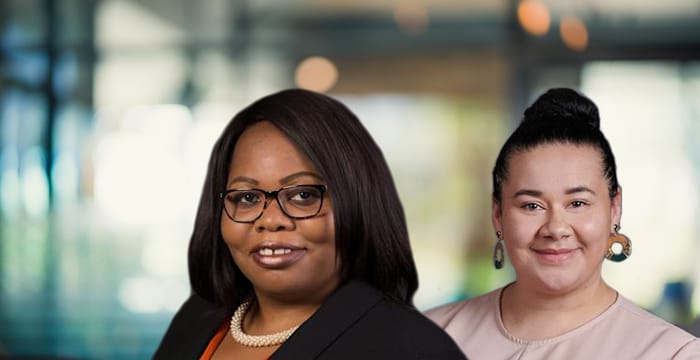 Lorna Nsoatabe, who joined Slaughter and May almost nine years ago as a trainee, and Justina Omotayo, who joined four years ago, note the magic circle firm's diversity and inclusion efforts have grown exponentially over the last few years.
The "most obvious change" Nsoatabe gives to illustrate this is the growth of DIVERSE (the firm's employee network that celebrates and promotes ethnic, racial and social diversity). When Nsoatabe initially joined the network as a trainee, the only members were her and a couple of other colleagues. Fast forward over eight years and now, Nsoatabe tells me, there are 50 people on the committee with nearly 150 members of the wider network. These individuals are not just people of colour; they are also increasingly allies who are taking on a more active role within the network.
For Omotayo, when she initially joined the firm as a business development manager with responsibility for the firm's Africa Practice, the network became a "safe space" for her and over the years she has been an active member of the network supporting on various initiatives. In 2020, when an opportunity opened up to undertake a secondment within the diversity and inclusion (D&I) team, Omotayo was excited to "be part of the engine room to find the solutions to the challenges rather than simply identifying them". Six months into this secondment, and confident that the firm's efforts in this space weren't "about doing lip service", a permanent position as the D&I manager opened up, she went for it and hasn't looked back since.
As one of two D&I managers at the firm, Omotayo is responsible for promoting and supporting race, ethnicity and gender. Her current priority, amongst many other others, is to support the firm in achieving two major diversity targets, she explains:
"Our aim is that, by the end of 2027, a minimum of 40% of the firm's equity partner promotions globally will be women, and between May 2020 and April 2025, a minimum of 15% of equity partner promotions in London and Brussels will be from ethnic minority backgrounds."
To ensure that the firm is on track to achieving this, there are ongoing efforts and actions from two "ambitious working groups" led by the partners, a long-standing partnership with RARE recruitment and more recent collaborations with WCAN and The Black Excellence Network. The firm takes a pipeline approach to recruiting and retaining diverse employees. This pipeline, Omotayo tells me, is about getting the right talent through the door, and being able to nurture that talent and see that it progresses all the way to partnership.
Indeed, how talent is nurtured at a firm is crucial. Nsoatabe and Omotayo both stress the value of visible representation and having access to a mentor or leader with a shared diversity characteristic — race, for example — who demonstrates they can and are succeeding in a similar space. Finding these mentors internally may be difficult, although Nsoatabe and Omotayo explain that Slaughter and May has ensured that these role models are available, thanks in part to it being a member of a diversity mentoring scheme that partners individuals with external mentors if required.
Nsoatabe was mentored by a senior Black woman in business outside of the firm who, in addition to providing her with career guidance and support, gave her a new perspective into where Slaughter and May's actions and activities to promote D&I sat in the wider legal and business professions, and society at large, as well as ideas for new initiatives. Last month the firm announced it being one of eight founding firms of legal CORE (Collaboration on Race and Ethnicity), the first leadership-led, cross-firm collective aimed at tackling the underrepresentation of Black, Asian and minority ethnic groups in the UK's legal industry. Nsoatabe strongly believes that the sharing of best practice is key to making actual progress with respect to diversifying the legal sector.
Nsoatabe and Omotayo also highlight the firm's internal reverse mentoring programme which was launched to allow senior individuals to hear from more junior lawyers and members of the business services teams, about their experiences and perspectives, and to receive feedback on the impact of the firm's policies and practices. The focus of the most recent iteration of the programme was race and ethnicity. Nsoatabe explains that, as well as providing insight for the senior individuals being mentored, this has been a good opportunity for her to spend dedicated time with a partner and to directly hear about the firm's commitment to retaining ethnic minority talent.
However, it is not just the firm's formal initiatives that have nurtured Nsoatabe's personal and career development. She explains that there has been a conscious effort by partners she works with to ensure that she is given the right range of work to support her progression and feels that she has been supported by allies who care about her development. The importance of this cannot be overstated as Nsoatabe tells me that, if work allocation is not done properly, it can end up going to the same groups of people and we know this is likely to adversely impact the careers of individuals from diverse backgrounds. In Nsoatabe's experience, the partners she works with "have been thoughtful with work allocation and have conversations about work and personal development".
Nsoatabe and Omotayo tell me that though things are not necessarily where they need to be within the profession, Slaughter and May is committed and recognises that further steps must be taken. Omotayo tells me that she has seen a "real commitment from the partners", who are allocating resources to finding out the challenges and what actions the firm can take. This growth is a gradual one and as Omotayo explains, "it's a marathon, not a sprint".
Reflecting on their journey at Slaughter and May so far, the advice Nsoatabe offers to Black students wanting to follow in her footsteps is: "Just do it, commit to it and be authentically you. Don't get put off by people saying there isn't any diversity because there will never be any diversity if we don't turn up and turn up as ourselves."
Omotayo adds:
"Don't be worried to enter places where you are a minority — in order for that to change, you've got to be there, show up and get your seat at the table, and make the difference that you want to see."
Justina Omotayo and Lorna Nsoatabe will be speaking during 'In conversation with Slaughter and May: Black heritage and the legal profession', a virtual student event taking place next week, on Wednesday 24 November. You can apply to attend the event, which is free, now.
About Legal Cheek Careers posts.