Lawyers from Pinsent Masons, Irwin Mitchell and St Philips Chambers join The University of Law's Sarah Ramsey to discuss the rise of legal tech and the reality of being a lawyer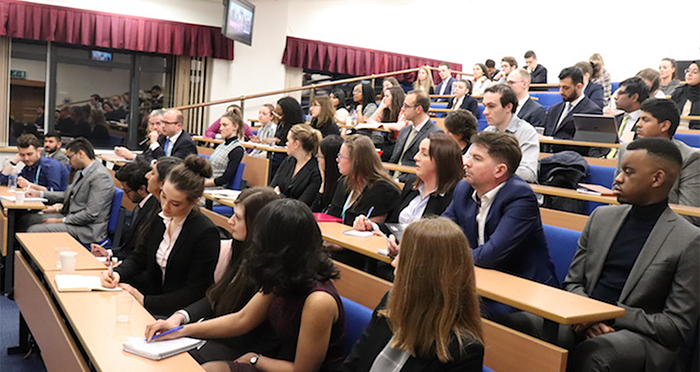 At the West Midlands' leg of Legal Cheek's Secrets to Success series, Gary Coleman, Pinsent Masons senior associate, Nick Little, Irwin Mitchell corporate lawyer, Joel Wallace, barrister at St Philips, and Sarah Ramsey, Dean of ULaw Birmingham, come together to reveal what students should be thinking about as they navigate the application process.
The rise of lawtech
"Technology has become increasingly important in law firms," says Irwin Mitchell's Little, a solicitor in the firm's corporate team. In particular, he notes the prevalent use of "incredibly time-saving" document automation software that has enabled lawyers to create custom documents from initial precedents.
It's easy to think the movement hasn't quite reached chambers yet and that barristers are a step behind, dwarfed by their resource-abundant counterparts at commercial outfits. On this, Wallace, a barrister at St Philips Chambers, had this to say:
"Chambers are in a transitional period. There was once a time when your brief would arrive by post and you'd be busy thumbing through copious amounts of paperwork. Now, you're working from multiple screens. I have my tablet in-hand, a laptop in the other whilst sitting in front of my desktop computer."
"They'll always be a kickback to change, though it may be difficult initially, learning to adapt is absolutely necessary," he says. Pinsent Masons' Coleman, a senior associate in the firm's commercial litigation team, agrees: "When I first started in business there were no such thing as emails. I've had to adapt to a lot of change!"
Technology is also filtering through to legal education, ULaw Birmingham Dean Ramsey explains: "I've seen a real change from the previous five years until now, both in the delivery of the courses we offer as well as course design." Lecture theatres aren't used as much as before due to the rise in popularity of online learning.
It's clear then that technology is a boon to legal innovation, but Irwin Mitchell's Little warns that students need to understand the risks associated with its use. He has read of a case where criminals filed physical forms approving the resignation of a football club's directors at Companies House. The move to electronic filing is designed to counteract such issues. Traditional charges such as the billable hour are under threat now that technology has moved in, streamlining and automating the routine aspects of legal work.
The skills you will need
'Is coding the new mandarin?' asks one student. "It depends on the type of lawyer you want to be," responds Little. "It's a great asset if you want to be a commercial or intellectual property lawyer. The youngest partner at our firm was a coder before he retrained and joined us. He deals with tech-based contracts and often knows more about the business than the clients do!"
"Us lawyers are our own worst enemies. We've created a rod in our own backs by being available 24/7," Coleman says. It's important, then, to manage your time effectively. As a self-employed barrister, Wallace meticulously manages his diary. "It's about giving yourself enough breathing space so that things don't occur last-minute," he explains.
Coleman thinks trainees need to show a high attention to detail in their written work. "Given the rates we charge, our clients expect nothing less than perfection," he says. Little agrees: "Clients are hot on this and will pull you up on the smallest error. If they do find one, it casts doubt in their minds as to what other mistakes may be contained in the contract."
It's nothing like Suits
The path to success is not a magical rainbow, quips Wallace, who would refer to his year studying for the Graduate Diploma in Law (GDL) as "GDhell". "If you're waiting for that Suits moment where the money starts rolling in — you're waiting for a dream that is not going to come to pass," he adds. The reality, according to Wallace, is receiving a bundle with a 12-hour turnaround time from 8pm to 8am. It may sound tough, but the "euphoria" he feels once the clock strikes eight in the morning makes it all worthwhile.
Coleman advises students to be straight when mistakes happen. When starting out, he was impressed by the acceptance within firms that something has gone wrong. It's down to you, then, to confess, confront the issue and deal with it.
"Explore your options and try not to commit to a particular career path too soon", advises Ramsey, who wasn't sure whether to practise family law as a solicitor or barrister. "If after thorough research and practical experience you decide it's still the path for you, then more power to you," she says.
Back yourself and stay motivated
Though now successful in their respective fields, it wasn't always smooth sailing for the panel. Little was applying for training contracts during the recession, a time when law firms were limiting the numbers they could take on. "It's important to back yourself and stay motivated. It may take slightly longer for you than your peers [Little worked as a paralegal for three years before securing his training contract], but keep plugging away and you'll get there in the end," he says.
Ramsey received plenty of rejection letters before joining regional law firm Forbes as a trainee. She encourages students take this on the chin, request feedback if available, build resilience and move on to the next.
Brexit
While the final effects of Brexit remain unknown, the panel try to predict what may happen:
"The legal profession is dependant on a buoyant economy. If the economy were to dip again, it's a real fear for transactional lawyers that businesses will sit on their cash and not spend. If a snap election is called, businesses tend to wait and see before embarking on a deal, and the last time this happened, there was a rush to do deals before the election," says Little.
Commercial lawyers will be busy redrafting agreements to comply with post-EU regulation and it remains to be seen whether clients add specific clauses to terminate their contracts in the event of Brexit.
Brexit has created a climate of uncertainty, something which Coleman finds unhelpful. "Litigation is expensive and we need clients to be in a confident position if they want to embark on a claim," he says.
About Legal Cheek Careers posts.