Practice area insight from experts at Linklaters
Bitcoins roasting on an open fire, Jack Dorsey nipping at your nose: it's getting close to Christmas, and what better way to get into the festive spirit than to get cosy with some financial technology insights? With the nights closing in, we gathered an all-star panel of Linklaters' most fintech-savvy lawyers at the firm's snazzy London headquarters.
Despite claims that the firm has become much less formal as it embraces technology and innovation, not a single one of them was wearing a Santa hat. But the quartet did field questions from an engaged student audience before heading off for mince pies and mulled wine.
Here are four fintech concepts to get your head around going into 2020.
1. Fintech will thrive on good regulation
Financial innovation has enjoyed "remarkable support from UK regulators", says Links associate Charitha Shashiraj. The Financial Conduct Authority (FCA) has won plaudits for its "regulatory sandbox" approach, allowing companies to road-test new products with real consumers under light-touch regulation. "It's basically a controlled environment in which firms that want to innovate can do so, and the FCA provide certain concessions," Shashiraj explains.
And, the fintech specialist points out, "it's not just the FCA. There are a whole bunch of regulators in the UK that look at different issues, like competition or payment services. The Bank of England has also done a lot in the fintech space". Various UK authorities, she reckons, have played their part in making London a fintech hotspot.
Partner Mark Drury — read our pre-event interview with him here — agrees. "London is an incredibly well-regulated place," he says. "As you can imagine, it can be quite intimidating for a bunch of people with just an idea to get some traction with it. What the regulators have done by opening their doors and their books is to say, look, we want to hear from you and if you've got a good idea we'll help you tackle the difficulties in how that product will be regulated," Drury adds.
Some in start-up land might consider that the best kind of regulation is none at all: government should just get out of the way. But that's not realistic — nor necessarily good for business. As Shashiraj says, done strategically, "regulation is not a bad thing. Ultimately what we're coming to realise is that the uncertainty created by not having regulation in this space is what stifles innovation".
That said, there's a balance to be struck. Drury points out that an "extreme privacy" model of data protection regulation, for example, can have a chilling effect on financial innovation, which thrives on access to data. That's one reason, he reckons, why Europe has never produced a tech giant like Google, Amazon, Apple, IBM or Microsoft: "the data privacy laws in Europe are far more strict than they are in the United States".
2. Traditional financial institutions are going to struggle
Drury reckons that the more traditional financial institutions — the likes of the traditional high street banks — have a "turbulent few years coming" in the face of competition from fintech challengers. Most of the audience at Linklaters, we learned, have a Revolut or Monzo account, even if they're not willing to entrust all their money to the upstarts just yet. The question is whether the old guard can adapt quickly enough to stay relevant.
What interests you most about working in fintech?

'Working in fintech really tests your understanding of the law', says Linklaters Graduates UK partner Mark Drury. 'None of this stuff has ever been done before – so to be there at the forefront is pretty cool' ? #lccareers

Posted by Legal Cheek on Tuesday, January 14, 2020
Derivatives and structured products associate Sam Quicke notes that the era of "open banking" — giving start-ups access to customer data held by traditional banks — is still in its infancy. While only 18% of the population are aware that this even exists at present, according to one survey, but that's projected to rise to two thirds by 2022. There's a lot of shake-up left in this market.
3. Big tech isn't going to dominate either
What about companies that have cash, customers, and an existing culture of innovation? One take is that the likes of Facebook and Amazon will use their enormous resources and huge user base to get in on digitised consumer finance at the expense of start-ups.
But the panel felt that we're unlikely to see everyone paying for groceries with Zuckerbergs any time soon. Trainee Hamza Zaveri points out that "the most innovative and risky developments happen in smaller start-ups. That's because the founder usually has a passion for an idea or a product, and that zeal that's prevalent in smaller companies drives the more disruptive technologies".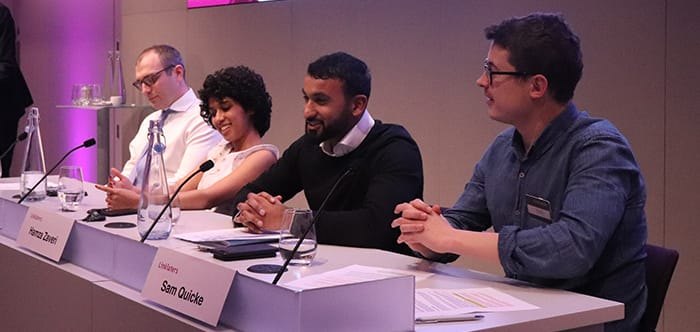 And even if a tech giant does come up with the next big fintech idea, Drury says that politicians are unlikely to allow Google Bank or Apple Coin given the widespread public hostility to those firms.
4. Lawyers will increasingly need to speak conversational tech
Quicke reckons that lawyers hoping to profit from all this would do well to have some technological understanding. But the level of detail does depend on the client: "If you're working with a start-up, as we have been doing over the past few years, their level of expertise will sometimes be absolutely incredible", he explains. "In those circumstances, the more detail you have the better".
Other times, the company will be run by an entrepreneur rather than a physics PhD, with techies hired to do the heavy lifting. In that case, the level of knowledge needed to build a working relationship with the client is correspondingly less. But the bottom line is that, "at a very basic level, you do need to understand what these technologies are capable of achieving", says Quicke.
About Legal Cheek Careers posts.