Mark Drury, who will appear at today's event, 'The future of fintech', survived the financial crisis and then surfed the tech wave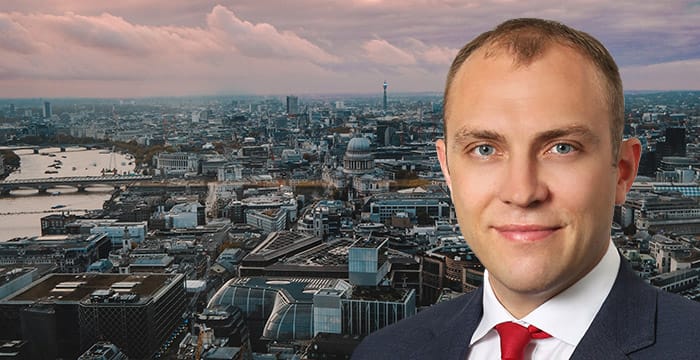 The official legal statement this month confirming that cryptocurrency is property and smart contracts are binding, delivered by the UK Jurisdiction Taskforce of the Lawtech Delivery Panel, was a big moment for everyone involved in fintech.
"Over the years there has been uncertainty over whether crypto assets are property so it's reassuring to have them recognised in this way," says Linklaters finance partner Mark Drury, a significant portion of whose practice is fintech-related.
Not that it's a completely done deal. "The conclusions of the Taskforce are not binding," continues Drury, "but they do carry weight and you gain a lot of certainty from words on a page."
Certainly, it's a long way from the early, Wild West days of the sector, which emerged as a response to the collapse in confidence in mainstream finance after the 2008 global financial crisis.
Embedded in the code of the first ever Bitcoin transaction was the text of a headline from The Times published on 3 January 2009, 'Chancellor on brink of second bailout for banks', which has been interpreted as a criticism of traditional banking. Could Drury have imagined that ten years on this once obscure, rebellious online currency would be recognised by the establishment?
"To be honest — no. When I first read about Bitcoin, I probably gave it a year or two before interest in it evaporated, but the technology and theory behind it has instead inspired a generation of people to innovate and there are some really fantastic ideas and initiatives out there now, which are themselves inspiring even more. Even if Bitcoin doesn't survive, its legacy will."
Not that Bitcoin itself is a key element of Linklaters' fintech practice. However, the principles behind it very much inform the work Drury is doing on a project with the Bank of England to create digital pounds. If successful, it would provide another way of making payments outside the more traditional bank account structure and use blockchain's distributed ledger technology to allow pounds to be transferred between parties directly.
"The tech could, if it takes off, be applied on a cross currency basis — whether it be Yen, Euros or the Dollar — and allow for the instant exchange of money at any time, night or day," says Drury. This would represent a major improvement on the current situation, which can take a number of days to transfer money across the globe.
Alongside cryptocurrencies, the other main aspect of fintech is open banking, a coming together of regulation and technology with the objective of fostering greater competition in the banking sector. New rules compelling UK-regulated banks to allow account holders to share information about their spending habits and other data with new budgeting and banking apps have helped create challenger banks like Monzo and Revolut.
The focus of Drury and his colleagues in this space has been on the financing of these emerging fintechs, which due to the high levels of regulatory clearance required to operate in the finance sector, tend to require substantial funding. Some of this funding is from traditional sources, many of which are longstanding Linklaters clients, others comes from new places, such as crowdfunding platforms, which are a part of the developing fintech ecosystem in themselves. Linklaters acts for a number of these new players, including CrowdCube — a relationship that started after the firm based a junior lawyer, Laurie Ollivent, in a WeWork in which several major fintechs are based and Ollivent hit it off with CrowdCube's founders.
Despite some recent headlines about growing pains for challenger banks as they strive for profitability, Drury is bullish about their future. "The consumer has been crying out for change, and challenger banks are well positioned to bring this about, with the advantage of not having legacy branches and old computer systems," he says.
With a favourable regulatory regime, its status as a hub for all the major banking players, a deep pool of financing and unmatched levels expertise in all the key areas, London is well positioned to take the fintech revolution to the next level. So what can we expect in the years ahead?
"Jurisdictions are always looking for the next Google or Amazon. We are still waiting for that to happen in fintech," says Drury. Indeed, it's possible that these big tech companies could themselves do something significant in the world of finance, as we have had a glimpse of with Facebook's Libra project.
For Drury himself, you get the sense that this is more than a job, with his practice representing a combination of his work and his passion. The University of Leeds graduate once worried that City of London legal life would mean being "just a tiny cog in the big wheel" but was delighted to find a career that fascinated and challenged him in equal measure.
He recalls: "I found the firm's work ethic really refreshing. I realised that it's just a business filled with normal people — no different to law firms back up North, except it's larger and handles bigger, front-of-the-Financial-Times type of transactions."
Of course, it can be hard work. "It's a really rewarding career, but a really tough one too. In a career in private practice in London, New York or any major city, there are times where you are working extremely hard over long periods, and, frankly, can feel more than a bit tired. But the work is fantastic, and that keeps you going, so, despite these challenges, I really enjoy it and enjoy the clients I have."
Mark Drury will be speaking alongside other Linklaters lawyers at our latest student careers event, 'The future of fintech', today at the firm's London office. The event is now fully booked, but you can apply to be added to the waiting list.
About Legal Cheek Careers posts.