Legal Cheek's Will Holmes sits down with Emilio Fabrizi, private equity associate at Ropes & Gray, to learn more about the challenges he overcame to break into the legal profession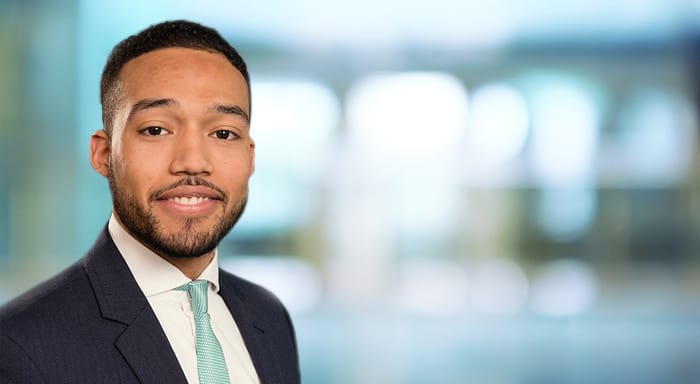 Emilio Fabrizi has never been put off by a challenge. "I love working in a fast-paced environment with tight deadlines when the pressure's on and the euphoria of overcoming seemingly insurmountable challenges to get the job done," explains the junior associate who is just starting out in Ropes & Gray's private equity team.
It's perhaps unsurprising then that law firm rejections, being state-school educated and having no family members with legal experience never held him back from entering an industry where it can feel like "everyone is from a similar background".
Indeed, he's found that feeling of being a bit 'different' is actually an advantage. "You should embrace and take pride in your differences because it enables you to bring a different perspective to a matter," Fabrizi explains. "You'll add value by seeing something in a way that others can't and have different skills that you can leverage. Indeed you should take the characteristics that you perceive to be holding you back in life and view them as the precise things that will excel you forward."
This has helped Fabrizi to rise through the ranks at Ropes & Gray. Having self-funded the Graduate Diploma in Law (GDL) and the Legal Practice Course (LPC) back in 2017/18 he landed a paralegal role in the US outfit's private equity department — the very department into which he has now qualified as an associate.
For those struggling to get a training contract he highly recommends getting some experience as a paralegal as "it is a really meaningful way of demonstrating you would be a good trainee because you can say not only 'I can do it' but also 'I am doing it now!'".
The following year he started his training contract in the firm's leveraged finance team, cutting his teeth on work with a large make-up brand. "I'd actually never heard of the brand before then," Fabrizi confesses. "But it was really rewarding to go into Boots and see the brand doing well in stores after doing hundreds of hours of work for them as a client! Plus lots of my friends were familiar with the brand so it felt pretty cool to have worked with them."
After his second seat in IP, IT and Data Protection, Fabrizi headed back to where it had all begun for him at Ropes & Gray: the private equity (PE) team.
The deals Fabrizi says he encountered were big bucks and international, most notably a £1.5 billion takeover of a pharma business. He then had the opportunity to learn more about deal-makers he was working for from the inside. "I feel really lucky to have been able to go on secondment to a FTSE 100 private equity firm," he explains. "On secondment you really get to know your client and understand their problems, and bringing this experience back to your law firm is invaluable. You can also build on the skills you've already learnt and expand your network", he details, adding: "I even played football with the co-head of PE!".
Reflecting on the overall experience, Fabrizi praises the autonomy trainees are entrusted with at Ropes & Gray. "You're allowed to manage yourself and are encouraged to get stuck into the things that really interest you. You are the architect of your own development," he remarks. In addition to this, he enjoys "the sheer variety of the work and clients, and the satisfaction of getting to grips with all their different business models and figuring out how they work".
But, besides from the status of Ropes & Gray as "a world-leading PE firm" and the "great quality of the work", what stands out to Fabrizi the most is the people. "Having great people around you is especially important because being a lawyer is tough," he notes. "Everyone here is incredibly bright, friendly and supportive — it's such a collegiate firm and a wonderful place to work."
Keen to increase diversity in the legal sector, Fabrizi wants to enable students to engage with law firms in as many ways as possible. "Until you actually sit in a department, it's hard to know what it's actually like," he explains. So he and another trainee worked with Ropes & Gray to start a podcast about trainee life at the firm.
"I hope it helps those who are struggling to get a foot in the door at a law firm as they can at least get an ear inside what we do at Ropes & Gray," says Fabrizi. "It'd be great if this is that extra little thing that helps someone get an open day, onto a vacation scheme or secure a training contract!"
You can learn more about Emilio Fabrizi's top application tips at our in-person event 'Black lawyers share their stories at Ropes & Gray', taking place on Wednesday 23 November, 4pm to 6:30pm. Apply to attend the event, which is free, now.
About Legal Cheek Careers posts.