Ropes & Gray partner Ruchit Patel on working with some of the biggest players in pharma and his role as the London office's graduate recruitment partner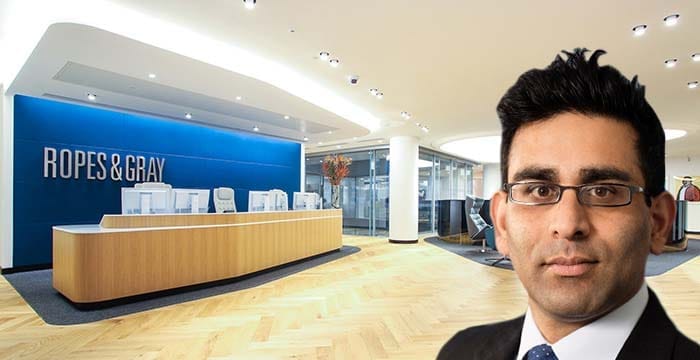 Despite COVID-19 bringing disruption to many industries, Ropes & Gray's antitrust partner Ruchit Patel remains as busy as ever.
In broad terms, Patel describes antitrust law as "an economic law seeking to ensure that markets work well". Sometimes referred to as competition law, Patel explains that antitrust law addresses three main types of behaviour — mergers, contacts with competitors, and unilateral or vertical conduct — all of which have the potential to distort markets and prevent them from working effectively.
As an antitrust lawyer, Patel covers two main lines of work: firstly, he helps large companies to secure approval for the transactions they wish to engage in, and secondly, he defends companies before enforcement agencies (the Competition and Markets Authority in the UK or the European Commission in Brussels, to name just two) where allegations of anti-competitive behaviour arise.
On a more practical level, Patel notes that his work requires him to "understand how businesses work extremely well, the markets that these businesses operate in and the economics of those environments". He reflects that previously, antitrust law mainly involved transactions occurring in the US and Europe, although nowadays his work stretches to all corners of the globe, as there are approximately 300 competition agencies worldwide. As such, Patel often finds himself immersed in the complexities of different international laws.
The variety of international work in the antitrust team, and the opportunities that this brings for travel, are undoubtedly "part of what makes this work so much fun". Pre-COVID, Patel spent as much as one week each month travelling. The pandemic may have temporarily paused his jet-setting, however, it appears that the pandemic has done little to slow down the overall amount and quality of work that the firm is undertaking. He explains:
"We have been able to switch to remote working incredibly well, cases continue to come in the door, deal-makers continue to do deals and all of that has been good for us. There has still been a solid demand this year — long may it continue."
Within his varied caseload, Patel has had the opportunity to defend huge organisations on a number of occasions, such as Google during a worldwide antitrust investigation. Patel describes such cases as "fascinating", in that they offer an opportunity to "grapple and challenge yourself with very complex issues".
Ropes & Gray's strong links with the healthcare sector has led to it working with some of the biggest names in the pharmaceutical industry. This includes US player Pfizer who, along with BioNTec, has developed a vaccine for COVID-19. This type of work particularly stands out for Patel: "You really feel like you're making a difference to people and you're involved in helping save lives — that's when you really sit back and realise that your work is actually making a difference to the lives of everyday individuals."
Patel originally qualified as a solicitor in a magic circle firm in 2004. When asked how this compares to working in a major US law firm, he says there are some similarities, although a key difference between the two is that he has experienced a more entrepreneurial and less-structured way of working at Ropes & Gray, which ultimately has enabled him to take more control over the direction of his career.
While cricket fanatic Patel awaits a call-up to the England cricket team, he says working as an antitrust lawyer has certainly been an enjoyable way to pass the time until the England team call. It was a combination of his intellectual curiosity and some insightful legal work experience that encouraged him to pursue a career in law. He explains that he has always had a keen interest in antitrust law, even at university, and hoped it would be the area that he qualified into.
Antitrust law aside, Patel is also the firm's London graduate recruitment partner. This means he is directly involved in the recruitment of trainee lawyers and ensures that they are able to make a valuable contribution to the firm.
What Patel is most proud of is that "none of our trainees are the same", he says, "and yet, they all have one thing in common: they are all hugely impressive." Some of the key attributes sought after by the firm include generosity of spirit, inclusiveness, intellectual curiosity, good commercial awareness, the ability to collaborate well with others and an entrepreneurial mindset.
The impact of the pandemic on current trainee programmes is perhaps inevitable, as spontaneous interactions and opportunities to learn in the office space are harder. Patel is confident, however, that the substance of the firm's trainee programme has not suffered. In fact, Ropes & Gray is still attracting a huge amount of high-quality work from its clients, which the current trainees are able to get involved with, even on a remote basis.
In order to combat the remote working fatigue that many lawyers are undoubtedly encountering, the firm has taken an innovative approach which goes far beyond the 'Zoom quizzes' that we have all become well accustomed to. Ropes & Gray has established internal festivals, such as 'London Connected' which encourages office-wide participation in fun activities as a way of establishing and maintaining internal relationships. Such activities have included "lucky dip coffee dates" and "remote baking competitions".
Patel's advice for those currently looking to enter the legal profession is simple but highly important: "You should know what you find fun and then go and do that." Patel adds that doing something you enjoy means you are likely to be more engaged in your work and ultimately "you are more likely to succeed".
Ruchit Patel will be speaking alongside lawyers from Baker McKenzie, BCLP and ULaw at 'The Big Commercial Awareness Themes of 2020-21′, a virtual student event taking place on Monday 23 November. The event is fully booked.
About Legal Cheek Careers posts.