'I could see the relentless long hours would never stop and I wanted to focus more on my interests outside of work'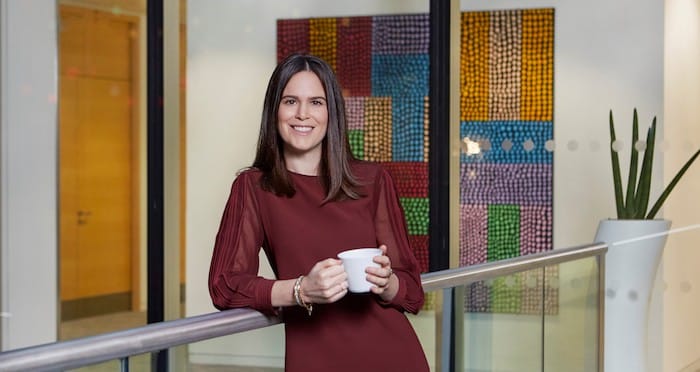 Two years ago, Florence McDonald gave up her competitive debt finance associate job at a US law firm to do an art foundation course.
"I enjoyed the work and liked my team but I could see the relentless long hours would never stop and I wanted to focus more on my interests outside of work, like art and sports," she reflects. After signing up for a course of evening classes in painting and not being able to make any of the sessions, Florence began to question her career choices.
"In the end it all happened quickly," she says. "I looked into fine art degrees, discovered I needed to do an art foundation year first to produce a portfolio and noticed the application deadline expired in three days. Next thing I knew I was at the interview."
There, she met professionals who were combining the course with part-time consulting or agency work, which opened her eyes to what was possible. Meanwhile, she was told about Peerpoint from a former Allen & Overy lawyer who knew a Peerpoint consultant who spent six months of the year practising law then six months focusing purely on painting and was successfully exhibiting his work.
"When we met, Peerpoint was super-interested in my art and said to put it at the top of my CV," Florence says. "They actively want people who have stepped outside of the traditional model. How it works is you discuss with Peerpoint what you want and they try to arrange it. I've now been working in the banking team at A&O for 12 months and in February I am looking to try out a project on the client-side."
Peerpoint has a career development team, which Florence says "listen and give me non-fluffy feedback, which means I've come back with renewed focus from every session". They also provide training and mentoring, for example, on managing finances or developing a consultancy mindset. Consultants set up their own company and manage their own salary, expenses, taxes and benefits.
Florence, who qualified as a solicitor in 2015, particularly praises Peerpoint's networking and social events. "You meet interesting people and come away feeling inspired by their stories. For example, one person has moved to consulting to create more time to pursue his start-up idea with a friend, with the support of a regular income. Another person I met worked for six months a year in the A&O capital markets team and spent six months scuba diving. You can work intensely on one project and then take time off. It's quite empowering."
Want to be an artist, entrepreneur or scuba diver but don't want to give up your hard-earned job at a City law firm? Perhaps you want to make films but also appreciate the value of a steady income and high calibre legal work? It's all possible — even for those at a relatively early stage in their career. Allen & Overy's contract lawyer business, Peerpoint, places experienced lawyers with clients on an interim basis, encouraging lawyers to fulfil their career potential while exploring new opportunities. This unique offering gives consultants the high-calibre support of an international law firm alongside the freedom to pursue their dreams. Find out more about Peerpoint.
About Legal Cheek Careers posts.