Travers Smith's Alex Fisher has watched the introduction and demise of employment tribunal fees, as well as the monumental rise of the gig economy courtesy of Uber and Deliveroo. Ahead of his firm's vacation scheme application deadline next week, he shares his career story to date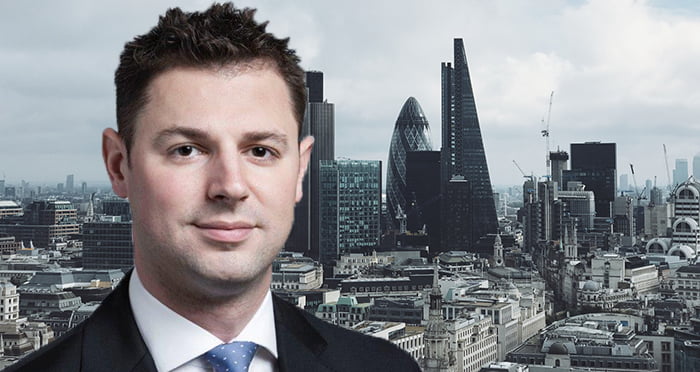 In Alex Fisher's seven years as a solicitor in Travers Smith's employment law team, he's witnessed some fascinating developments in employment law history.
For starters there's been the meteoric rise of the gig economy, where disruptors like Uber and Deliveroo have tested fundamental employment law principles (worker status, minimum wage, protection against excessively long hours etc). And then there's the introduction of employment tribunal fees under the Lord Chancellorship of Chris Grayling which have now subsequently been outlawed.
Given the high-value Tribunal work that Travers Smith mostly undertakes, the Tribunal fees did not have a particular impact on Fisher's practice, which largely consists of representing major employers in the financial services, pharmaceuticals and retail industries. However, Grayling's blanket fee policy did see employment tribunal claims dip overall with the number of claims now trickling back up since the Supreme Court ruled the fee policy was unlawful last summer.
With a career thus far characterised by employment law's changing face, Durham University graduate Fisher looks forward to the interesting twists and turns yet to come.
"The gig economy is particularly interesting for employment lawyers," he tells Legal Cheek Careers, "and I think more and more of these platforms, like Uber and Deliveroo, will find themselves in sticky employment law territory. Ultimately, the world is changing with people appreciating technology and taking advantage of the offerings provided by these platforms to work more and more flexibly or alternatively as compared to the traditional 9am to 5pm full time working week. This changing working pattern creates questions and legal uncertainty as against the traditional working pattern, which is why we're seeing so many legal challenges."
Working at the coalface of these headline-grabbing developments is just one reason for Fisher's affinity with employment law practice. He explains:
"My job involves dealing with human characteristics and conduct every day. Whilst the work is different each and every day, it involves dealing with people and tangible circumstances. This is different to other areas of business or law where you are dealing with things that are less tangible and can be more difficult to get your head around. Employment law isn't like that, I find it to be far more relatable."
Being able to relate to the individuals you are advising on isn't the sole characteristic that will make you a successful employment lawyer, though. Perhaps the most crucial of all the sophisticated skills required in employment practice is the ability to organise and spin plates: employment lawyers can have up to between ten and 20 matters on the go at any given time. These matters could be a mix of corporate deal work, contentious cases and general advisory projects, and can demand internal plate-spinning too.
In one contentious case Fisher dealt with recently he had to coordinate 20 witnesses across multiple jurisdictions which included a trip across to Miami, Florida to interview a witness. Unfortunately, he didn't have the opportunity to soak up the sights or make sandcastles on Miami Beach. "I flew into the airport, got a cab straight to the client's office, went through the interview and then flew home" he says, "my entire transatlantic trip lasted less than 24 hours."
Keeping up to date with employment law developments is important too in an area of law which is constantly changing. To keep abreast of the changes Fisher tells us he and his colleagues enjoy weekly internal know-how sessions. Finally, as well as the technical knowledge of the law, a confidence in speaking to clients on the phone and the ability to give quick advice on the spot rounds off Fisher's key skills to employment law practice success.
If you've got the skills, there's no place better to show them off than Travers Smith's vacation scheme, the deadline for which closes on 31 January. Fisher is himself an alumnus of the scheme. He recalls:
"The two weeks consisted of various tasks designed to test the skills needed to succeed as a lawyer at Travers Smith. It's a great opportunity for the firm to see how potential trainees act in a work environment, but it's also an equally great opportunity for potential trainees to see how Travers Smith really works."
His short time at the firm during his vacation scheme allowed Fisher to immerse himself in Travers Smith's litigation and commercial departments. While there, he was struck by Travers Smith's collegiate, polite and friendly atmosphere, whereby its room-sharing system allows trainees to learn by osmosis from the qualified lawyers and partners they sit with.
But Fisher's biggest takeaway from his vacation scheme was, of course, his offer of a training contract, which he commenced in 2009 and completed in 2011, qualifying into the employment law team. "Being part of a small intake of trainees was great," Fisher remembers, "because it means you're well-looked after and respected among your peers and superiors gaining responsibility and direct client contact from very early on in your career".
Training contract-seekers interested in Travers Smith's vacation scheme have until 31 January to apply and can find out more information on the firm's website. "I'd definitely recommend applying for the vacation scheme," says Fisher, "it was my gateway to a training contract at this excellent firm".
Alex Fisher will be speaking at 'Technology: Disrupting the law and lawyers — with Travers Smith' on Wednesday 21 February. Apply to attend.