Ed Fletcher, CEO at Fletchers, tells Legal Cheek's Aishah Hussain how he took the firm from fledgling high street practice to featuring in the UK top 100, and the tragic motorcycle crash that spurred him on, ahead of tomorrow's 'Secrets to Success' event in Manchester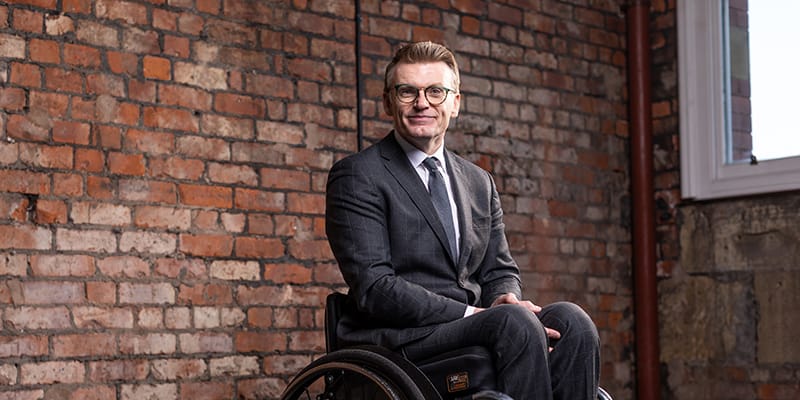 Fletchers is going places. What was once a small high street firm in the seaside town of Southport is now one of the country's biggest medical negligence law firms.
"It's wonderful to have grown exponentially, particularly in the last five years, to become a national leader in personal injury law," says Ed Fletcher, chief executive officer at Fletchers, and the man behind the firm's impressive growth story.
Ed studied law at Aberystwyth University where he was a stalwart of the first XV rugby team. His interest in personal injury took hold when one of his teammates suffered a neck injury and pursued a successful claim against the Rugby Football Union. "I saw first-hand the fantastic contribution lawyers can make to rebuilding lives," he reflects.
He went on to complete the Legal Practice Course (LPC) at the College of Law in Chester and joined Fletchers as a fresh-faced trainee in the summer of '96.
Then, when he was one year qualified as a solicitor, he severed his spinal cord in a motorbike accident which changed the course of his life. He dealt with the initial trauma and spent six months at a rehabilitation centre. Once that had subsided, he found a renewed enthusiasm and greater clarity on the direction of his career: he was going to develop a specialism in motorbike accidents representing individuals suffering from injuries similar to the one he had experienced and help them rebuild their lives.
His most memorable case was Donaldson v Wilson involving a motorcyclist who rode into a cow. The case ended up in the Court of Appeal but interestingly, Ed tells me it's the "little victories I'm most proud of". He continues: "It's a blessing to be involved in cases that although aren't setting legal precedents or breaking new ground but radiate fortitude from our lawyers digging deep in times of darkness."
The opportunity then arose to not only rebuild individuals' lives but to build teams and departments, and then a firm with this ethos in mind.
The civil justice reforms beginning with the 1998 Woolf Reforms, the Jackson Reforms and then the Legal Aid, Sentencing and Punishment of Offenders Act 2012 (LASPO), shook the personal injury market. Law firms' costs and style of serving their clients came under great scrutiny while the government enacted changes that favoured larger legal service providers. Fletchers embarked on a strategy to scale-up.
Now listed in the top 100 UK law firms by revenue, Fletchers employs 470 staff (or "Fletcherians") across the Southport "mothership" and since 2017, its new Manchester office. The decision to set up shop in Manchester was the "obvious" next move, says Ed. "We had drained the local region pool of talent so it made sense to move to the capital for our type of work." Possible expansion to Leeds and London is also on the cards, he tells me.
In the time Ed has been managing the firm he has introduced flexi hours and remote working policies as well as embraced technology to boost efficiency. Fletchers has partnered with the University of Liverpool and Innovate UK to develop artificial intelligence technology to support decision-making within the firm, and is looking at ways to improve access to justice from its digital disruption lab in Manchester.
The recruitment of trainee solicitors is a core component of Fletchers' growth strategy, and it takes on a total of eight trainees each year. They complete the LPC part-time alongside training — a nod to flexible learning arrangements, a burgeoning trend in the legal industry — and, as one of the 'Trailblazer' law firms, Fletchers onboards a number of solicitor apprentices each year. There are currently 19 apprentices but the firm is looking to grow this number once the Solicitors Qualification Exam (SQE) kicks in from next year.
Some students can be so set on corporate law they seem to forget there are firms such as Fletchers offering interesting alternatives. Ed thinks this is a great shame. He says:
"You see it a lot — I certainly have among my former classmates — an exodus of corporate lawyers five to ten years from when they qualify because they haven't effectively explored other areas of law."
And while doing deals and drawing up commercial contracts is okay for some, others, Ed explains, are in search of "emotional gratification". He continues: "You get that almost every day working as a personal injury lawyer. We support customers when they're at their lowest providing hope and guidance with real, tangible and personal outputs. If that sounds like something you're interested in then you ought to come and speak to us at Fletchers."
Future "Fletchlings" should also know the three skills Ed thinks all personal injury lawyers should possess. They are tenacity, the ability to collaborate with others, including opposition, to reach the best possible outcome for the injured customer, and making decisions in a "wise, kind and strong" way.
Ed Fletcher will be speaking alongside lawyers from Freshfields and Pinsent Masons, and a careers expert from ULaw at tomorrow's 'Secrets to Success' event in Manchester. You can apply for one of the final few (and free) places to attend.
About Legal Cheek Careers posts.