What we learned from lawyers from Berwin Leighton Paisner, Pinsent Masons, Fletchers, Exchange Chambers and The University of Law at 'Secrets to Success' in Manchester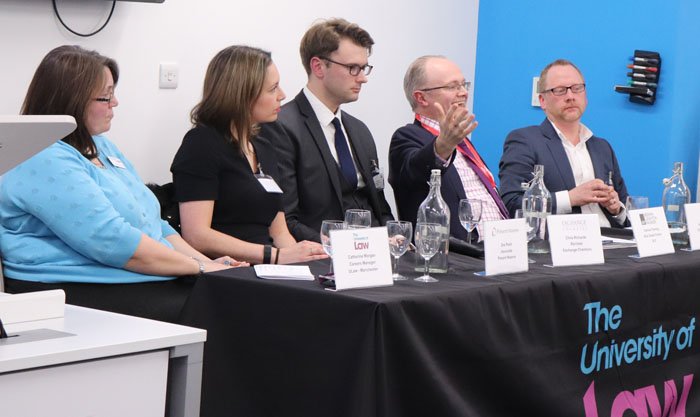 Future lawyers need to think about innovation in a broader way that takes into account what law firms' clients want, while also focusing on qualities like resilience and adaptability, as they prepare to enter the legal profession.
These were some of the key messages delivered by a panel of lawyers from Berwin Leighton Paisner (BLP), Pinsent Masons, Fletchers, Exchange Chambers and The University of Law at the Manchester leg of Legal Cheek's Secrets to Success event series.
Here are the highlights from the discussions, featuring contributions from BLP Real Estate Partner Damian Fleming, Pinsents Associate Zoe Pond, Fletchers Chief Legal Officer Adrian Denson, Exchange Barrister Chris Richards and ULaw Manchester Head of Careers Catherine Morgan.
Young people have a lot to offer in modernising law firms
Students who have grown up using smartphones and social media often don't realise just how tech-savvy they are in relation to older lawyers. "You are in an ideal position to sell yourselves with law firms' embrace of technology bringing an opportunity to show your understanding and bring a fresh approach," ULaw Manchester Head of Careers, Catherine Morgan, told the audience of more than 60 students.
Not that millennials are perfect. The panellists agreed that in some cases their ease with messaging apps had come at the expense of good old-fashioned telephone skills which, for many, needed honing once they entered the workplace.
The changes happening within the legal profession at the moment were put in context by BLP's Damian Fleming, 45, who recalled starting his career before email had been introduced. "I remember negotiating a mortgage agreement with Freshfields and at 4am sending documents back and forth by fax. Thankfully things have moved on and artificial intelligence (AI) and other new forms of technology are just the latest manifestation of that journey," he said.
Innovation should be thought about in a broader sense
With Manchester the centre for much recent legal market innovation, it was interesting to get the panellists' views on how aspiring lawyers should be thinking about this hot topic.
Fletchers' Adrian Denson emphasised to the students that all developments in this area should be approached from the perspective of the client.
"That's what lawyers don't do enough. But if you put yourself in the clients' shoes then it's a quick service delivery, effectively delivered at minimal cost, that is required. To get there involves exploring new technological solutions but also the full suite of other service delivery options," he said.
Fleming agreed, cautioning against "AI for AI's sake". "Innovation doesn't mean having all work done by computers," he continued. "Rather it can be as simple as taking a step back and re-examining how you deliver a particular piece of work that has been delivered that way for many years."
Qualities like resilience and adaptability are in high demand
"Resilience is one of the most frequently used words this year in the questions on firms' training contract application forms and students need to think of examples of how they demonstrate it," said Morgan.
Fleming was in agreement emphasising that "law is not a soft option". As junior lawyers develop their careers and learn from their experiences they find "that resilience develops into adaptability," he explained.
To an extent, the progress of candidates who possess these qualities is filtered by the challenging process of securing a training contract or pupillage in the first place. Recalling his own experience, Exchange's Chris Richards remembered working for hours on end on pupillage applications. He also stressed the importance of perseverance: "Keeping going is why I am where I am today."
Law firms want a diverse range of lawyers to reflect the variety of their client base
Pinsent Masons' Zoe Pond described to the audience her journey into law as a career changer. After three years working in London in recruitment for investment banks she moved back to the North West and did the Graduate Diploma in Law before training at a local high street firm and later moving to join Pinsent Masons. "Those three years working did me the world of good," she said, before adding — building further on the theme of resilience — that the confidence she gained helped her show persistence when she faced hurdles along the way.
Fleming, meanwhile, spoke about his firm's use of contextual recruitment to help identify high-performing candidates who have done well despite coming from difficult backgrounds. And Richards emphasised the importance of selecting on merit in the ruthlessly competitive world of the bar.
There are great opportunities in Manchester and other big cities outside London
Pinsents has long recruited a significant chunk of the 70 trainees it takes on annually in Manchester while BLP has recently launched training contracts in what is increasingly recognised as the UK's second most important legal centre. Fletchers is expanding here too, while Manchester has long been central to Exchange's strategy.
What makes Manchester different to London is the scope for trying new things, the panel agreed. "There is a lot of legal talent in this city and we chose to come here because outside London it is the country's largest legal services market. The focus is on quality work but also providing alternative solutions to how that work is done and using legal process efficiencies to deliver change," said Fleming.
Looking ahead, all the speakers expected Manchester to keep growing in importance as a globally important legal hub that offers an attractive proposition to students keen to get on the housing ladder and enjoy a decent quality of life alongside excellent work.
About Legal Cheek Careers posts.